Integrations
Recruitment & Staffing Tech
Explore Crelate's integrations with the software and tools you already use.
Build Your Perfect Tech Stack
Crelate integrates seamlessly with valuable third-party tools and platforms aimed at solving specific recruiting and staffing challenges. Tap into other leading tech solutions without leaving our flexible and open platform.
Featured Integration

With a new integration with ZoomInfo Talent OS, Crelate users can now export contact information from their current ZoomInfo instance.  It is now easier to share data across these amazing platforms.  This integration will save our clients 2 to 5 hours a week of manually converting the data between the two systems by adding contacts individually or in bulk.
Video Interviews
Manage your video interviews directly from Crelate

Spark Hire
Spark Hire, the #1 video interviewing platform with more than 6,000 customers, helps staffing and recruiting firms efficiently connect with their candidates and improve how these candidates are marketed to their clients.
Email & Calendar
With access to numerous premium and free job boards, your jobs have never been seen by so many people.


Office 365
Access candidate details and activities without having to leave Microsoft Outlook. Our Outlook App is a simple install for Office 365 and Exchange 2013 users.
Optional server-to-server email synchronization automatically tracks relevant email conversations because customers and candidates. The integration works with Office 365, GMail for Business and Exchange 2013 and higher

Google Workspace
Crelate integrates with Google Business Apps so that you can manage your contacts, calendar, and conversations seamlessly. Crelate handles the hard work for you.

SMTP
Crelate integrates with your favorite SMTP provider, synchronize and track your conversations with candidates and customers.
Analytics
Crelate easily integrates into the most powerful business analytics tools, so that you can make smarter decisions more efficiently.

Google Analytics
Get stronger results across all your sites, apps, and offline channels. Crelate's integration with Google Analytics helps you to better understand your customers and output.
Apps and Extensions
Crelate seamlessly integrates into your existing processes with a variety of apps and extensions to suit all of your needs. We fit your mold, not the other way around.

Chrome Extension
The Crelate Chrome Extension is a plug-in that can be added to your Google Chrome browser to allow you to import and update contacts straight from webpages without having to manually enter information into Crelate.
The parser recognizes most contact information automatically on any webpage or profile page. You can select specific text to narrow the parse and even grab profile pictures if you like.
The Chrome Parser is included at no additional charge for our Professional-level subscribers

WordPress
As flexible and personal as Crelate, customize your WordPress site with Crelate extensive job board support.

And your site…
Crelate's custom job board integrates seamlessly with your existing site with minimal work. Keep a live list of your open positions in easy reach of your candidates.
Communications
Use the Crelate recruiting CRM together with RingCentral as a unified solution to manage, schedule, and record phone communications.

RingCentral
With RingCentral actions available directly from the Crelate sidebar, you and your team can quickly communicate with candidates and clients through the phone without leaving your Crelate account.

Rectxt
Rectxt is a Chrome extension that allows recruiters to easily send 1:1 text messages and group text campaigns to their candidates in an efficient, scalable, safe, and compliant way – all without the use of a cell phone.
Recruiting Business Development

Outplay
Outplay is a sales and sourcing outreach tool to help you book more meetings with candidates and clients.
External integrations

Zapier
With Zapier, Crelate is infinitely extensible. Connect, automate, and get even more out of Crelate.
Visit the Crelate and Zapier page to get started.

Open API
Crelate is thrilled to make our API public in support of the Open Api initiative.
Find our documentation here. We'd love to hear about what you've built.
Preferred Vendors
Our recommended vendors focus on the recruiting and staffing industries and offer digital marketing services to businesses like yours.

Recruiters Websites
As a full-service digital agency dedicated solely to the staffing and recruitment industry, Recruiters Websites can help you reach prospective clients and candidates by providing website design and development, marketing strategy, copywriting, SEO services and custom integrations.

Parqa Consulting
With a team of staffing industry experienced digital marketers, Parqa helps staffing firms expertly attract, engage, nurture, and convert qualified clients and candidates.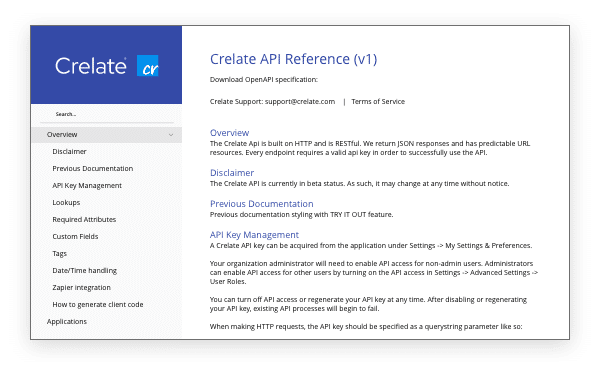 Become an Integration Partner
Looking to join forces with an ATS that powers over 1,400 recruiting and staffing agencies? Find the tools, resources, and information you need to start your partnership with Crelate. With a truly open marketplace powered by a robust API, we're always excited to work with other innovative tools to offer a more complete solution to the talent industry.
Get In Touch
Are you interested in integrating a killer recruiting or staffing technology solution with Crelate?  We'd love to hear from you!  
Crelate never charges integration partners money to participate in our marketplace. Our open architecture, public API, and customer reach with agencies make Crelate one of the best technology partners to point solutions and complementary platforms alike.
Because integrating the right way takes time, we prioritize clear and complementary needs from our customers above all else, and we carefully consider where to invest product and engineering resources before we start down the path.
Step one:  let's talk!