Client Portal
Managed by the recruiter, easily accessed by client, and powered by the recruiting CRM, the Client Portal keeps consultants and hiring managers in sync.
The Client Portal allows recruiters and staffing agencies to communicate with clients and record all client interactions regarding candidates. All while saving time so you can be more productive doing what you do best: recruiting the best talent for your organization.
Interactions made easy.
Within the portal, clients can see distilled candidate information in the form of an executive summary and highlighted key qualifications.
Deliver candidate information to clients with a click of a button, instead of compiling spreadsheets for each job requisition.
Real-time notifications tell you when your client has taken action, and when you need to respond.
I love how customizable Crelate is. It helps me manage both the candidate and client facing side of the business and customize any pipeline and report.
Ellen Schier, Owner
Sheer Recruiting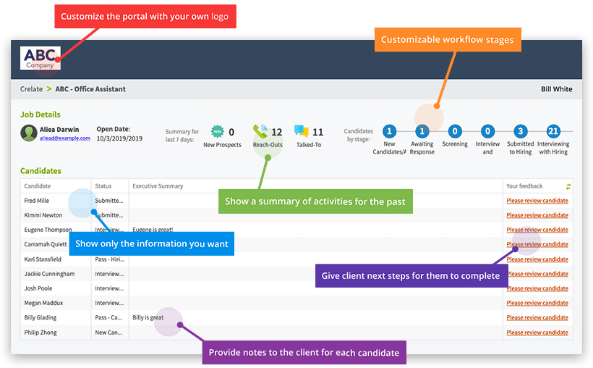 Show candidate stage to your clients
Collaborate with hiring managers throughout the hiring process; send candidates you screened and vetted directly to the Client Portal for hiring managers to review.
Quickly submit multiple candidates for a job; your clients receive real-time notifications inviting them to review submitted candidates.
Instantly know when your hiring manager has viewed a candidate and is ready to move candidates along to an in-person interview.
Pre-screen candidates
Crelate's prescreening feature ensures you find the best candidates quicker by adding prescreening questions to all job board postings.
Answers are automatically added to contact's profile

Ensure applicants meet the basic qualifications before contacting them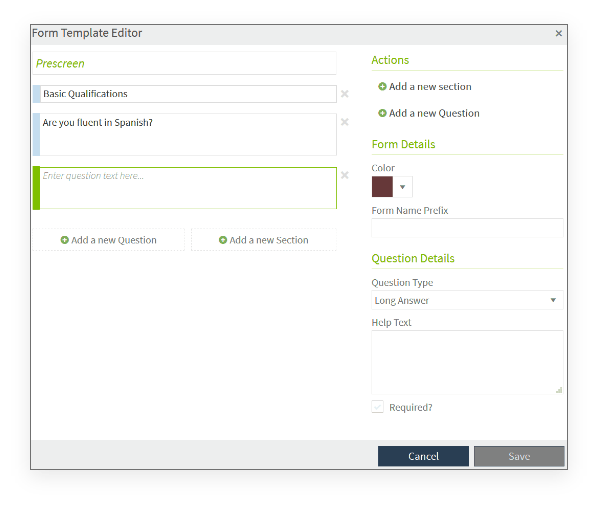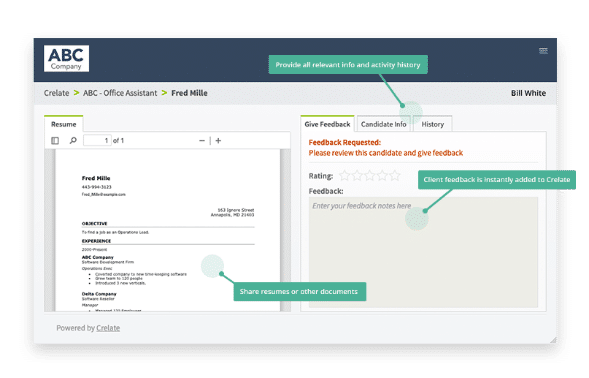 Streamline client feedback
Provide a curated experience for each job, and save both clients and candidates a considerable amount of time.
Efficiently gather feedback from hiring managers, with all information automatically stored in Crelate Talent.
Automatically create client reports, and send them via the Client Portal to detail resumes reviewed, candidates screened, and more.