Builds on recruiting – adds the hiring and onboarding steps to the process.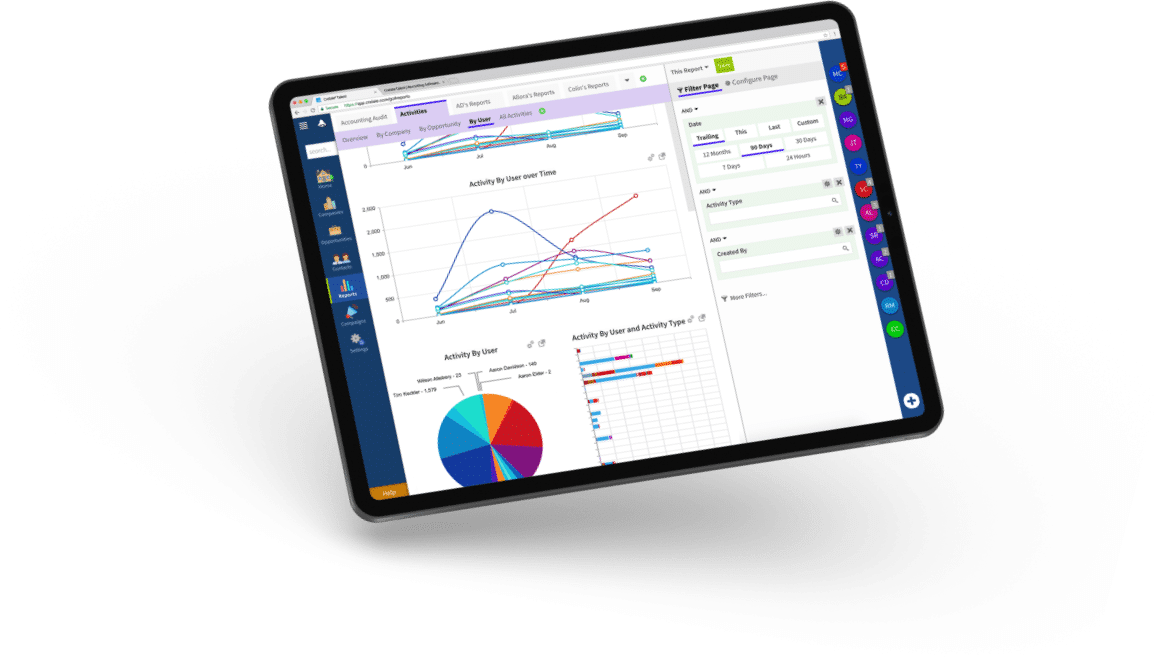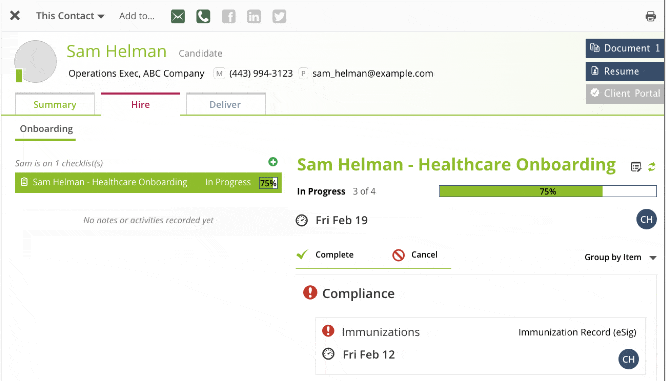 Crelate's Onboarding module now gives you the ability to seamlessly manage your onboarding processes. Customizable by job type, organization, industry and more, Onboarding keeps you up to date with your progress at every step of the hiring process. From scheduling first-day coffee chats, to ensuring all requisite paperwork is signed and attached to the contact record. With everything organized, recorded and visible to every key stakeholder.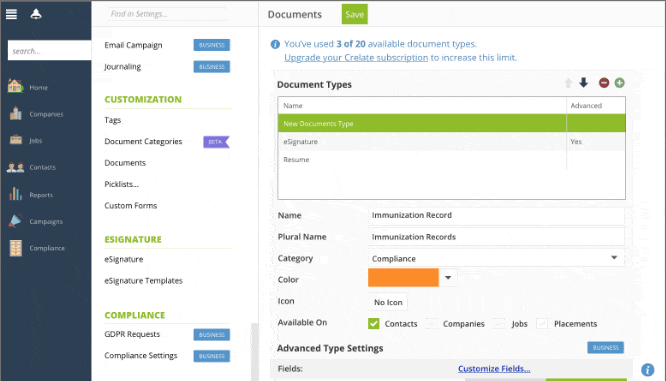 Ensuring compliance can be an absolute nightmare. Verifying forms of identity, making sure credentials are current, and confirming legal certifications involves a volume of paperwork that's enough to hamstring any firm's efforts to quickly vet and place quality candidates. Crelate's Compliance module manages all the documentation your team needs and confirms your hires have all the credentials they need to get right to work on the first day of their assignment.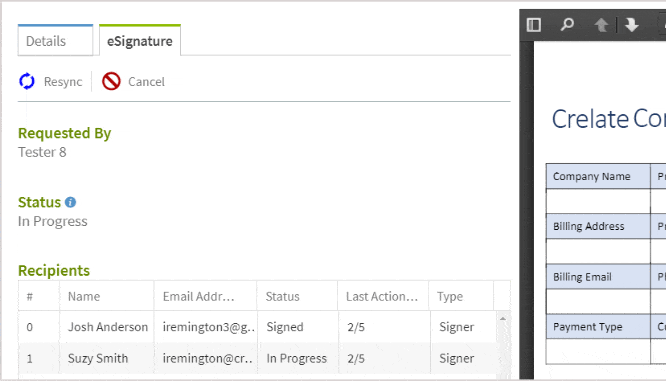 Never waste time wondering if your contacts have signed crucial paperwork. Create and send eSignature documents all without ever having to leave Crelate. Choose a document or template you need signed, add the appropriate signatories, and track every step of the process in real-time, from "sent" to "signed." Once your document has been signed, you can easily find it within Crelate using our robust search and filter tools.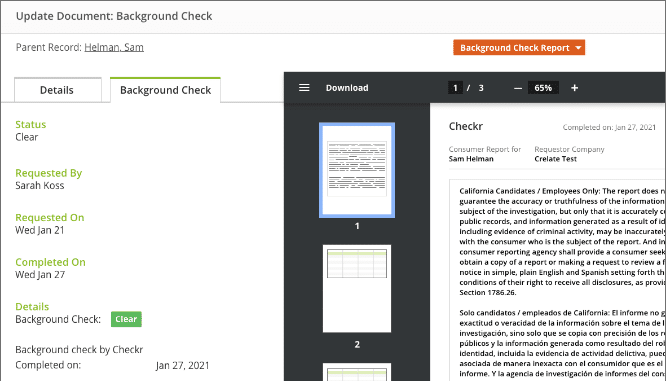 Managing the back-and-forth of requesting and obtaining background check information can cripple your recruiting team's efficiency if not done in the right way. Our integration with background check industry leader Checkr automates and tracks candidate background checks directly within Crelate, saving your team time and energy, and streamlining your staffing workflow. Key background check results are instantly copied to your contact records, and – if more detailed information is required – you can easily click though to Checkr for a comprehensive report.
Crelate Omni
Crelate Omni is our full suite of products: Recruit, Hire, and Deliver which together comprise an end-to-end solution for the modern staffing agency.
The modules build onto Recruit to encompass the entire recruitment and deployment process. The prefix "omni-" means "all," which is what the Crelate suite accomplishes. We listen to our customer feedback and these modules are designed to do everything you need.
Applicant Tracking System
Recruiting CRM
Recruitment Marketing
Candidate Sourcing
Job Portal
Client Portal
Email & Messaging
Interviews
Scorecards
Onboarding
Compliance
eSignature
Background Checks
Timekeeping
Assignments
Invoicing
Commission Management
Payroll
Job Requisitions