Agency Sales & Recruiting
Everything you need to close new business and recruit great candidates!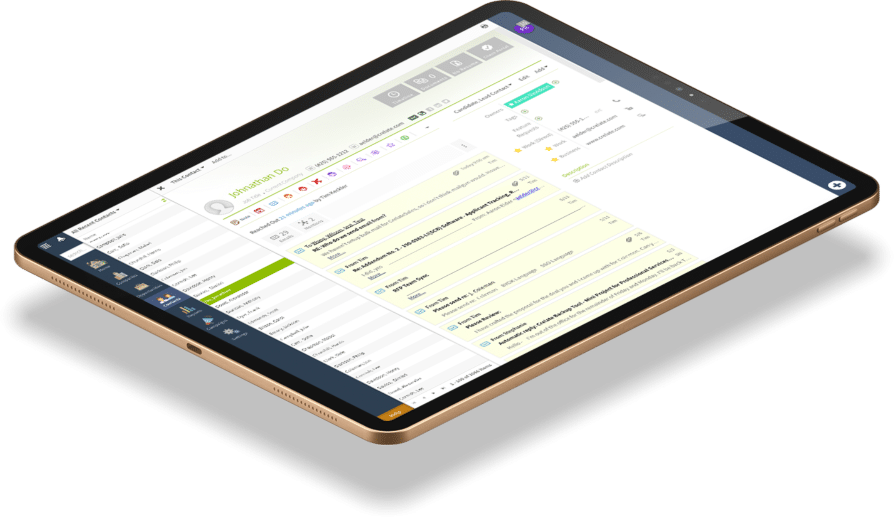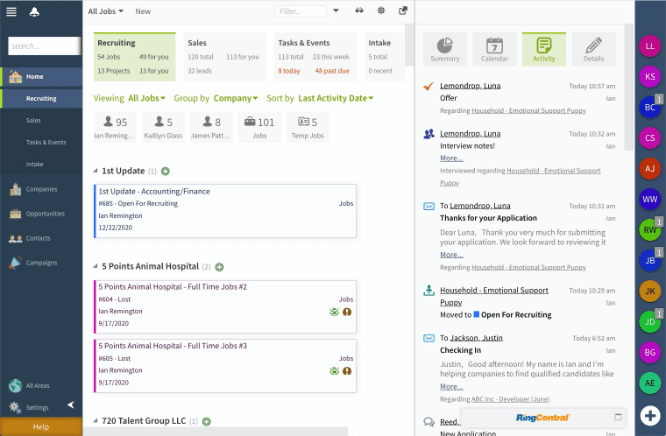 You need an ATS that manages the entire applicant lifecycle, automates administrative recruiting tasks, tracks engagement and correspondence, provides a searchable candidate database, and frees you up for what you do best: building stronger relationships with clients and candidates.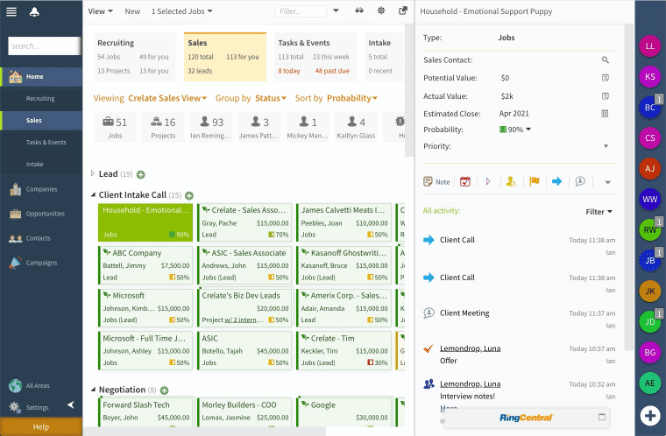 Winning new business is at least half the battle. So why do so many recruiting CRMs completely ignore the sales process? Agency growth requires an integrated approach to sales and fulfillment that aligns every team to efficiently win the req and fill the role. Crelate's CRM integrates purpose-built tools to track new business pursuits, won reqs, and client relationships, all side by side with every other facet of your recruiting.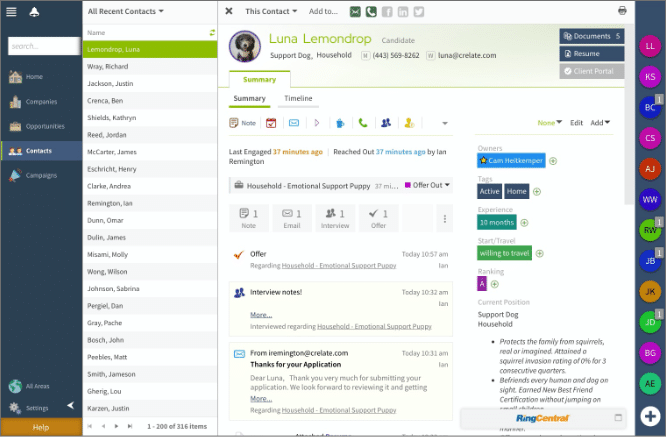 Your job: attracting, sourcing and engaging top talent to fill out your recruiting pipeline. Your CRM's job: helping you to drive your recruiting process with integrated communication tools, automating high-volume communication, and knowing exactly where you stand with top candidates. Crelate's CRM not only makes that process easier and more efficient, but – along with powerful recruiting analytics – it measures communication effectiveness and outcomes to show you what's working, what's not, and where you can improve.
Managed by the recruiter, easily accessed by client, and powered by the recruiting CRM, our Client Portal keeps consultants and hiring managers in sync, improves relationships with your clients, and drives down your time to hire. The Client Portal allows recruiters and staffing agencies to communicate with clients via automated real-time alerts and record all client interactions and feedback regarding candidates in one centralized, easily accessible location.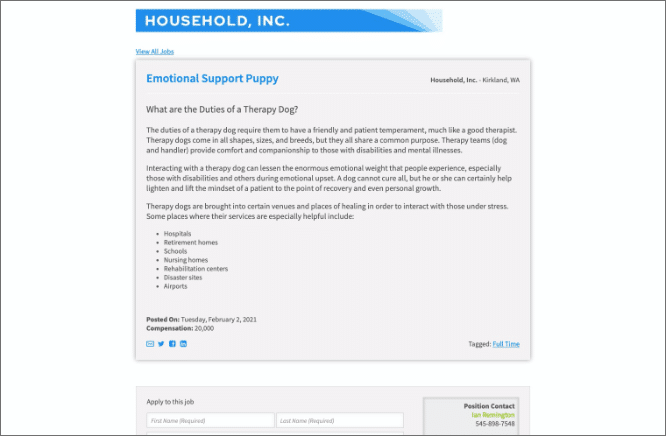 Your ability to attract high-quality candidates relies heavily on their perception of your brand. And ultimately, their ability to easily find and apply for the role on your site. Our customizable, SEO-optimized and easily embeddable jobs portal lets you market open positions right on your website in a style that aligns perfectly with your organization's look and feel.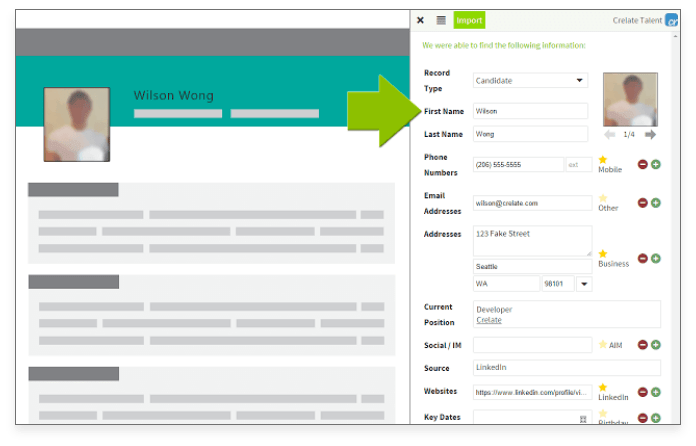 The tools you need to be successful when attracting, sourcing, and engaging top talent for your recruiting pipeline. Attract, source, and engage top talent for your recruiting pipeline, and turn your website into a lead-generating machine.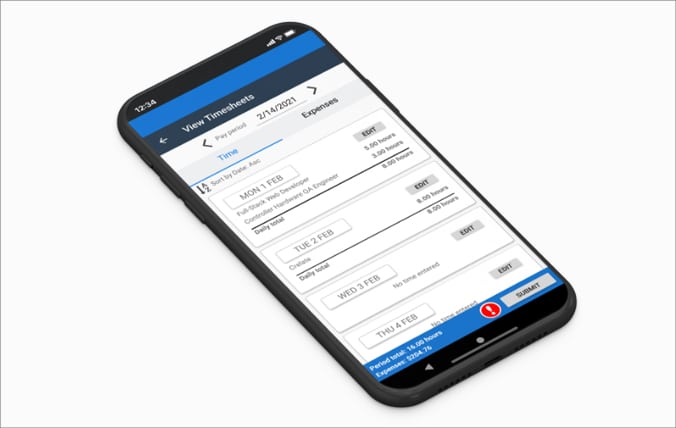 Purpose-built for mobile to optimize the tools you're most likely to need while away from your computer, our mobile app makes it fast and easy to communicate with candidates and clients, record important information, and complete other crucial tasks on the road.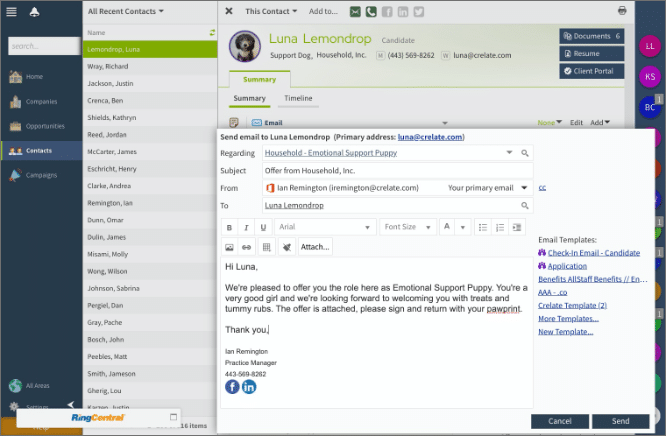 Effective, efficient communication is your key to building strong relationships. Connect your email with Crelate, send emails, schedule meetings, sync your calendar, track conversations and search through threads, managing your email just the way you like without losing any functionality. And text messaging functionality allows you to text contacts from right within your Crelate dashboard, adding another powerful communication tool to aid in your searches.
Crelate is packed with integrated and flexible reporting tools to cover every part of your sales, recruitment, and delivery process. Back up your decision-making with data, and discover competitive advantages with custom-built, real-time analytics reports across every part of the business. Run reports on metrics that matter to your org, inform your decisions with data, and discover opportunities to improve your process.
Your candidate database is the lifeblood of your recruiting agency. And being able to source the right candidate for the right job at the right time is the service your clients pay you for.
Crelate's new Contact Data Enrichment tool makes it easier than ever to do just that, empowering you to easily confirm that your candidate contact data is still correct, and to append new or missing information to new or existing candidate records. On demand. Exactly when you need it.
Increase recruiter productivity, track job requisitions, compile business intelligence, and submit and fill VMS jobs faster from directly inside your ATS.
If you're managing your clients' business through manual and time-consuming tasks, you could be working a lot smarter. Say goodbye to inboxes full of open requisition and status changes with Crelate's VMS Integration.
Take existing records in your database and update their profiles with new information from a spreadsheet. Whether you're overriding old data or simply injecting new data, importing has never been easier.
Your recruiting and sales processes are the aggregate of a multitude of disparate tasks. Allow your team to treat these processes as project plans, to make them repeatable and scalable.
Organize your teams' workdays and manage their tasks by following your predefined process.
Crelate Omni
Crelate Omni is our full suite of products: Recruit, Hire, and Deliver which together comprise an end-to-end solution for the modern staffing agency.
The modules build onto Recruit to encompass the entire recruitment and deployment process. The prefix "omni-" means "all," which is what the Crelate suite accomplishes. We listen to our customer feedback, and these modules are designed to do everything you need.
Applicant Tracking System
Recruiting CRM
Recruitment Marketing
Candidate Sourcing
Job Portal
Client Portal
Email & Messaging
Interviews
Scorecards
Onboarding
Compliance
eSignature
Background Checks
Timekeeping
Assignments
Invoicing
Commission Management
Payroll
Job Requisitions
Applicant Tracking System
Recruiting CRM
Recruitment Marketing
Candidate Sourcing
Job Portal
Client Portal
Email & Messaging
Interviews
Scorecards
Onboarding
Compliance
eSignature
Background Checks
Timekeeping
Assignments
Invoicing
Commission Management
Payroll
Job Requisitions