Customer Relationship Management
Crelate's CRM integrates purpose-built tools to track new business pursuits, won reqs, and client relationships, all side by side with every other facet of your recruiting.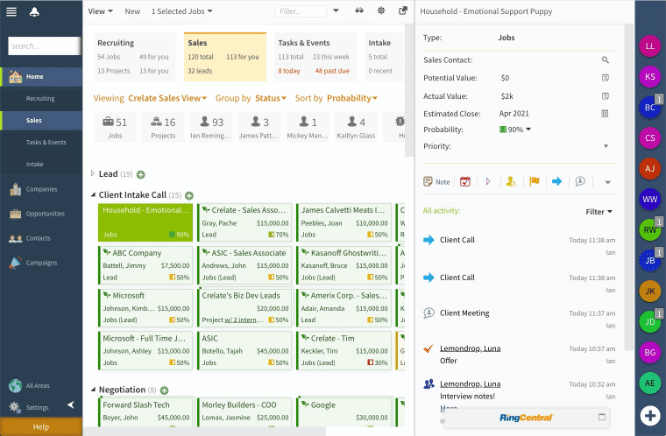 Modern staffing & recruiting software keeps all of your contacts in the same place — allowing you to work more effectively and keep everyone in your workflow up to date on what's happening next.
Sales workflows
Get a top-down view of your entire sales process, all on one page. Track potential and expected value for job leads and opportunities.
Keep tabs on sales stages using a fully customizable view with four default categories — New Leads, In Progress, Filled, and Lost.
Capture basic information, work job leads through customizable qualification stages, and optionally make them available to your recruiting team.
Product first then customer service. I did a very "in-depth" write-up for the company I worked with comparing Bullhorn, Crelate, and PC Recruiter advising the purchase of Crelate… sadly that advice was not taken. Crelate is many levels above all others in terms of usability at the customer end — the search functions/power, ability to easily customize at the user or admin level, integration with various email and platforms like Linked In, how it manages the recruiting processes like going through the interviews, record keeping, etc., it's just very well thought out.
Steve Lowery
The Search Offices
Referral Analytics
Leverage your data to create greater and more efficient candidate generation pipelines.
Referral information is automatically added to candidates who apply to your positions
Gain actionable insights that drive ever greater returns on candidate placement.
Opportunity valuation
Forecasting and valuations are easily tracked and calculated so that you can stay on top of emerging trends.
Optimize your workflow with a fully customizable valuation form, and gain insight over potential business and revenue.
Automatically calculate fee-based and potential values.