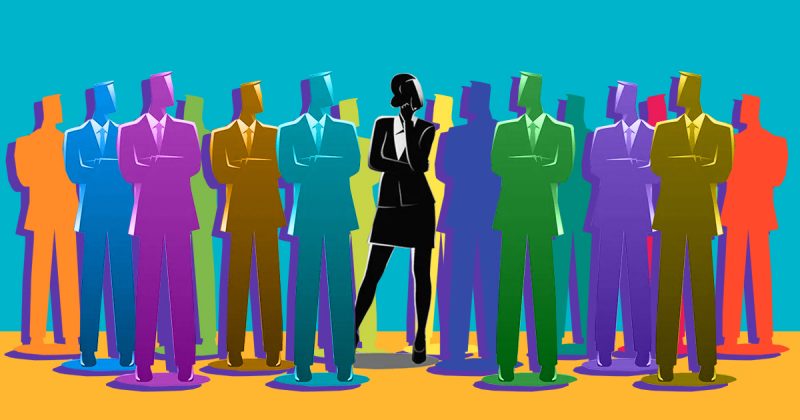 What's Changed? What Will Stay the Same? And How You Can Get It Right.
As we cautiously emerge from the pandemic, it's clear that COVID has changed the way we work, probably forever. And within the recruiting industry, those changes might be most apparent in the business of executive search.
Known for being among the most hands-on and in-person fields within recruitment, executive search norms were shattered left and right over the last year. An example: Previously unthinkable, in 2020 the virtual meeting necessarily replaced the over-dinner conversation.
Some of these changes will make it easier for recruiters to find and place high-quality executive candidates. Others will require executive search firms to hone newly important skills. But all will require some form of adjustment and rethinking for recruiters to succeed in the post-COVID world of executive search.
Executive Search in 2021 and Beyond
While the recruiting industry as a whole has been relatively quick to adopt new technologies as they've become available and offered a path to scale and success while remote – Applicant Tracking Systems (ATS), Customer Relationship Management systems (CRM), Programmatic Advertising, Social Media, etc. – many executive search companies have long relied on time-tested approaches in order to find qualified candidates. These include depending on professional networks to discover the best people for open positions, and counting on in-person meetings to both engage talent and to thoroughly vet them on behalf of discerning clients.
But in 2020, from trade shows to social events, opportunities for executive recruiters to shake hands with new executive-level connections were scrapped. And the option of physically traveling for initial, in-person sit-downs with prospective candidate was also unexpectedly taken off the table.
Initially, these sudden changes hamstrung the executive search industry. But successful executive recruiters turned to technology to bridge the gap, and worked with their clients and candidates to navigate the new normal of executive leadership during a pandemic.
Executive Recruiting Online
According to Oliver Esman of Strawn Arnold, "the days of meeting (a candidate) at a coffee shop came to and end in March of 2020."
Said Esman on The Staffing Show podcast, it's imperative that executive recruiters get comfortable in an online environment.
And that starts with LinkedIn, mastery of which Esman calls a critical skill for any modern recruiter.
"LinkedIn is crucial right now," he said. "It's remarkably flexible and surpasses any internal database… particularly for management jobs. Recruiters need to get really good at it."
Another benefit of LinkedIn's omnipotence is that, with literally global reach, the platform makes it easier and faster to find qualified candidates, speeding up the executive search process.
Further speeding the process: the ability and expectation that candidates are now initially vetted via video interview, rather than in person. (Can you hear the sigh of relief from road-weary executive recruiters loathe to return to the days of regular cross-country plane travel?) The trade off: moving to a video-first mode of operation means recruiters need to become experts in video interviewing, too.
Remote Work Opportunities Expand the Executive Talent Pool
One effect of COVID that could expand the candidate pool for executive recruiters is that, after seeing positive results with the forced distribution of teams and the necessity of employees working away from a centralized location, many companies have become significantly more open to hiring remote workers. And experts largely agree this will continue to be true.
Indeed, the shift to distributed workforces seems also to have derailed the increasing pre-COVID normalcy of the "super-commuter" executive. Now, instead of being limited to candidates who are willing to invest significant time and energy into a regular commute of hundreds – if not thousands – of miles, recruiters are able to search nationally, or in some cases even globally, for the right person. And, depending on their preference, that candidate's commute could be reduced from a cross-country flight to a walk down the hall to their home office.
Executive Onboarding is Critical – And It's Part of Your Job as Recruiter
Remote work broadens the search area for available talent to virtually anywhere, expanding a recruiter's candidate pool dramatically, which is certainly a welcome help for finding scarce talent.
But it also places a greater emphasis on virtual onboarding to ensure candidates can hit the ground running. It's imperative for executive search agencies to make clear their hiring managers understand the importance of virtual tours, optimized onboarding plans and frequent, short video check-ins with new remote hires in order to boost the odds of their success.
Confirms Esman, "The success of a recruitment is often based on the first two or three weeks, so make sure (your candidate is) getting educated and meeting the right people."
(Executive search firm The Bowdoin Group found via research that a best practice during the onboarding of new executive hires is to, "limit large group meetings – which can feel very isolating or awkward on video – while facilitating more smaller group and creative 1:1 meetings," and that "replacing less frequent longer meetings with more frequent shorter meetings as well as frequent check-ins made the process less frustrating.")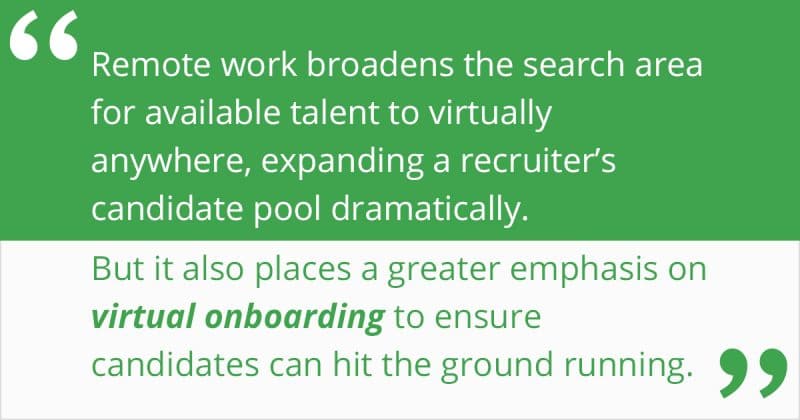 Executive Recruiting Modernized
As with much of the business world, COVID accelerated executive recruiters' appreciation of the benefits provided by technology like social media and video chat, making proficiency with tools like LinkedIn, Zoom and Teams essential to continued success. The pandemic also accelerated the option of remote work and distributed teams, greatly expanding recruiters' pool of available candidates.
For executive search firms that adapt to the post-COVID business environment by adopting these tools and implementing best practices around them, the future continues to look bright.
To learn more about executive recruiting best practices, download our e-book: 10 Solutions to the Top Executive Search Challenges
Filed under: Business Development, Recruiting Tips
Tagged with: media-coverage