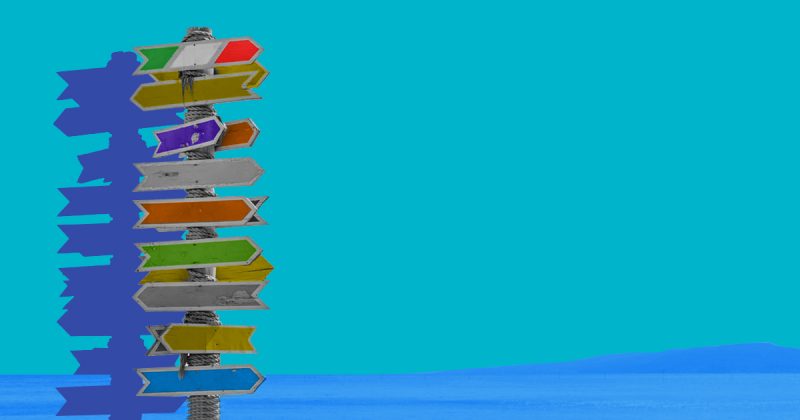 While experts and politicians debate when and how the economy should re-open, our customers are forced to deal with very real business questions today.
I write this post as an optimist; I believe in the resilience of humanity and our collective ability to innovate and adapt. Together, as a society we will get through this, and we need to consider what possible futures might look like.
As the country prepares to re-open the economy, we are faced with the inevitable unknown of the "New Normal". We face this not only as individuals, but also has business owners.
For recruiters, the people-business will certainly experience changes. New regulatory requirements? Probably. Social-distanced interviews? Sure. Sharp changes in demand for talent. Absolutely.
The question is, what are you doing to prepare your recruiting, staffing or consulting business to provide the talent needs of the New Normal?
But what will the new normal be for our industry? Nobody knows for certain of course. With so many macro shifts, and a lack of precedent, it is hard to predict. Here are a few trends that may affect our industry that have caught my eye:
And a few more that might affect hiring in the future:
Government spending is up, up, up! Construction and public works projects might see a massive demand for talent in the future.
Redundancies and supply chains will be re-evaluated as recent events show the fragility of just-in-time supply chains. Pre-Coronavirus, the name of the game was maximum efficiency. Going forward we might see more redundancies, disaster recovery, continue operations built into businesses.
Customer and business behaviors will change, some change may be for good. Read US Consumer Survey Details Impact on Coronavirus on Consumers and Millennials.
Manufacturing may shift on or nearer to shore. Groups are already calling for tax packages to accelerate this trend. Will there be a surge in manufacturing jobs in our future? If so, many predict automation will play a key part.
One thing we know for certain is that at some point 26 million Americans (and millions more internationally) will go back to work.
We also know that historically, the Staffing and Recruiting industries offer a higher frequency reflection of underlying economic conditions. During past recessions, temporary employment rolled before headline employment, but it also bottomed sooner and recovered faster.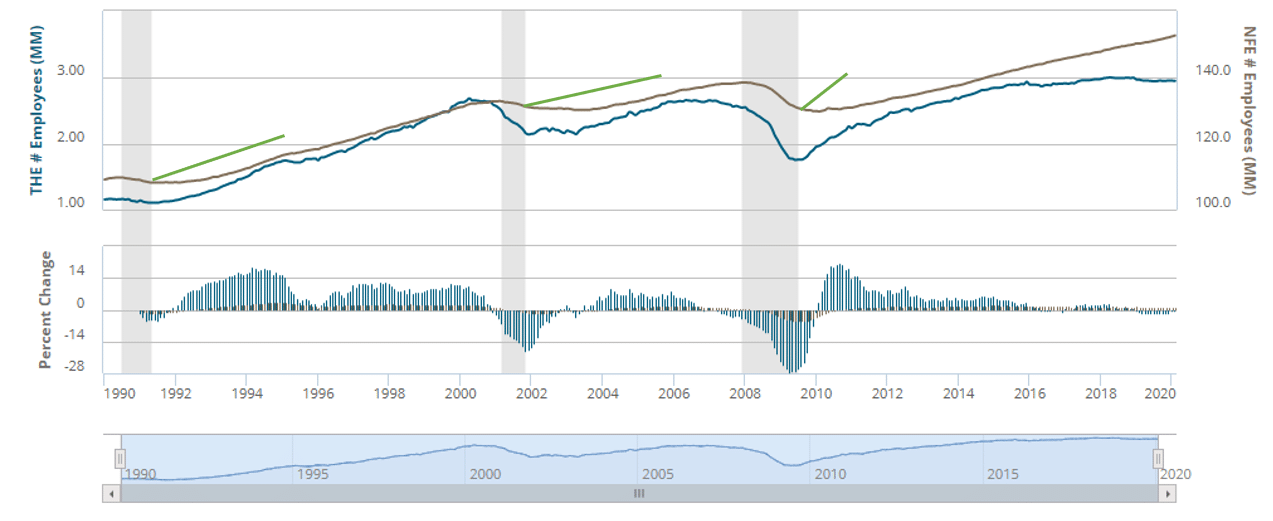 If we presume that staffing and recruiting agencies will not only exist on the other side of this, but thrive, what might owners and leaders of these business do today to prepare?
I've spoken with many of our seasoned customers over the past two months. Customers that have been through a few downturns. Beyond checking in to understand how we could help recruiters survive and thrive through this, we asked them what they were doing during the COVID pandemic and extraordinary moment for our economy. The answers varied across industries and by the size and structure of the firms. But a few themes did emerge.
Recruiting & Staffing Agency Biz Dev During COVID
Simply, business development needs to change. Agencies need to not only be smart, but also empathetic. Frontline workers are busy saving lives, and the hospitality, travel, airline, cruise and oil industries are experiencing drastic drops in demand.
"You need to sharpen the saw first" Said Bill Corbett of Corbett Search "Nobody wants to hear from opportunists trying to capitalize on a calamity." Instead, it might be a "good time to reconnect with past wins. Spend a little more time on the research side, identifying companies who are still hot in this downturn, and specific types of roles that are in high demand during this chaos" he continued.
Universally, the feedback was that business development needs to continue. It's part of returning to normal.
"Listen more" said Kraig Ward of Bearhug Recruiting. "Research more and learn the latest stats about your industry's growth/decline along with the latest jobs data so you can add value to the conversation." He also stressed the need to "shift the tone from trying to land/win a search, and instead prepare ahead of making calls by putting together a suite of both free, low cost and/or discounted offers that can be CAREFULLY matched to the hiring manager's needs after listening deeply for their true needs. Be prepared that in some cases, the conversation could shift from your primary contact either recently being laid off and/or them sharing that they fear for their own job stability. Be prepared to offer help in unexpected ways."
Recruiters Need to Reflect and Pivot During COVID
Almost no one is expecting a fast "V-shaped" recovery, so take time and reflect. What skills will be in demand on the other side? What industries will prosper in the new normal and what role will you play in helping find talent to fill their needs?
If you haven't realized already, the market has moved. You must move with it. If your business is solely focused on a hard-hit industry, your timeline for this move is probably now. "Travel, Leisure, Hospitality, Airlines, Events, Services, and Employment sectors are getting hit so hard, shifting niches to sectors such as Accounting/Finance, Healthcare, Property Management, "sin" Businesses, Pharma, Regulatory/Compliance, Waste Management, Web-Based Services, Utilities, Computer Systems Design, Automation Design, Higher Ed, Physical Security, Transportation, Logistics and Supply Chain, Warehousing might be a smart path forward." Said Kraig Ward.
Others are looking not only at industry shifts, but model shifts.  Outplacement Services, a service where agencies agree to help laid off workers find work, were mentioned by several firms.
Further, you can check out job boards and sites like these to get an idea of who's still hiring. https://layoffs.fyi/tracker
Get Organized
Overwhelmingly our most successful customers were preparing and getting organized to ensure they come out on the other side of this downturn like a rocket.
"Now is the time to build rapport with Sr. Level candidates. Those will be your future placements" said Rich Rosen of Cornerstone Search.
Others are taking this time to organize their Candidate database, update contact information and check-in with past placements.
"Spend time expanding and organizing your candidate network, bolster your ATS (and if you don't have one, get one), and be ready to attack as soon as this downturn ends, and companies are hiring again like crazy" added William Corrbett.
Where will potential A-players come from? Consider the following sites that track layoffs from top companies. But tread lightly and with a kind heart. The current crisis is hitting everyone in different ways.
Get lean(er) and smart(er)
This theme was consistent, but the exact approach varied the most from business to business. Having navigated my own small businesses through two recessions, I know every owner is looking hard at their options. Many companies are doing a complete review of their P&L, updating their models and making changes for the short, and long haul.
Here are some of the specific actions we've heard recruiters and agencies take, plus a few that we've done ourselves.
Short Term – Cash is king
PPP Loan – If your firm is under 500 employees and is independently owned, you might be eligible for a forgivable Payroll Protection Program Loan might be a lifeline.
Lease Concessions – It doesn't hurt to ask. I've heard from many companies that they have been able to negotiate small concessions on their leases. Every bit helps.
Grants – Check with your local Chamber of Commerce, as well as City and State grant programs. There are a range of small grants from a few hundred to as much as $10k being handed out to help qualified small businesses.
Team Changes – This one is always tough, but unfortunately is something every business must consider. If you do need to make changes, be kind and quick. Make the reduction large enough that you won't have to do it again and make it soon enough that you can maximize the severance you can offer.
Longer Term – Maximize your options
Evaluate your systems
What services are you paying for every month? Which are not achieve the return on investment you were expecting? Which do you now have time to make better use of?
Evaluate your approach
Consider your core values and identity what makes you unique and successful. Now look at your entire business. Categorize every aspect, process, system and procedure into two groups: helping and hurting. Deal with each accordingly.
Invest 
Yes. This might feel counter-intuitive, but that is precisely why it's a good idea. Take advantage of any down time and invest for what's next.
Are you still stuck on that old ATS (you know, the one that got sold to a new owner years ago and hasn't been updated since)? Maybe now is a good time to make the move to a more modern platform. (If you're looking for help, this ebook on ATS data migration provides a great jumping off point.)
I'm not just talking recruiting software either. Many agency owners I spoke with are investing in service offerings, procedures, computers, phone systems, sales tools and more.
Bottom line, the "smart money" is looking past the current crisis and getting ready for the other side.
As always, stay safe and take care.
If you have other advice you'd like to share, I'd love to hear it you can email me at:

Filed under: Business Development, Recruiting Tips
Tagged with: industry trends, recruiting, Recruiting Trends