Recruiting CRM
Your job: attracting, sourcing and engaging top talent to fill out your recruiting pipeline.
Your CRM's job: helping you to drive your recruiting process with integrated communication tools, automating high-volume communication, and knowing exactly where you stand with top candidates.
Crelate's CRM not only makes that process easier and more efficient, but — along with powerful recruiting analytics — it also measures communication effectiveness and outcomes to show you what's working, what's not, and where you can improve.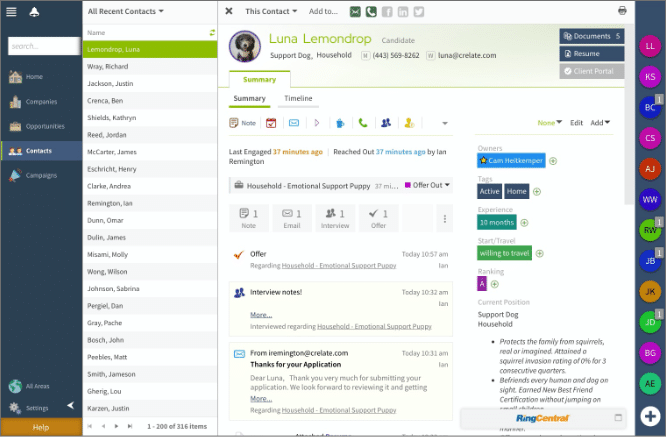 Simple, customizable, insightful, and intuitive Candidate and Customer Relationship Management. Candidates can become customers and vice versa — you'll never have duplicates or lost records.
Customize your sales stages.
Crelate's CRM is fully customizable and adapts to your workflow. Manage and modify your sales stages and see your entire process in one place.
Capture basic information, work leads through qualification stages, and easily make them available to your recruiting team.
Candidates can become new job leads and job leads can become candidates – manage them all with Crelate.
A candidate follow-up system where we can tell when was the last action, appointment, or task made. The record tracking system is incredible, email journaling saves time, calendar is organized and efficient. Crelate combines all the best quality elements of other ATS/CMR into one unified piece.
Verified Reviewer
Gartner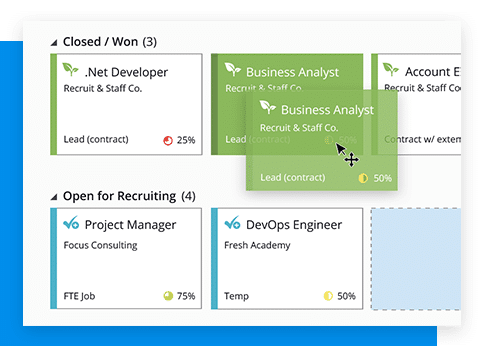 Make your workflow flow.
How do you work best? Do you prefer a list or tiles? Would you like to be able to sort by a custom field? Group candidates by potential value? Crelate can do that.
Customize everything from project to placement form to opportunity type.
Use Crelate's customization to filter jobs by placements, companies, opportunities and more.
Business analytics that really matter.
Analytics and insights are invaluable to your business. Crelate tracks and logs your data without sharing your information to a database. Your data is yours.
Record successful placements and add notes to opportunities that improve your business.
Generate graphs and sales charts by expected value, historical comparisons, average time in stage, and more.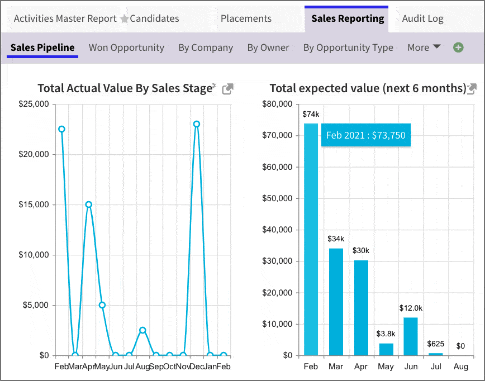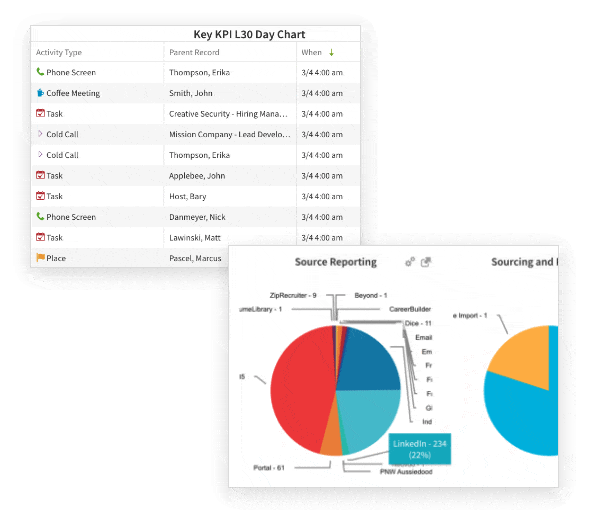 How much is that lead worth?
Gain insight over potential business and revenue. Forecasting and valuations are easily tracked and calculated so that you can stay on top of emerging trends.
Automatically calculate fee-based values and potential values.
Fully customizable valuation form.
Explore Recruiting Agency Solutions
Crelate Recruit: The complete platform for your recruiting agency.
1  Receive job order from client
2  Source potential candidates
3  Sort received resumes
4  Screen candidates
5  Present candidates to client
6  Extend job offer