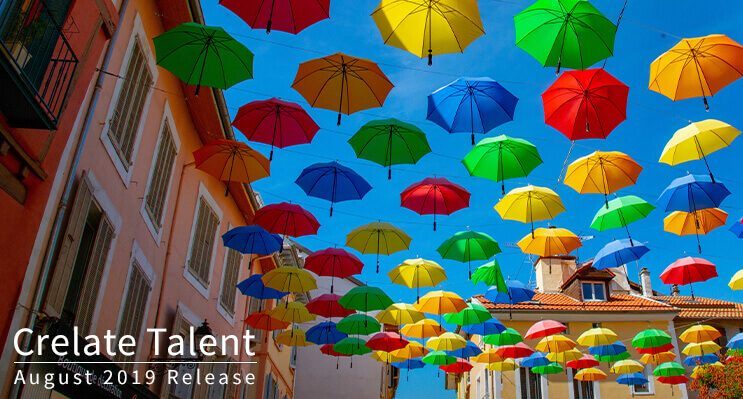 What's New with Crelate: August 2019
Our August release focuses on expanding functionality which can connect your Crelate Talent database with other systems. From "zapping" data to places like Constant Contact or QuickBooks with Zapier, to posting jobs to additional job boards, or searching Resume-Library's 12M+ candidates, Crelate helps make your job easier!
As always, we're thankful for our wonderful community. If you would like to see what we are working on next, be sure to check out our Product Roadmap. Your continued support and suggestions help us make Crelate better every day.
– The Crelate Team
IMPROVED – Zapier Integration
It's easier than ever to connect Crelate with over 1,300 other applications. This month we launched our Zapier integration out of BETA and added templates to for Crelate customers start automating tasks right away. Our engineering team expanded the existing Triggers and Actions to give busy recruiters more tools to automate their processes. Without complex code, Zapier shares information between Crelate and other apps. Connect Crelate to over a thousand other applications such as Constant Contact, Google, QuickBooks, and more. Learn more.
NEW Zap Templates – 10 pre-built Zap templates to connect Crelate with popular tools like Twitter, Slack and Trello to get you started.
IMPROVED Triggers – Separated triggers into "create new" and "update existing" contacts, jobs, and company records to gain more granularity when automating tasks in Crelate with Zapier.
IMPROVED Actions – Updated Actions include adding notes, tasks, tags, and searching for specific Crelate records to use in Zap templates.
IMPROVED – Resume-Library
Source candidates outside of your network with Resume-Library. Search through millions of candidates and add them to your Crelate database with just a click, without having to leave your Crelate browser. Resume-Library's huge database of candidates is fully integrated with Crelate, allowing you to search your database and an external database from one screen. We are also pleased to announce new lower prices on resume unlocks! Effective today, we have reduced the price on resume credits by up to 60%.NEW Settings – Administrators can control access to External Resume search via organization settings.
IMPROVED Discoverability – Resume-Library is now available to all users. Contact your Crelate administrator to enable this feature.
IMPROVED Unlock Pricing – Lower resume unlock pricing packages, up to 60% off.
IMPROVED Search UX – Improved Resume-Library search experience, page through resume's 100 at a time.
IMPROVED Record Type – The old options allowed Crelate users to import resumes as candidates or clients. Now there's an option to add someone as a lead/opportunity or any combination of the three, or none at all! The default option is just Candidate as it was previously. 
For more information about our Resume Import updates, take a look at our Resume Import Walkthrough Video
IMPROVED – Indeed Sponsored Posting
We've updated our integration with Indeed by increasing the campaign length from 15 days to 30 days and adding the ability to set custom budgets on sponsored jobs. These changes improve our integration with Indeed, saving you more time and giving you great control to reach more candidates and maximize your spending. Don't have an Indeed account yet? Click here to get one.
And a few more goodies…
As always, this release has a wide array of other improvements based mostly on customer feedback and requests.
NEW neuvoo Job Board – We've added neuvoo job board to our list of organic job board providers. With neuvoo, your jobs can be in front of more than 40 million candidates a month. When enabled, jobs published to your Career Portal will be sent to neuvoo automatically.
ENGINEERING UPDATES

NEW – Added ability to differentiate contact types when viewing them from a company record.
NEW – Can now set source on Applications endpoint from the Public API.
IMPROVED – Performance improvement of certain delete operations.
IMPROVED – Expanded options and better handling for custom fields on record forms.
IMPROVED – Added improved logic when selecting filter criteria in search, reducing number of actions.
IMPROVED – Better contact source matching logic when an applicant is redirected from various job boards.
IMPROVED – Better time zone handling for activities and how they are reported.
IMPROVED – Updated paid job posting UI layout.
Filed under: Crelate Updates