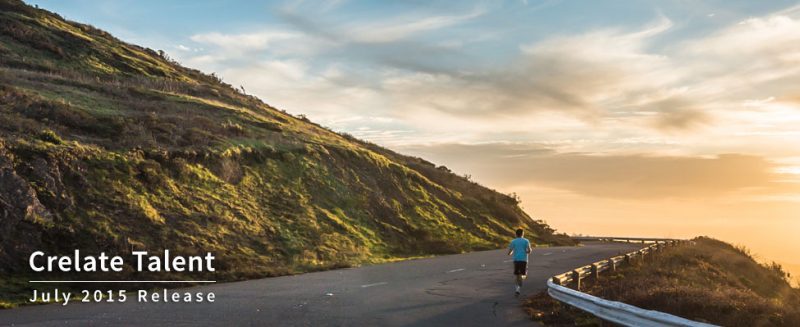 Hey there! It has been just two short months since our last release and we are delighted to bring you some exciting new improvements! What's new for July 2015? For this release we focused on improvements to email and added a new type of workflow. We hope you enjoy this release.
– The Crelate Team
NEW – Candidate-centric Workflows
An exciting new feature for our Professional-level subscribers, Candidate-centric workflows allow you to define a unique custom workflow that is centered around that great candidate you are trying place. Start by entering key candidate details, just like any contact in the Crelate. Then start a workflow just for them. The search will show up on your homepage dashboard, just like a job search. Now you can target companies and key hiring managers at potential hiring companies. Move these possible placements through your work customizable process and stages.
Key features include:
Track a unique workflow for a specific candidate – Instead of tracking candidates for a position, track possible opportunities for a candidate!
Unique stages – Define your own workflow stages that are separate from the standard job placement workflow

NEW – Automatic Email Tracking (BETA)
Another new feature that we are going to preview for select customers is automatic email tracking. This is a premium-level feature and is only available to customers with a Professional level subscription. With this feature, you to connect your email server directly with us, so that all emails can be tracked automatically. We have a limited number of beta slots available, and hope to have this feature finalized and available to all Professional-level customers by the end of summer.
In the future, this feature may have an additional cost, but will be free while in beta to customers that are testing it with us. If you are interested in trying this feature out, please submit a support request.
Important Details:
Automatically track all emails – Sync and track every eligible email, every time, all the processing happens behind the scenes.
No need to CC/BCC the system – You no longer need to CC or BCC the system and replies will also be tracked for candidates whose email addresses are in the system.
Control what gets logged – Configure whether or not emails marked as private or confidential are logged and control the level of SPAM filtering applied.
Requires vault, archive or journaling support – This is an advanced feature and requires that your Exchange, Office 365 or GMail-based email server support email archival or journaling.

Many other improvements, including…
This release has a wide array of other small improvements based mostly on customer feedback and requests.
CHANGED – Email Confirmations:

Based on feedback, we only send error / failure messages for emails we process. You can re-enable success mails under user Profile.


CHANGED – Editor improvement:

The ENTER key will now only produce a single linefeed, if you want to insert a new paragraph you can press SHIFT-ENTER.

NEW –

Fonts + Font Color: You can now select a font and a font color in your email signature, email template editor and other places throughout the application.

NEW –

Pending aplicant Emails: You can now select to include the resume of new applicants on the notification email.

NEW –

Find with in list: You can now filter within an existing static list.

NEW –

Icons: We have added 20 cool new icons for you to use on your custom activities, enjoy!


NEW –

Re-open Activities: You can now uncomplete / re-open an old activities and tasks.

NEW –

Tutorial + Welcome Dialog: First time users will now be presented with a quick tutorial and welcome screen to help them get up to speed quickly with Crelate.

NEW –

Include URL in Export to Excel: You can now select to include the URL of a records when exporting to Excel or CSV.

IMPROVED –

More job dashboard stages: We have increased the limit from 10 to 20.

IMPROVED –

Performance: The performance of Contact / Candidate grids should be greatly improved.

IMPROVED –

Research Using: We have improved the Contact / Company Research areas to be easier to use.

IMPROVED –

Performance: The performance of initial loads for most users should be slightly faster.

IMPROVED –

Merge Improved: You can now select two records from a list and select Merge. This saves a lot of clicks compared to the old method which required you to find the second record you wanted to merge with.

IMPROVED –

Resume Parsing: We have improved the detection of First and Last name in certain situations and have also added more checks for files uploaded with incorrect extensions.

IMPROVED –

Job Dashboard Export: The Date Added To Stage column now correctly exports to Excel from the Job Dashboards.

IMPROVED –

Job posting expirations: Because job boards don't list jobs older than 60-90 days, we now show warnings to let you know when your job may be expired.

IMPROVED –

Job posting field tweaks: There is now a country selector and we have increased the length of the salary field.

IMPROVED –

Touch browser support: We have improved the tap behavior on Windows tablets when double-tapping.

IMPROVED –

Auto-number Format: We no longer show a comma in auto-number fields, this helps with reability in most situations.

IMPROVED –

Logout: We have reduced the chance of you being logged out of Crelate automatically when using Crelate in multple tabs / browser windows.

IMPROVED –

Backups: We have improved the speed and reliablity of full data backups for customers with large amounts of data.
Filed under: Crelate Updates