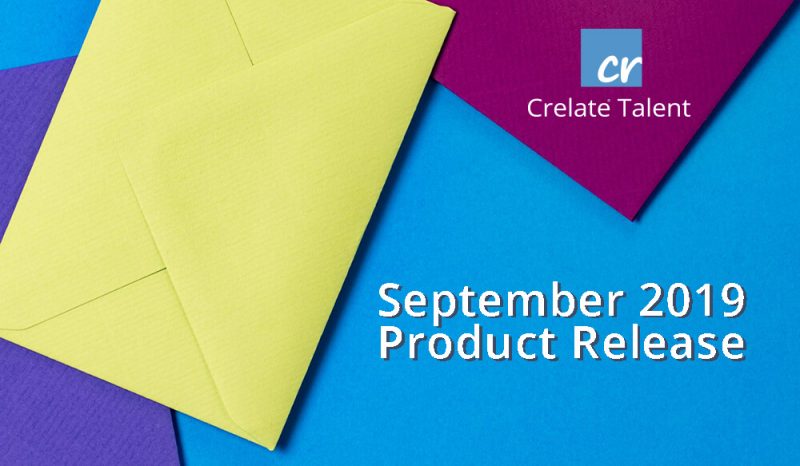 It's all about streamlining communication in our September release! We've renamed Bulk Email to Email Campaigns and added several exciting new capabilities. Use Crelate Email Campaigns, to send hundreds or thousands of emails to candidates and customers, with just a few clicks. Measure the success of your Email Campaigns with new open and click through rate statistics. We are also excited to announce major updates to our RingCentral integration. With this release, RingCentral integration moves out beta, adds many requested enhancement, including the ability to text from within Crelate using your RingCentral number. These features are the result of direct feedback from you, our most amazing community. Please let us know if there are changes you'd like to see with these or any other areas within Crelate, or if there are new features that would help you grow your business.! As always, we're thankful for our wonderful community. If you would like to see what we are working on next, be sure to check out our Product Roadmap. Your continued support and suggestions help us make Crelate better every day. – The Crelate Team
NEW
– Email Campaigns
BUSINESS

How do you let a bunch of great job candidates know about a cool new job? How do you tell your clients about new services you offer? Send an email campaign to them! We have taken our bulk email feature and supersized it. Below are some highlights of what it can do Crelate's new Email Campaigns, and you can visit our support site to learn how to create and send an email campaign.

NOTE: Basic Email Campaigns with analytics, are available to all existing Business customers. For customers that require higher volume of emails sending, additional Email Campaign packages are available.
NEW

– The ability to send more than 100 emails at a time, saving your team time sending large email campaigns.

NEW

– Configure sender addresses to send from any email address on your domain.

NEW

– Email Analytics – Know when recipients have opened and clicked through on emails sent through a campaign.

IMPROVED

– Email Quality Handling – We've improved our handling of bounced and unsubscribe email handling. We've also added a new data quality area to view and managed bounced email addresses.

IMPROVED

– Build branded emails and customize everything from fonts, colors, spacing.

IMPROVED

– Send emails to individually selected sets of contacts, or saved lists of contacts.

IMPROVED

– Create, edit and save templates to repurpose and standardize communications from your organization.
NEW
– RingCentral VoIP and text messaging
Our integration with RingCentral is out of beta and ready for prime time. With Crelate's RingCentral integration, busy recruiting teams can save valuable time with automated inbound and outbound call and text tracking.

NOTE: Texting with your RingCentral phone numbers requires a compatible RingCentral calling plan and a Crelate Text Connector for RingCentral add-on. Please contact our Sales team for more information.

NEW

– Initiate calls by clicking the phone icon near any phone number in Crelate Talent or with an enabled widget for RingCentral on the screen.

NEW

– Receive incoming call notifications in Crelate including the ability to click on an incoming call's contact record to view supporting details such as: conversation history, current resumes and employer.

NEW

– Record important interactions under contact records stored in Crelate Talent.

NEW

– Report on how many calls and text messages took place before a desired outcome is achieved.

NEW

– Send single text messages for group collaboration.

NEW

– Utilize calling and texting on the Crelate Connector Mobile app for mobile recruiting scenarios.For more information about using Crelate's Ring Central SMS Integration, take a look at our guide to Using Crelate's RingCentral SMS Integration

The Crelate and RingCentral integration was built to be useful throughout the talent acquisition process and is not limited to the examples listed above.
 
And a few more goodies…
You know we always have extras!
NEW

– Org backups will now include a text file that for now will output metadata for Custom Fields to identify what each custom field is.

CHANGED

– Increased the number of aggregations from 10 to 50 on the sales pipeline charts to make sure that orgs that have a large number of stages get aggregations for each grouping.

FIXED

– Non-admin are now able to add, edit, or delete Social/IM fields on contacts.

FIXED

– When changing stages on the board, if recording a calendar type activity that is set in the future, the invite will not send if the "Just save it" option is selected.

FIXED

– Fixed a bug where our schedule service was not sending out the weekly emails because our schedule was incorrectly configured.

ENGINEERING UPDATES

IMPROVED

– We've made performance and reliability updates to our Search and Reporting infrastructure.
Filed under: Crelate Updates