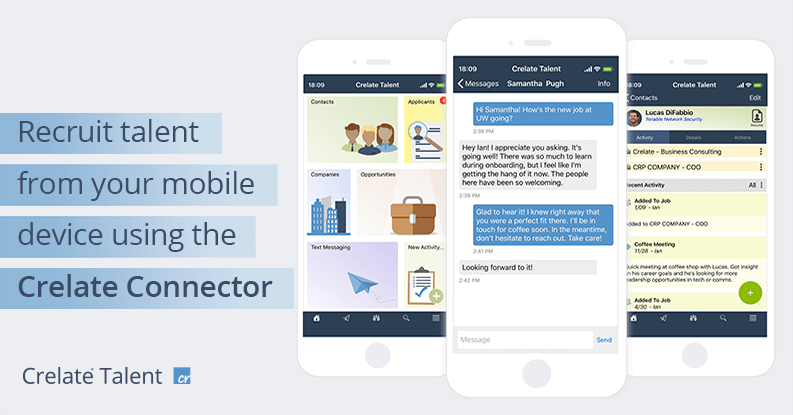 New mobile recruiting app and advanced texting functionality will empower recruiters to connect candidates with opportunities on the go with Crelate technology.
KIRKLAND, Washington, April 30, 2019 /PRNewswire/ — Crelate, a leading cloud-based recruiting software, announces the launch of its newest and most advanced mobile recruiting app – Crelate Connector. The Crelate Connector mobile app empowers recruiters with new mobile recruiting capabilities, so they can focus on making real connections with the best industry talent at any time, from anywhere.
Key highlights of the Crelate Connector include: 
Client and candidate engagement (calling, emailing, and texting)
Access to an entire recruiting database on the go
Scheduling of activities with candidates such as follow-ups, interviews, and phone screens
Viewing and modifying candidate applications, contacts, job opportunities, resumes, and notes associated to each account record
The Crelate Connector app, available for Android and iOS, is the next step towards achieving the company's goals to enable recruiting solutions for people using any device, whether it's desktop or mobile. The new mobile recruiting app is optimized to make important recruiting tasks easy to do on a mobile interface. Interactions within the Crelate Connector app are synchronized to the Crelate web application in real-time, so that recruiting teams can collaborate on different projects and measure the performance of their efforts.
The original Crelate mobile app was released in 2016, and since has accumulated over 1,700 downloads from the Android and iOS app stores. Since then, Crelate has been working to create a mobile experience that extends additional recruiting tasks to a mobile environment. The goal is to provide busy recruiters with the tools to perform key recruiting and hiring tasks when they are on the go.
In late 2018, Crelate Connector launched, giving recruiters mobile access to resumes and candidate profiles for quick recruiting tasks or reminders. In early 2019, the app introduced more editing abilities for candidates, clients, and opportunities within a Crelate ATS recruiting database. When the Crelate Connector functionality has surpassed parity to the existing mobile app (Crelate Mobile), the company will retire the existing app and its users will be encouraged to utilize the Crelate Connector app for more robust mobile recruiting capabilities.
"Some of us here at Crelate were once recruiters ourselves. We know that recruiting doesn't happen entirely in the office. You've got to go out and meet with candidates and employers. There's legwork involved and it can happen anywhere." Said Crelate Mobile Developer, Matt Peebles. "At the same time, recruiters need access to all the information they keep in their ATS and CRM system when they're on the go. Crelate Connector gives recruiters the power to take Crelate with them when they walk out of the office. Making Crelate a recruiting solution that works as hard as recruiters do."
Crelate Text Messaging customers get additional functionality with the Crelate Connector. These customers have plans that give them a unique phone number for sending text messages from the app. This offers recruiters additional privacy and protects their personal phone numbers. Additionally, call forwarding from Crelate business numbers is available as a premium service to help recruiters stay connected.
The Crelate Connector app is available now in Google Play and Apple App Store, with several releases scheduled throughout 2019. Crelate plans to continuously expand its mobile recruiting offering based on customer feedback.
To learn more about Crelate's mobile capabilities, visit https://www.crelate.com/mobile
About Crelate 
Crelate provides a comprehensive, cloud-based recruiting solution that enables staffing and recruiting agencies of all sizes to manage sales and recruiting pipelines within a unified interface. Crelate currently helps over 900 talent-focused businesses and 3,000 active users collaborate better and make more placements. Schedule a demo to learn how Crelate helps recruiters hire more efficiently and effectively.rs can evaluate their process faster and more intelligently. Whether you lose a placement and want to discover where you specifically missed the opportunity, or if want to identify areas of your process to accelerate your productivity, the business analytics within a recruiting CRM enable recruiters to find those insights fast.
Filed under: Crelate Updates, Press Releases