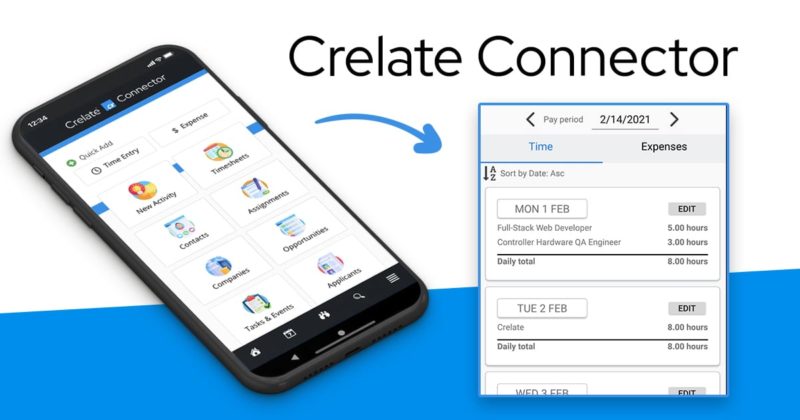 Mobile Time Keeping for Your Employees, Mobile Access to Candidate and Client Records, Integrated Text and Email, and Much More, All from Your Smart Device.
(Looking to download the latest version of the Crelate Connector app? You can download it in the iOS and Android app stores.)
Let's take a trip in the Wayback Machine. All the way back to 2019, when "Avengers: Endgame" was dominating the box office, "Old Town Road" was in heavy rotation on the radio, and the New England Patriots won their last-ever Super Bowl.*
Oh, and the word "Corona" made most of us think of beer.
It was also the year Crelate released the first iteration of our mobile recruiting Connector app.
As we said at the time, "Productivity doesn't have to slow down when you're away from the desk. Crelate Connector is designed for recruiters on the go."
While that's still true, times have changed.
And in 2021, the September release of Crelate Omni™ includes a brand-new version of the Crelate Connector App, complete with crucial tools for mobile recruiters and employees, and offers a completely new mobile experience.
The new design, tools, and features of the Connector app illustrate our total commitment to serving recruiting agencies, big, small and in between. But they also signify our expansion into back-office, and our mission to bring the same powerful, high-performance, customer-first software to staffing agencies of all types and sizes.
Staffing and recruiting. We're here for both. Because if you're in the business of connecting people with opportunity, we're in business for you.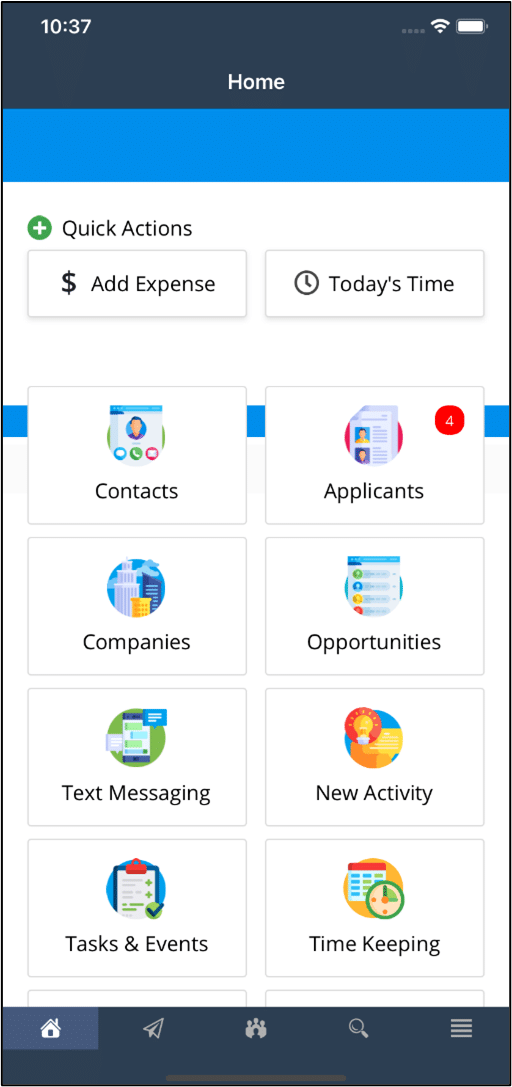 What's New in the Crelate Connector Mobile Staffing and Recruiting App?
As with the first version of our Connector mobile app, users will still be able to text contacts and capture important recruiting details in your Crelate database directly from your smartphone. You can still search and manage candidate records wherever business happens, with all interactions stored and immediately reflected in your Crelate account.
The new Crelate Connector unlocks tons of functionality that didn't previously exist in our mobile experience. Creating records? Check. Sending text messages? Check. A full daily planner view? Check.
On top of that, thanks to a completely redesigned user interface, the Connector app is now as nice to look at as it is smart and powerful. A mobile staffing and recruiting tool with beauty, brains, and brawn, all in the palm of your hand.
And of particular importance to staffing agencies… mobile time keeping! Embracing technology that's becoming increasingly prevalent across industries, the Connector app empowers your employees to enter hours directly from their mobile phone. Now, your workforce can record time from wherever they are, without the need for a computer.
List of Mobile Staffing and Recruiting Features in the Crelate Connector App
When you download the newest version of our mobile app in the iOS or Android app stores, these are the Crelate features you'll be able to access from your smart device. From the navigation page:
Dashboard
The Dashboard is the home page of the Connector app, and it's the first page that appears when you sign in. Available feature tiles are displayed on your Dashboard, and each user will see different feature tiles based on their role and permissions. For example, if your org uses the time keeping feature and you are a time recorder, you will see the time keeping tile.
Text Messaging
The Text Messaging feature lets you send and receive SMS messages directly from your Connector app. Any text messages you send from your Connector app will also appear in your desktop Crelate account; you'll see the same conversations and messages in both places.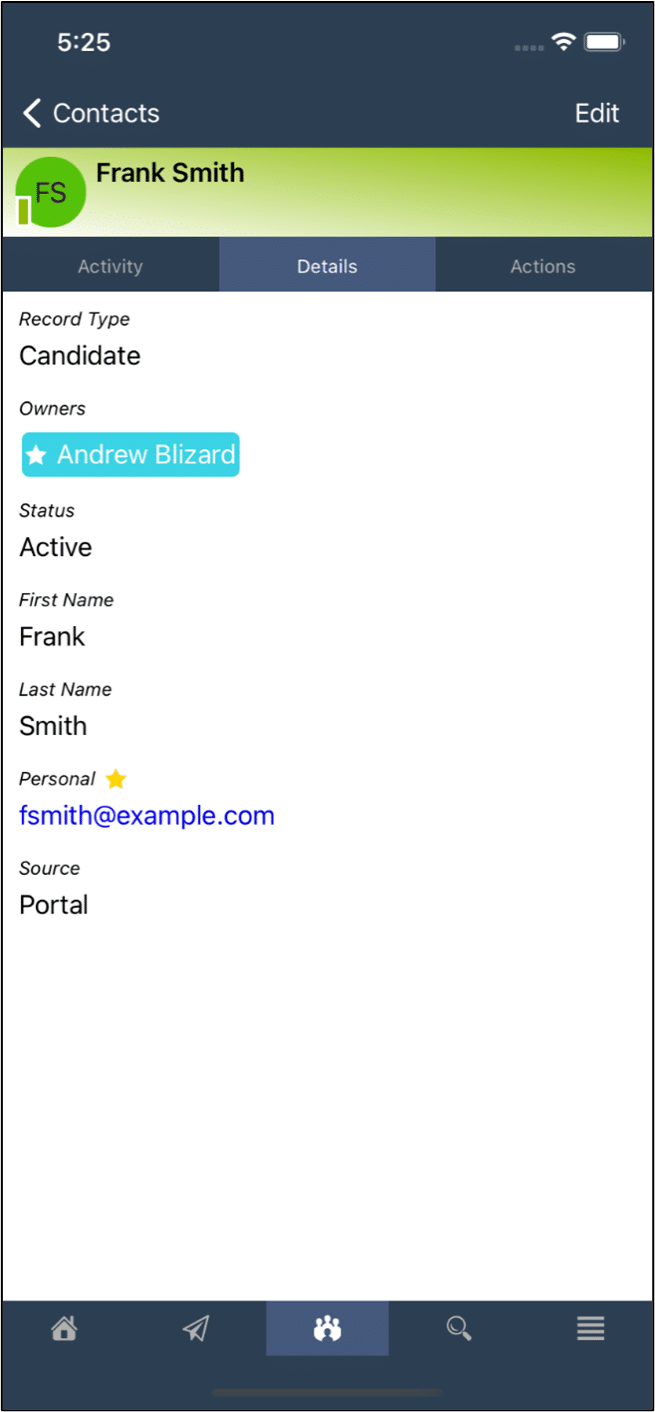 Contacts
Your Contacts can be viewed as a list, with basic information about each contact visible: current position, primary phone number, and last activity date. When you tap on a contact from the list, a details page will open with three tabs available: the activity stream, contact details, and communication actions. On the contact details page, your contact information can be edited. These edits will also be reflected in your desktop Crelate account.
Swiping left on a contact record gives you the option to call or email the contact, presuming a phone number or email is associated with their record. Swiping right lets you edit the Contact without tapping into the details page.
Jobs
Jobs can be viewed as a list with basic information about each: sales/client contact, potential value, probability of closing, estimated close date, and job type.
Tapping a job displays job activity, details, applicant, and candidates.
Companies
Companies (or "Accounts") can be viewed as a list of client companies with basic information about each available at a glance.
When tapping a company from the list, a details page will open with three tabs available: the activity stream, company details, and opportunity list.
Search
The Search feature enables users to search for specific records: Contacts, Opportunities, and Companies.
Tasks and Events
Tasks and Events provides a calendar view of scheduled tasks and scheduled activities, such as phone screens, interviews, and other custom activity types. By clicking on the Tasks tiles, users can view tasks and activities on a monthly calendar.
Applicants
The Applicants page shows a list of candidates who have applied for a job via your Crelate Job Portal. Tapping on an applicant record opens that applicant's contact page, which includes contact details, and from which a decision to approve or reject the applicant can be made.
Approving an applicant creates a workflow item on the applicant's corresponding contact record, or creates one if a duplicate wasn't detected. Rejecting an applicant will prompt the user to select a reason for rejection, then removes the applicant from the list.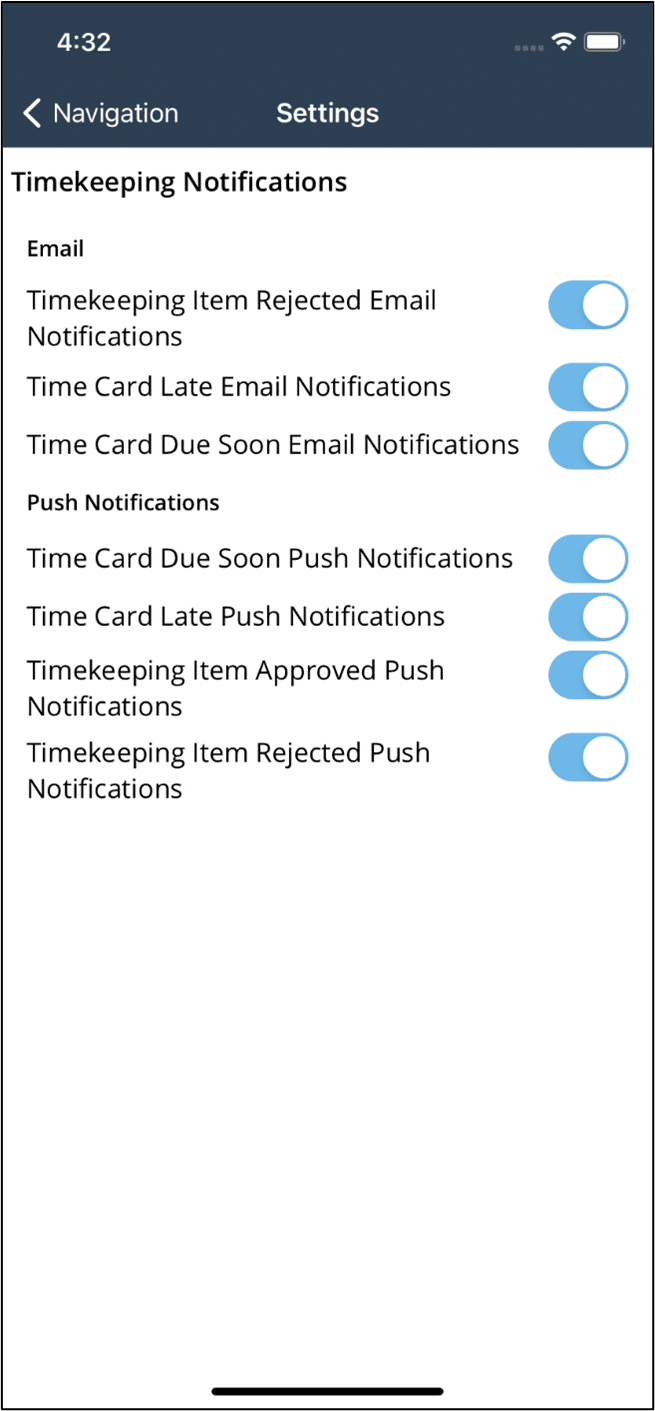 Time Keeping
Time Keeping is a major feature in the Connector app. It enables workers to record and submit time and expenses directly from their smart device, a critical feature for workers without easy access to a computer.
Sub-Pages
The following Connector app features are made available for users with access to Time Keeping:
Add Expense
The Add Expense page allows employees to quickly add an expense for the current pay period.
Today's Time
The time entry page for today's date empowers employees to quickly record their hours throughout the day. This is especially useful for Punch-In-Punch-Out (PIPO) time keeping, where time clock times are recorded to the minute.
Assignments
Opens the Assignments list page with two lists: current assignments and past assignments. Assignments also displays assignment details, which allows employees to view worksite addresses, dress code, primary worksite contact, and any other pertinent details.
Time Keeping
The Time Keeping page allows navigation between pay periods to view time and expenses, as well as submitting time and expenses for approval and/or finalization.
Time To-Dos
Time To-Dos enables employees to view draft or rejected timecards and expenses, ensuring no time or expenses mistakenly go unsubmitted. Items can be sorted by date or record status, and filtered by draft or rejected record status, or to only time items or expense items.
Profile
Unsurprisingly, your profile shows basic information about your account: first and last name, email, and organization name.
But, if you're using Crelate's RingCentral SMS integration, your RingCentral phone number, number of used messages and remaining messages, used voice minutes and total remaining voice minutes are also displayed on your Profile page.
There's More to Come
We know that when recruiting and staffing pros are able head out into the field and talk to people face to face, those interactions are incredibly valuable. And when you're equipped with the Crelate Connector app, you'll be able to do exactly that… without having to lug your laptop around with you.
On top of that, we know that life happens. Just because you're running little Willy to soccer practice, you don't have to wait to send that crucial text or update a candidate record while it's still top of mind. Thanks to Connector.
But we're not done yet. We're continuously working on expanding the core functionality of the Connector app, and we'll continue to implement features that Crelate users know from their desktop experience.
And as always, customer feedback is priceless. If you're already using the app, please send us your thoughts. We want to know what you want and need in terms of Connector functionality. And if you have any problems or encounter any bugs in the software, we'll hop to it and get them fixed as soon as possible.
If you're a Crelate customer and you're not using the app, you can download it in the iOS and Android app stores. (If you already have it, make sure you upgrade to the newest version to get all the latest features!)
And if you're not yet a Crelate customer but would like to see the Connector app in action, book time with a Crelate product expert now.
*If you're a Patriots fan and the joke at the start of this post rankled, you should know Crelate employees are largely based in the Pacific Northwest and Ohio.
Filed under: Crelate Updates, Relationship Management Software