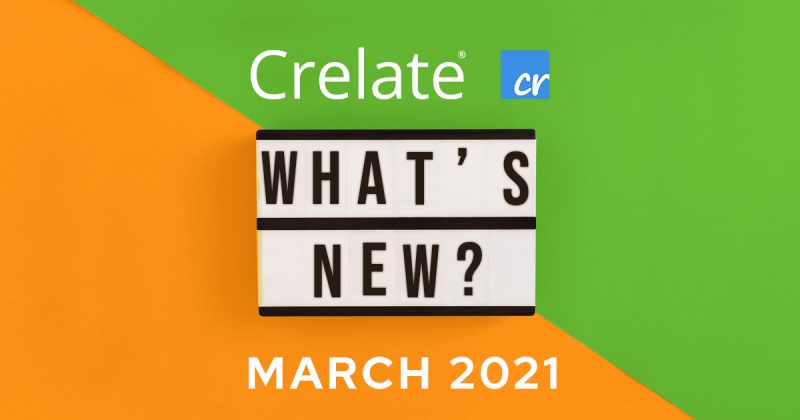 Crelate's March 2021 Release introduces even more amazing functionality for recruiters and salespeople, with features that will significantly improve your efficiency and productivity.
You can use these powerful tools to immediately streamline processes from candidate intake, to contract management, to passive candidate attraction, and much more.
Introducing: eSignature Capability
We know that the workflow of recruiters and salespeople requires that documents are signed and returned quickly and easily. Whether it's a new contract, onboarding documents, or an offer letter, you can now create and send eSignature documents without ever having the leave Crelate. Choose a document or select from a premade group of documents that you need signed, and track every step of the process from sent, to opened, to signed.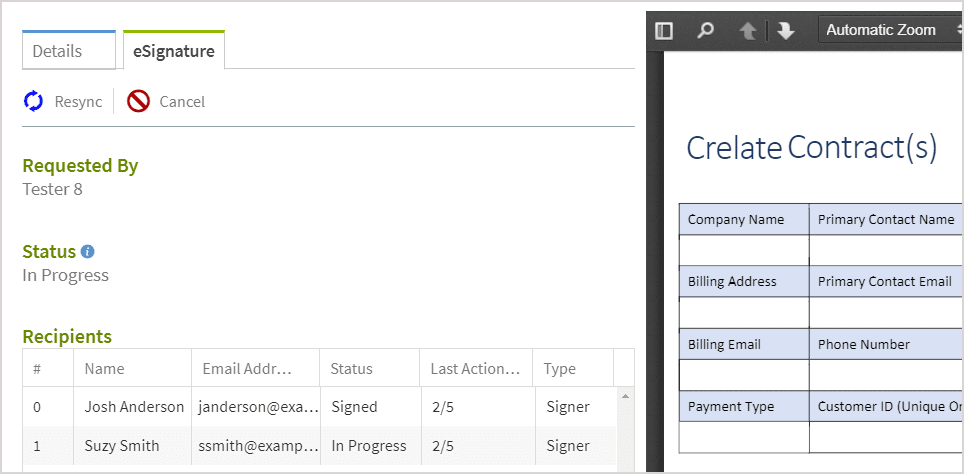 Real-time updates ensure transparency, and all finished and signed documents route to the appropriate contact record for safe storage. All without having to leave Crelate and sign into another system. Ever.
Introducing: Form Requests
It's tough to get candidates on the phone. And it's especially frustrating when you need important information on a deadline. With our new Form Request feature, you have the ability to create forms for contacts to fill out within Crelate, so you can snag the information you need without ever having to pick up the phone. Everything routes back to Crelate, so you don't have to copy and paste outside information into the system, or worse, re-enter it manually.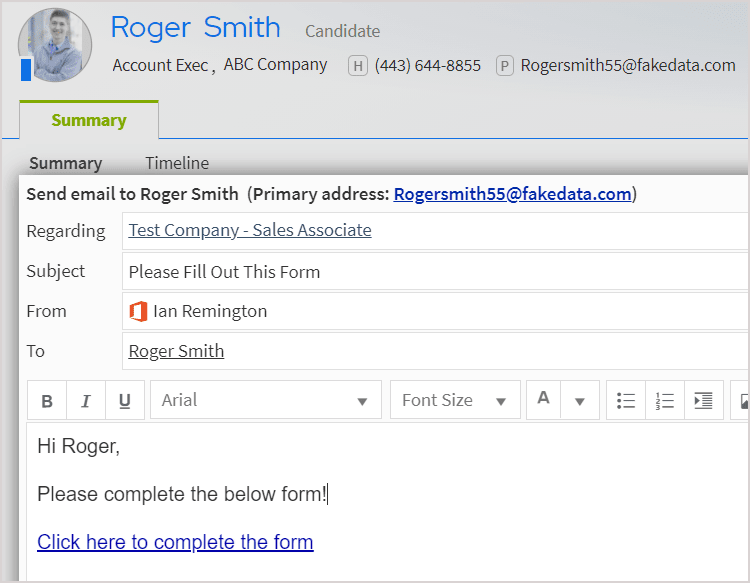 The experience is equally seamless for your contacts: when you send a form, they'll receive a link to a Crelate page where they can upload documents or fill out the forms, either at a computer or on the go from their mobile device, whichever suits them best.
Upgraded Record Status Functionality
We've heard loud and clear from our customers that you want to control how your data look; you need easy ways to search, view, and curate contacts within your ATS. That's why our upgraded Record Statuses provide valuable insight into contact records within Crelate, and new customizations like visibility options and style preferences makes searching and organizing contacts a breeze.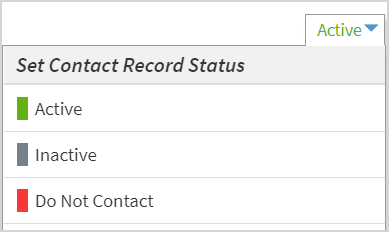 Do you have records you don't want shared, or perhaps you want to make sure contacts aren't accidentally included in a bulk email? If so, you can create a status with limited communication options to provide checks, so your recruiters don't make those mistakes. Or maybe you're searching through contacts and want visual indicators to help you easily sift through your results; we've added that, too.
Upgraded Job Portal
Posting jobs and getting candidates to apply is a crucial part of your business. With that in mind, we've refreshed the look and feel, and improved the functionality of our Job Portal, both on desktop and mobile. Everything you loved about the old Job Portal remains, but now with faster performance, additional features, and a more polished user experience.
Introducing the Job Portal Embeddable Widget
Deploying and managing a live job board that pulls data from your ATS can be a complex, technical and time-consuming improvement to make to your website; in the past, it often required the work of a third-party developer to build. Not anymore.
Our new Job Portal Embeddable Widget allows you to easily embed jobs on your website without web-developer-level knowledge. A much more seamless integration than the traditional IFRAME approach, this simple copy-and-paste widget unlocks your site's ability to showcase open positions; it even allows you to tailor which jobs are most prominently displayed, letting you prioritize your most-important reqs. (If you're upgrading your Crelate account, the new portal has been designed to replicate any previous styling settings, making your transition quick and seamless.)
Additional Improvements
In addition to the changes listed above, we've also made improvements to our data import tool; we've added additional fields to job orders for recruiting strategy alignment; and we're providing a private beta of Naming Rules functionality, which helps to reduce duplication and other errors in company names recorded within your system. For more information on being part of our private beta, or for any questions about items in the release, please contact our sales team.
Learn more about these new and updates features on at Crelate Help.
Filed under: Applicant Tracking, Crelate Updates, Relationship Management Software
Tagged with: applicant tracking system, ATS, crm, recruiting, software update