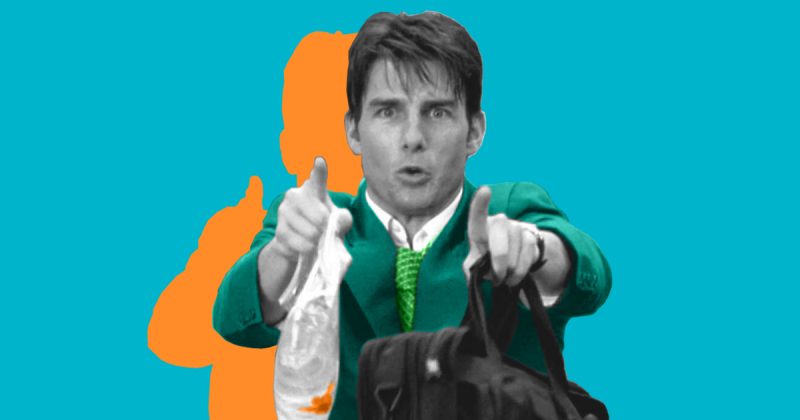 This post is the second in a three-part series:
Part one – Developing a plan for starting your recruiting agency
Part three – A list of everything you'll need, or nearly everything you'll need, to consider for your agency
…
This post is the second in a series. In my first post, I discussed the importance of developing a plan for starting your recruiting agency and some of the common reasons for agency failure. I also focused on the importance of understanding your market opportunity, and developing your sales and marketing plans.
Here, we'll focus on developing, testing and improving your agency's operations and financial plan.
3. Operation and Delivery Plan for Your Agency
This is about who you are, what you are going to do, who you are going to need to hire, and what you are going to outsource.
If your plan requires 80 hours of work per week, eating nothing but Top Ramen Noodles, with zero chance of sick time or vacation, you're planning to fail. (Speaking of sick time, what are you going to do about health care during this time period? And what are you going to do about your other living expenses?)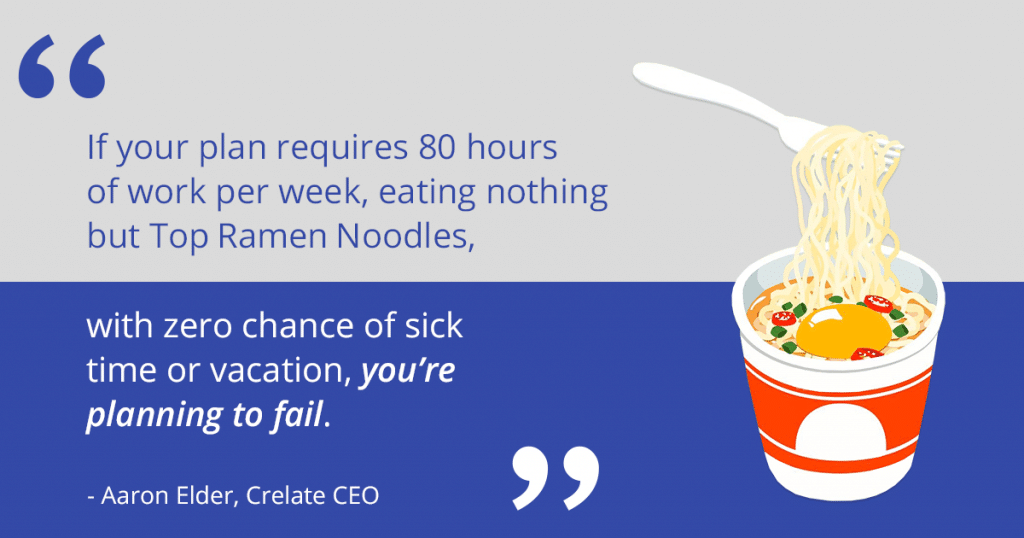 Don't let this get overwhelming. Consider the following:
Who's going to actually deliver your services? How is this going to be done, and how is this going to be measured and rewarded?
What tools and technology will you need to run your business? Think about everything from internet and phones to CRM, Applicant Tracking and sourcing tools.
Where is your business going to be located? Do you need any equipment?
What templates and processes do you need to develop to reliably run your company and deliver your services? Do you need training for your vendors and employees?
How will you measure the returns on your investment across every part of your business?
A note on measurement: You must have milestones, and you must hold yourself accountable. The exact milestone doesn't matter; what matters is holding yourself accountable and the choices you make after each checkpoint.
Key Performance Indicators and Success Metrics for Your Agency
I'd recommend developing simple and easy key performance indicators (KPIs), especially as you're setting forth. For a recruiting agency, you'll likely want to base your KPIs around questions like:
How many placements do you want to make per year?
How much do you want to make per placement?
How many sales calls do you need to make to get a serious conversation?
How many serious conversations do you need to get an order?
How many orders do you need to get to get a placement?
To get the placement, how many candidates do you need to reach out to get a serious conversation?
How many serious candidate conversations do you need to get to an interview?
How many interviews do you need to get a placement?
Now, work backwards, and hit the phones! Track it all, and improve the ratios of each through A/B testing and tweaking. But above all, hold yourself accountable to the raw numbers required to produce the results you've planned.
Validate your numbers and assumptions from the top down and the bottom up. For example: Let's say you want to generate 10 Placements a year and you convert 25 percent of your orders to placements. An example plan may say you need to make about 38 sales calls a day to generate 17 serious conversations, which, in turn, generate three to four orders a month. Let's say it takes me about five minutes per call… actually, let's explain this using a spreadsheet: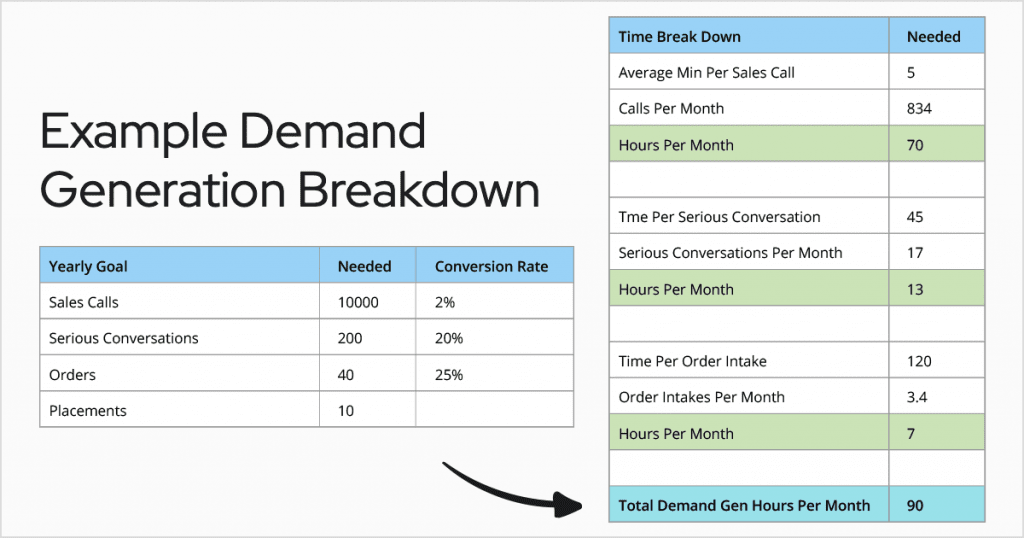 If you budget time to make the call and take the notes, this plan shows you need to budget 90 hours a month to generate demand. Does that work for you?
Even though you only win one out of every four orders, you still need to work them all. So how much time do you need to budget per order for both those you win and those you lose.
Be realistic about what's achievable given there are only so many minutes in a day, and don't forget about the rest of your life!
4. Financial Planning for a Recruiting Agency
Your financial plan should come after the above three sections, because the previous answers will inform the numbers you're plugging into your forecasts.
At a minimum, you should develop a forecast for every month of the next three years with three fundamental accounting tools:
Profit and loss statement
Statement of cash flow
Balance Sheet
Don't forget to include all the expenses of running your own business: rent, utilities, taxes, insurance, equipment, software, marketing, sales, operations, legal, etc., etc., etc. And for all your projections, be sure to document your assumptions.
Pro-Tip #1 – Forecasting a Realistic and Sustainable Pipeline
If you feel like your new business flow couldn't possibly be that consistent or predictable, I'd recommend checking out Tom Erb's book Winning the Staffing Sales Game. It's a fantastic resource for just about anyone who needs to develop a steady income stream through sales but is even more valuable if you're trying to grow a talent business. If it's your first time as a full-desk recruiter, this is a must-read.
Pro-Tip #2 – IMPORTANT: Why a Three–Year Plan? Risk vs. Reward
First, if you're quitting your day job and investing your savings – or the savings of others – into a plan that only accounts for your first year, please save the money and stay in your current job.
Second, you should always compare your plan to the alternative: "What if I just worked for someone else?" Do the math. Take your base salary, plus commission, plus the benefits of working for another firm, and be reasonable with your assumptions and the perceived upside. Add that up over three years, and now do the same with your expectations for your own company. If your own venture projects to yield the same amount of profit after three years but suffers from three-times the risk, it's probably not a good idea to move forward.
The risk–adjusted reward of any startup should be at least twice as good as the amount of money you could make working for someone else.

Pragmatism: An Example and Planning for The Initial Months
Example: let's say you know you can make $100,000 per year working for an established company, adjusted for any period of unemployment at the outset if applicable. That's up to $300,000 over three years. If the plan for your own business shows you making the same amount over three years, when you consider the sheer amount of risk and hard work that go into starting your own company, you definitely should not quit your day job. In order for it to be a smart decision, your own plan needs to show a plausible path to at least $600,000 over the same three-year period.
Importantly, you need to plan for the likely scenario that you will not generate meaningful revenue for at least seven months. Read that again. 
And, unless you get lucky, it will likely take you six to eight months to make your first placement. Then assume NET 30 terms on the fee, and make sure your projected Balance Sheet can handle that kind of drawdown.
This might be sobering advice when the job market for recruiters is extremely tight. But, again, entrepreneurship is not easy. If you are determined to push forward with creating a new agency but the numbers don't support it, revisit your plan and figure out where you can realistically improve your top-line revenue before you take the next step.
5. Executive Summary for a Recruiting Business
You'll be faced with numerous conversations in the coming months that require a concise pitch and overview of the business as a whole.
Summarize the four big sections above into a simple document or PowerPoint that consolidates your plan into something you could present to an investor. This will give you the 50,000-foot overview with no fluff, and it's the last step before the leap of faith that is entrepreneurship.
Your Executive Summary will also help you craft your "elevator pitch."  Personally, I like to distill it down to something I can explain to my parents and my kids' friends' parents in a single sentence or two. A good pitch, to a layperson, should ideally yield this response: "Oh, that makes sense… I have a friend who might need that."
More importantly, creating an Executive Summary helps you stay focused. And you will need to.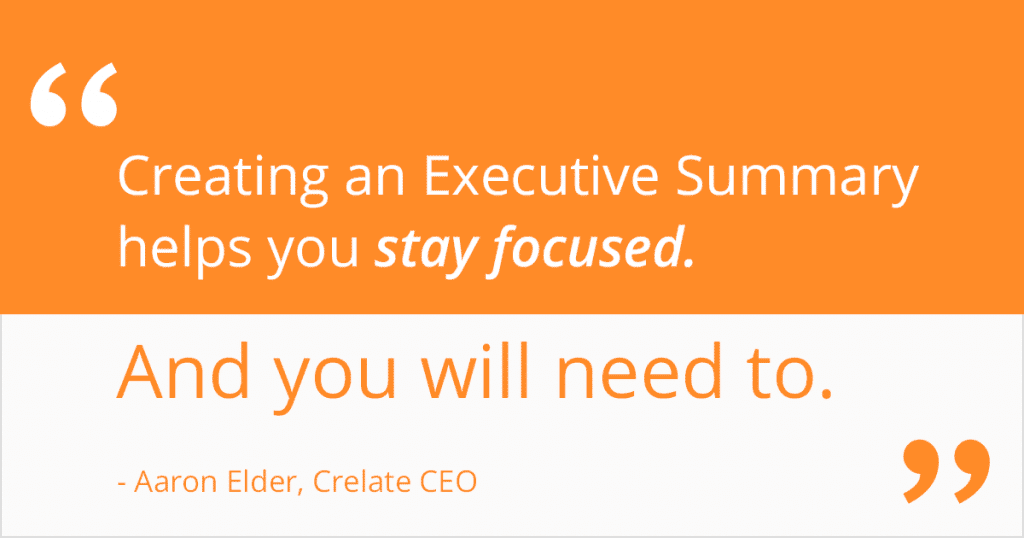 The road ahead will have no shortage of siren songs offering the temptation of a quick buck or side gigs that'll play on your instinct that "I need to be making money now." If your plan is good, these temptations will be distractions, and they'll only make success harder to achieve.
All of the above might sound like a lot of additional work, but shouldn't take more than a week or two.
Validation and Testing – Tap Your Support Network for Feedback
To keep yourself moving forward, don't be shy about getting help where and when you need it. As the plan comes together and you see a path to success, pitch it to a friend or relative regardless of your funding situation. See if they would invest in your business. The more constructive and informed feedback your potential "investors" can provide, the better.
Once you've completed your plan and successfully "pitched" your business, you've convinced yourself – and, hopefully, others – that your plan is achievable and worth pursuing.
Recap: Hallmarks of a Good Staffing or Recruiting Agency Plan
To recap some of the most important above points, which you won't necessarily find in the usual "paint by numbers" article, a good business plan for a new staffing and recruiting agency should:
Reduce the risks and address failure points one and two, listed above.
Assume you won't make your first placement for six to eight months as you plan finances.
Ensure that your plan allows for you to thrive, not just survive while you're executing the plan. (No Top Ramen.)
Shows a path to sustainable, reproducible success that is worth of the risk of going it alone.
Set clear, measurable and achievable performance metrics and expectations.
Stand up to an external pressure test; i.e., be convincing enough to get someone else to invest in it, even if you don't need/want their money.
You've Planned the Work – Now Work the Plan
As you wrap the significant planning work of starting your new business, the mission shifts to execution and accountability.
Your path won't be straight, and it's likely that many of your assumptions will turn out to be incorrect. But that's not really important now. What's important is that you have a plan to follow and to measure yourself against. To stay accountable to doing the hard work required to get this agency off the ground.
From experience, measurement and accountability is critical. Not just on the day-to-day, but on the overall progress towards building a business.
Run It Like a Business from Day One
The KPIs from your Operations Plan are your daily/weekly performance measures. But as you look to grow and sustain the company you're about to create, you need to measure the business as a whole.
This means closing the books every month. Is your cash on hand in line with what you planned? Is your spending in line? How is revenue looking? Consider reporting it to an advisor or outside investor, or at least to yourself no less than once a quarter.
You're building a business, not pursuing a hobby. So, run it like a business!
As an entrepreneur, I couldn't be more excited for you to embark on this journey.
What's Next?
In the third part of this three-part series, I'll supply a list of useful and reliable tools perfect for recruiters starting their own agency.
If you want to be sure you don't miss it, sign up for Crelate's email newsletter.
For now, here are a few resources, tips and considerations that apply to the above suggestions around developing, testing and improving your agency's operations and financial plans. (This list is by no means complete, and the resources are only suggestions!):
Business – Guiding Documents to Start a Recruiting Agency
Operations – Core Functions and Tools to Start a Recruiting Agency
Finance to-dos for Your Recruiting Agency
Get a CPA/Accounting firm (You should be selling and recruiting, not doing your taxes)
Fully separate your finances from the business (crucial)
QuickBooks and a Chart of Accounts
Company bank account
Company credit card
Method for getting paid (Credit cards | Check | Wire) – (If you're using QuickBooks for accounting, you can also use their payment system.)
Quarterly estimated tax payments
Self-employment tax/Tax filing plans (LLC, LLC as S-Corp, Etc.)
Dealing with 1099MISC and 1099-K
Capitalization policy-safe harbor de minimis threshold
IT Considerations for Your Recruiting Agency
Time tracking
Professional email account
Phone system
Domain name
Web hosting
Recruiting CRM/ATS (I'm kind of partial to Crelate…)
WiFi / Internet upgrade (Don't mess around with bad internet)
eSignature Tool (HelloSign or other)
VoIP Provider (RingCentral or other)
A fast and powerful laptop with a monitor and headset
Comfortable office chair and desk (Don't skimp here, or money saved on your chair and desk will be spent at your chiropractor)
Legal Minutia for Your Recruiting Agency
Business start date
Insurance (General liability, etc.)
Operating agreement/Articles of incorporation (Special Topic:  Will you plan for partners?)
Loan/Investor documents
File with your Secretary of State
File with your State Department of Revenue
Apply for an IRS EIN
Deal with local business taxes (City, State, Local, Personal Property Tax, Sales Tax)
Deal with out of state income / Nexus rules
Record retention plan
Master service agreement
Statement of work template
Accounting and HR Policies
Stay tuned to the Crelate blog for part three of this series!
Filed under: Applicant Tracking, Staffing Agency Management