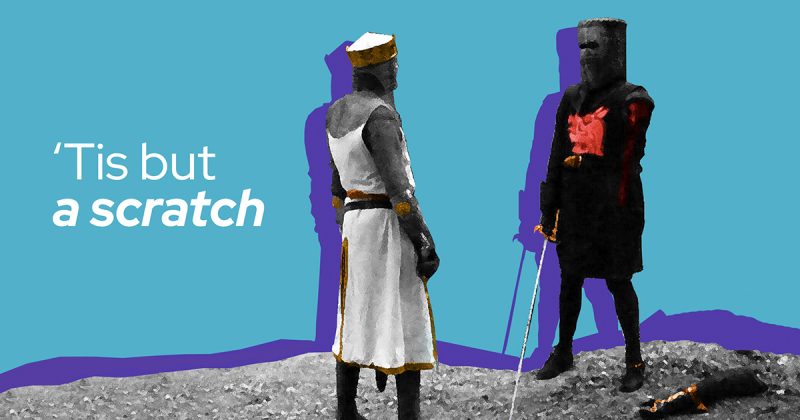 With the September 1st sunset date for Google Hire now only days away, it's fair to say we're actually past the last minute to find the right ATS if you're still hanging on. Google announced it was discontinuing the Google Hire applicant tracking system now several months ago to the frustration of many TA professionals and recruiting agencies.
Add it to Google Wave, Google Offers, Google Music, and the myriad of other experiments where Google tested the waters and found them not to their liking. 
Or perhaps they simply saw the anti-trust sharks swimming just a little too close.
Google is NOT Leaving the Talent Acquisition Market
Far from it.  With a small mountain of first-party ATS usage data now in-hand, it's worth observing that Google shows no intention of leaving the recruiting space entirely. Google for Jobs seems like it's still very much lurking on the edge of the tree-line, hoping to become the 800lb gorilla of job search.
With announcements of its India-focused (for now) Kormo app for entry-level jobs, as well as its new "People Cards" feature, Google is increasingly competing with Indeed, LinkedIn and other major players for share on job posting, aggregation, and paid promotion. Or at very least laying the groundwork to do so.
But as we bid farewell to Google Hire as part of that strategy, it's a good time to reflect on the good, the bad, and the ugly of this relatively short-lived experiment. And to plan the right next move for your core recruiting platform if you've procrastinated (just a bit).
Quick disclaimer here that I'm a digital marketing agency veteran. An industry in which entire conferences are devoted to guessing the will and intent of the Google overlords. So you'll have to forgive some of the conspiracy theory and a dash of cynicism about big G's intentions.
G-Hire: The Good, The Bad, The Ugly
Google platforms are commonly met with enthusiasm and a rush of interest at launch. Their understanding of user experience is incredibly broad, and the army of developers certainly loves a new challenge.
Google has been a consistent innovator in many of the industries it enters, and their products rightly come with expectations of simplicity, utility, and easy integration with the rest of Google's productivity and communication tools.
As we look back on G-Hire, perhaps the most important point there is simplicity.
With a huge number of purpose-built applicant tracking systems already in market, Google Hire users weren't shy about their frustration around limited functionality, a variety of bugs, and a languishing roadmap of feature updates, well before the sunset announcement.
Professional recruiters often and rightly look for momentum around features or releases as a sign that the provider is reinvesting in the quality and value of their ATS. 
So who was Google Hire really for, and how did that affect what they did well? (Or not so well.)
The fact that the Google Hire ATS was designed almost exclusively for internal or corporate HR and TA users shouldn't be much of a surprise if you believe the hypothesis that this was a tie-in to a Google for Jobs advertising ecosystem.
Thought experiment: who's typically got the biggest budget, and is most likely to open the pocket-book for expensive job ads?  You guessed it: corporate recruiters and HR professionals. 
Going out on a limb, Google very likely built this ATS with an eye toward its core competency:  great, (relatively) inexpensive tools that create lock-in for its real breadwinner, advertising revenue.
Nonetheless, it largely left recruitment agencies wanting more from the outset, limiting the overall potential of the tool to serve professional or agency recruiters.
Compared with other ATS and recruitment CRM platforms, there was a distinct lack of flexibility in a few critical areas.
Google Hire allowed for minimal control of custom workflows or custom fields. It largely dictated the cadence of automated email intended to improve efficiency and candidate experience. And it was widely described as cumbersome and unimpressive on its integration with major job portals. Perhaps exacerbating this with heightened expectation, G-Hire was also one of the few products where Google charged a healthy base price for a software tool.
The critique from the market was broadly: "too rigid, and not enough features to support recruiters who want to augment their process with an effective tool. We'd rather not have a feature-limited tool dictating our process." 
Evaluating Alternatives to Google Hire
When considering what to look for in a recruiting CRM or ATS, it's incredibly valuable to start with your ideal recruiting process and work backward. Chris Hesson of Crelate's Professional Services team also addresses this question of how to think about evaluating an ATS on Quora.
There are no shortage of applicant tracking solutions that can check the basic boxes. Create the job, post the job, receive the application, track the communication. But anyone who's been in the recruiting industry knows that this experience can be utterly awful depending on the ATS, whether it's overly rigid, under-powered, or has gaps between processes and features.
Instead, the search should bring you to something that is sufficiently:
Flexible
Intuitive
Powerful
Once you've (hopefully) started by laying out your ideal recruiting process, defining any specific must-have features or functionality is a smart next step. This will accelerate your search, and can be helpful as you go further in your decision-making process. It can also be useful as a focusing tool if your ATS of choice offers add-on functionality or modules. You may not need to add every bell or whistle, and having that core list in hand before you shop can help to eliminate impulse buys at the register.
In the end, for any recruiting practice whether it's agency or in-house, a great-fit ATS comes down to the essentials, and again: flexibility, intuitive design, and enough power under the hood to achieve every task you'll complete on a daily, monthly, or annual basis.
Your essentials may differ slightly if you're looking for an ATS that specifically includes a recruiting CRM (most external recruiting agencies). But to start, consider the need for:
Applicant Tracking
Recruiting CRM functionality (including email and messaging tools and integrations to communicate with candidates)
Candidate sourcing tools and integrations with leading solutions
Recruiting analytics and advanced reporting tools
Portals or hubs to manage candidate and hiring manager communication
Recruitment marketing tools or integrations
Pro-tip:  Get Beyond the Hype (Trials are Critical)
Take it from a marketer:  marketing cannot tell you what it is really like to run your unique recruiting process on a new ATS.
Screen-shots are useful to get an overall feeling. Conceptual videos and introductions can give you a sense of whether the provider knows what actually matters to the end-user or administrator. User reviews can certainly be helpful, as can asking peers for direct recommendations.
But in the end, there's simply no substitute for a customized walk-through, and an extended, hands-on trial of the software. 
At Crelate, we offer a 14-day free trial of our ATS & CRM platform for exactly this reason. Our sales team knows the recruiting process backward and forward, and we focus our product demos on showing recruiters and agency leaders exactly how a full-cycle recruitment process would work for the team on the ground and at the controls.
Should You Pick an Industry-Specific ATS?
While selecting a platform that claims to be purpose-built for your industry or business model may have some upside, keep the basics and your core recruiting process front and center. An industry-specific solution may not be the best approach if it holds you back from other best-in-class tools.
For example: if you run a healthcare recruiting firm, do you need a light ATS that specifically handles RNP credentials, or that has a locum tenens tab? Or would you be better served by an ATS that handles credential management (including expiration, verification, etc.), but that also offers the ability to layer deep profile searches with radius search to accommodate candidates' willingness to travel to your hospital locations.
Crelate was designed to fit different business models, from full-desk recruiters, to large, specialized staffing and recruiting agencies. Beyond the core functionality of a leading, modern ATS, our platform includes universally valuable features like a free, unlimited resume parsing tool, robust candidate search, and fully customizable candidate tagging, workflows, and reporting. If you're an agency, our recruiting CRM also includes tools specific to recruiting agency business development.
Look for Stronger Job-board Integration From Your ATS
Speed, ease, and effectiveness in job posting and promotion is a critical feature for any applicant tracking system. In contrast to an ATS like Google Hire that was attached in a very real sense to a specific job advertising platform, an independent ATS should offer seamless integration with leading job boards and platforms.
Here's an illustration of what it means to truly simplify the process of job posting, using Crelate's native integrations with job boards as an example:
Migrating Data From Google Hire
With G-Hire's retirement, regardless of your choice of the next platform, the dreaded question arises: how can I move all my data to the new platform?
Any good ATS provider will offer some combination of professional services and tools to support data migration and onboarding to your new ATS. At this point, that's become a baseline requirement. But the nature of that migration largely depends on the amount of data you have, how much of it is custom vs. industry-standard, and what kind of processes you need mapped over as well. There will likely be other factors which depend on the provider you're considering and what kind of tools and processes they already have to support your migration.
Candidly, we learned a lot of the nuances of G-Hire's unique database setup and resulting speed-bumps with the first customer that migrated from Hire to Crelate. But we use those moments to build out better process and automation to support these migrations and keep them, simple, affordable, and effective.
We've completed thousands of migrations from over fifty different applicant tracking systems and recruiting CRMs, and that list continues to grow. 
The short answer is: "Yes, you can keep all your data. Just be sure to work with a company that knows how to help you extract, translate, and organize that legacy ATS data as part of an overall onboarding." 
Farewell to Google Hire – Where to from here?
We'll continue to watch Google's investment in the recruiting and TA space with great interest. Regardless of some good-natured flak about their ATS itself, playing nicely with Google for Jobs will be a requirement for any and every platform in our industry.  
Oh, and if you need a hasty exit from G-Hire, we'd be happy to help.
Filed under: Applicant Tracking
Tagged with: applicant tracking, ats data migration, recruiting crm, Recruiting Trends, technology, technology trends