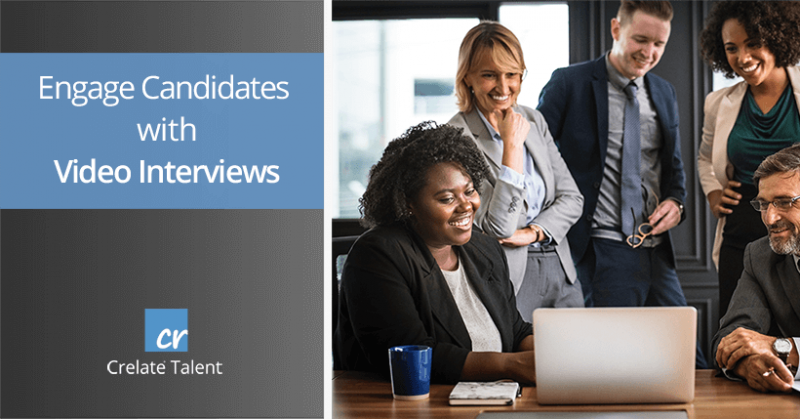 Recruiters can save money and time engaging the remote candidate with video interview capabilities that integrate with their recruiting software.
Video interviews are a great way to reach more candidates-especially candidates who work remotely-since it reduces the logistical strain of conducting in-person interviews.
However, not all video interviewing platforms are created equal. One of the biggest hurdles in collecting interviews through video is getting the videos integrated with a recruiting ATS and CRM solution so you can capture all the important information needed to represent candidates to your clients.
The best software integrates with your existing processes, without slowing your recruitment down.
The most efficient and effective solution to this challenge is directly integrating your recruiting ATS and CRM with your video interviewing platform. This makes transitions from your video interviews to your candidate placement workflows effortless. Then you don't have to manually transfer any data before or after the interview, limiting your administrative tasks and reducing the opportunity for error.
Crelate's unified ATS and CRM software solution integrates with Spark Hire to manage all your recorded video interviews and associated tasks from your recruiting database.
After enabling the connection using API keys, Crelate Customers receive interview information directly from Spark Hire. The video interview invites that are scheduled and sent from Crelate can direct candidates to Spark Hire to complete a questionnaire by recording their responses. The data is synced between Crelate and Spark Hire so it's possible to share recorded video interviews with clients or collaborate with other recruiters on your team.
There are two video interview options Spark Hire offers:
Recorded interviews. A candidate is invited to complete a video interview and is presented with a set of interview questions. You can set a time limit for each question if you wish.
Live interviews. Live interviews are essentially a video call with added features to make them more useful for recruiters. Spark Hire records live interviews so that you can refer back to them later on. Additionally, video interviews are branded, and you can conduct them in your browser, without any additional software or adding candidates to a contact list.
Crelate supports the first option of recorded interviews (Spark Hire calls these one-way interviews). This integration with the Spark Hire platform can be configured by Crelate users in the settings tab (detailed directions can be found here).
When you invite a candidate to participate in a Spark Hire video interview using the Crelate interface, information about the job and interview questions are sent from Spark Hire along with the invitation to participate in a recorded interview The candidate answers the qualifying questions and the answers are recorded for recruiters and hiring managers to review.
Since video interviews remove the location logistics from the interview process, it's important to consider recruiting software with an integrated video interviewing platform that enables recruiters to schedule and conduct interviews without disrupting their busy schedule of in-person candidate outreach and client meetings.
If your current recruiting software doesn't have integrated video interview capabilities, you could be doing a lot of unnecessary work and missing out on some of the benefits of recruiting software with a seamless video interview integration.
Schedule a demo to see how Crelate and Spark Hire can help you reach, evaluate and place more candidates.
Filed under: Crelate Updates