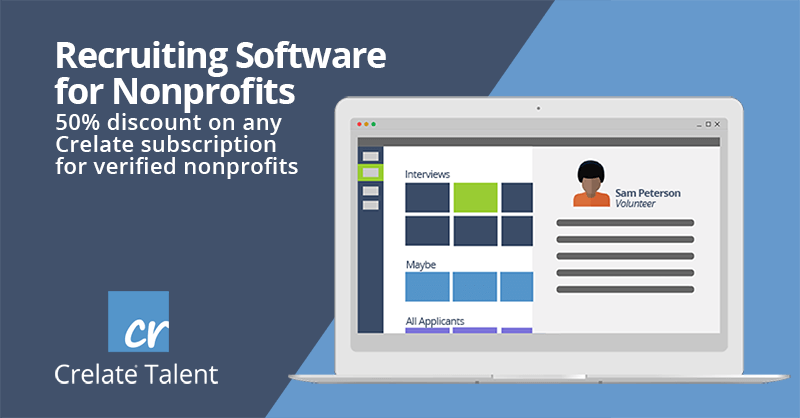 Crelate, a modern recruiting software company, adds corporate initiatives that support nonprofits and charitable causes through work empowerment.
KIRKLAND, WASH., Dec. 12, 2018 /PR Newswire/ — Crelate, a leading recruiting ATS and CRM software solution, announced today that it will expand its Corporate Social Responsibility (CSR) program by offering a substantial discount on any Crelate subscription to qualified nonprofits that improve lives through the empowerment of work. The program aims to support organizations that are making the world a better place through education, career coaching, workforce training, and other employment-related services.
Crelate's nonprofit pricing aligns with the company's customer-centricity and frugality principles, which are important beliefs for socially conscious organizations with philanthropic objectives and restricted budgets. By offering an online recruiting solution at a steeply discounted price, qualified charities can focus their time and monies on their mission.
Crelate has flexible features for nonprofits to manage and build relationships and achieve their missions, such as:
Email and texting integrations to communicate with donors and supporters using mobile platforms
Engagement tracking for future reference or team collaboration
Reporting and analytics to measure performance throughout teams or projects
The option to post and amplify opportunities in nonprofit categories of popular job boards such as CareerBuilder, Indeed, and ZipRecruiter
ATS + resume management to find and grow their team
Candidate-centric workflows that are optimized for job placement activities
In November 2018, the company committed to reduce corporate waste at events by offering charitable giving as booth swag instead of trinkets traditionally offered at conferences. By recognizing that many conference giveaways often result in waste, Crelate introduced a new initiative during an event sponsorship that allowed attendees to participate in a charitable cause. The change resulted in monetary donations made by Crelate to several career-building not-for-profit organizations. When asked about the company's expansion to the nonprofit audience, Crelate CEO Aaron Elder said, "Crelate's mission to help everyone connect with better opportunities. When businesses and talent come together around a shared interest, everyone benefits. We want to support nonprofits that share our mission of empowering lives through employment. Nonprofits that are in the business of job placement services, career coaching, resume writing, and other such services can benefit from Crelate's recruiting software. Nonprofits can use Crelate to help fill their own positions with great people by helping them advertise and fill internal roles. Crelate's employment centric workflows are a great fit for nonprofits that take on 'clients' and help them find employment." Mr. Elder continued, "Access to quality talent software is crucial for nonprofits to achieve their mission! Spreadsheets are quickly outgrown and add inefficiencies, with the right software, nonprofit teams can measure and improve their internal and external recruiting processes. We're excited to help these organizations achieve their mission with fast, flexible talent management software at a significantly reduced price." To qualify, organizations must be a US-based 501c(3) not-for-profit entity and have a mission or services that align with improving lives through employment or similar goals. To learn more, interested charities can read about and apply to Crelate Talent's nonprofit program at www.crelate.com/applicant-tracking-for-nonprofits
Filed under: Crelate Updates, Press Releases