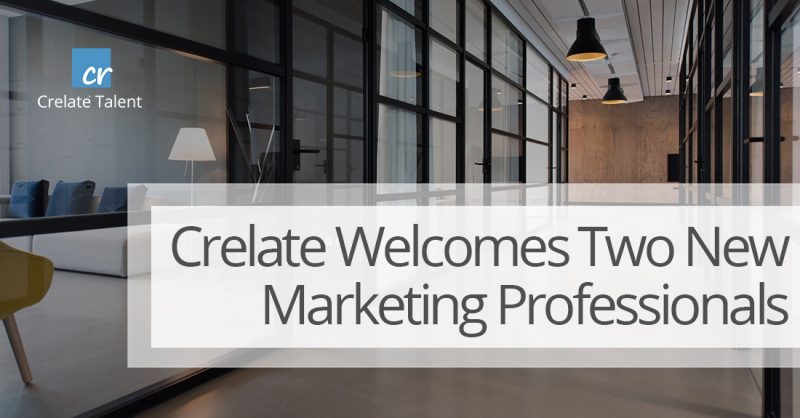 Two more desks in the Kirkland office and a busy marketing team.
We're preparing for a successful 2019 here at Crelate with two new marketing professionals joining the team in our Kirkland office. We're happy to welcome Samantha Pugh and Wilson Attebery who will work together to deliver a scalable go-to-market strategy for the future. Samantha and Wilson's responsibilities will include:
Understanding the Crelate audience to better deliver content that meets recruiters needs
Educating and nurturing existing customers to get the most from Crelate
Driving brand awareness with consistent, clear and concise messaging
More about Samantha | Crelate Content Marketing Manager
Samantha is native to Washington state and graduated from the University of Washington in 2013. Since then she has visited 18 countries and cultivated 5 years of professional experience in the field of communications and marketing.
When asked about her new position at Crelate, Samantha remarked, "I'm thrilled about the opportunity at Crelate! It's a fast-growing company which means there's a lot to do and a lot to learn."
In her spare time, Samantha enjoys all things cuisine. She loves cooking and eating seafood, and luckily you can find a lot of that in the Seattle area.
More about Wilson | Crelate Digital Marketing Specialist
Wilson started at Crelate in October to build and implement a strong digital marketing presence for Crelate. Wilson comes from a background in tax consulting and engineering design. He recently received his MBA from the University of Washington.
After a year of freelance marketing to build brands, develop digital marketing campaigns, and establish go-to-market plans for various products, Wilson is bringing his knowledge and analytical expertise to the Crelate marketing team.
In his spare time, Wilson can be found spending quality time with his children, building woodworking projects, or helping to coordinate a STEM fair for a local elementary school.
Filed under: Crelate Updates