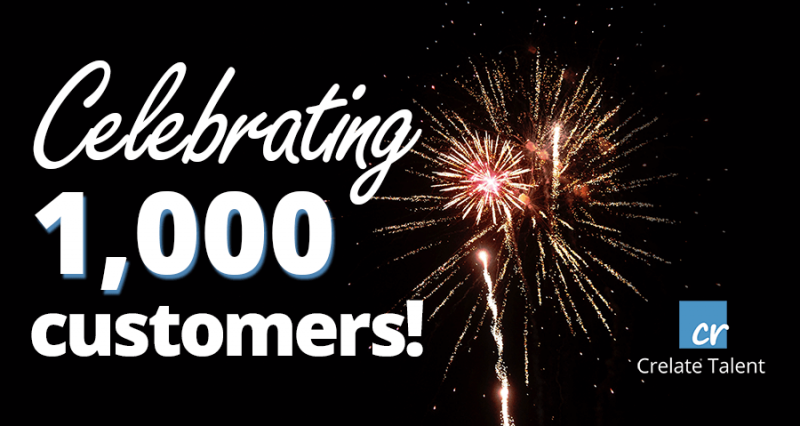 Crelate, a leading provider of recruiting software solutions for professional recruiting, announces that it has surpassed 1,000 customers as it continues to accelerate growth
Kirkland, Wash., August 1, 2019 /PR Web/ – Crelate, a leading provider of recruiting software solutions for professional recruiting, announces that it has surpassed 1000 customers.
Crelate offers a unified Recruiting CRM and Applicant Tracking System targeted at recruiting professionals.  Since launching in 2015, Crelate has grown as the trusted recruiting platform for over 1000 staffing, recruiting, and consulting agencies. Crelate, which gets its name from "create" and "relationships", is a recruiting platform that is optimized for high touch and high-volume recruiting scenarios. The platform is used today as the primary system of record for thousands of recruiting professionals to collaboratively find both talent and opportunities and maximize their talent-focused businesses. Since its launch, Crelate has helped recruiters make over 45,000 placements.
Crelate launched in 2015 and was funded via a seed round led by the Seattle-based Alliance of Angels in 2016.  Continuing its rapid growth, Crelate announced its Series A funding with Five Elms Partners in March 2019. 
"This is an important milestone for us. It validates our approach and shows the large customer and market opportunity for flexible recruiting software and our customer-centric approach," said Crelate co-founder and CEO Aaron Elder. "Agencies face a unique challenge getting clients, candidates and opportunities all to align. Agency recruiters need to not only source the best talent, but they also need to find and match that talent with opportunities, often in real time. Crelate software embraces the fluid nature of recruiting, with our flexible and automated solutions."
In the past year, Crelate has nearly doubled its organization and launched several new features designed to maximize recruiter productivity, including:
Additional customization, security and auditing features for larger recruiting organizations.
Advanced Recruiting Analytics to empower high performance recruiting teams.
Crelate Connector, an innovative mobile app for recruiting tasks on the go.
Open API for developers to expand Crelate's functionality or integrate with other enterprise HR and recruiting systems.
Learn more about Crelate at www.crelate.com and explore career opportunities at www.crelate.com/careers.
About Crelate
Crelate Talent is a unified Recruiting CRM and Applicant Tracking Solution that helps recruiters accelerate the hiring process from job opening to candidate placement, while automatically tracking engagement and interactions along the way. Over 1,000 recruiting teams use Crelate to communicate with candidates, collaborate with colleagues, schedule meetings, track applicants, build talent pipelines, and measure recruiting performance. Crelate Talent is designed to scale with solutions for small, mid-sized, and enterprise recruiting agencies.
Filed under: Crelate Updates, Press Releases
Tagged with: media-coverage