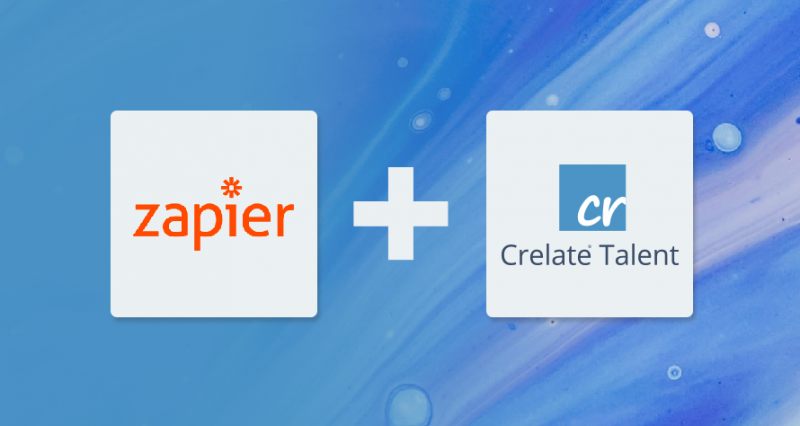 Crelate announces new integration with Zapier, empowering recruiters to automate more of their recruiting workflow and spend more time with candidates.
Kirkland, Wash., August 7, 2019/PR Web/ – Crelate, a leading provider of recruiting software solutions for professional recruiters announces the availability of its native integration with Zapier, an online automation tool that connects Crelate Talent with over 1,300 business apps such as Gmail, Slack and MailChimp.
The integration between the two applications can alleviate repetitive recruiting tasks by automating processes and eliminating unnecessary manual steps.
Zapier functions using Zaps, which perform automations whenever an event, or Trigger, happens in one system and then executes an Action or series of Actions in another. Users can configure the logic and behavior of both Triggers and Actions to create various useful automations.
At launch, Crelate provided customers with ten pre-built Zapier templates to get started. Customers with Crelate Business or higher subscriptions can access these templates within Crelate Talent or via the Crelate Zapier Integration page. Launch templates include: 
Adding opportunities and jobs to Crelate from Rows on Google Sheets
Adding tasks in Crelate when new cards are created in Trello
Creating contacts from Crelate as rows in Google Sheets
Creating contacts in Constant Contact from new contacts in Crelate
Creating contacts in Crelate when new candidates are added to your Engage Talent watchlist
Creating Google Tasks from new Crelate contacts    
Creating new Google contacts from Crelate candidates and clients
Posting a new job position to Facebook from Crelate
Sending channel messages in Slack when new jobs are added in Crelate
Tweeting new job positions from Crelate
The Crelate and Zapier integration was created to connect thousands of business applications and users are not limited to the scenarios and apps listed above.
"Our team developed this integration to make recruiters more productive and it took a lot of time and resources to launch successfully! Through an extensive beta program, we worked with customers and built Triggers and Actions that enabled their most requested scenarios. The benefit to customers is that no complex coding knowledge is required to automate recruiting tasks with Crelate and Zapier." Said Crelate CPO James Dulin.
For more information about Crelate and Zapier, visit https://www.crelate.com/zapier
About Crelate 
Crelate Talent is a unified Recruiting CRM and Applicant Tracking Solution that helps recruiters accelerate the hiring process from job opening to candidate placement, while automatically tracking engagement and interactions along the way. Over 1,000 recruiting teams use Crelate to communicate with candidates, collaborate with colleagues, schedule meetings, track applicants, build talent pipelines, and measure recruiting performance. Crelate Talent is designed to scale with solutions for small, mid-sized, and enterprise recruiting agencies. Schedule a demo to learn how Crelate helps recruiters hire more efficiently and effectively.
Filed under: Crelate Updates, Press Releases