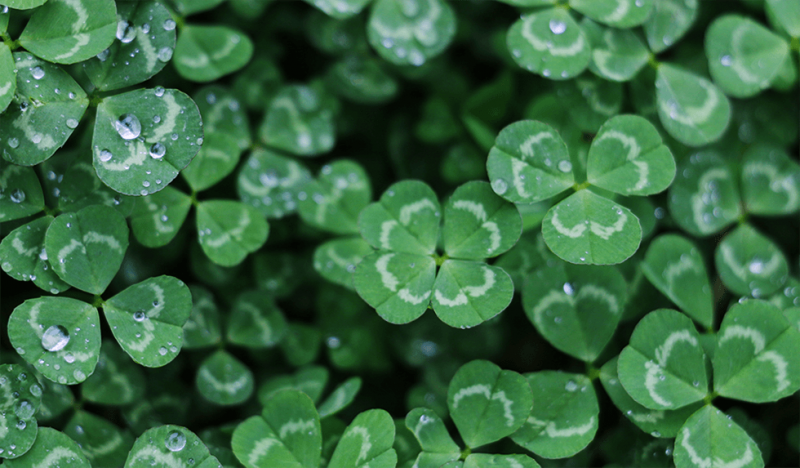 The March 2020 Crelate release includes the launch of improved client engagement capabilities with enhanced submittals and our new Client Portal! These improvements make it easier to securely share candidate information with your clients, gather client feedback and keep those clients engaged throughout the recruitment process.
We are also making updates to Text Messaging by Crelate with enhanced reliability, UX improvements, a new Text Messaging plan and bulk sending capabilities.
Additionally, this release adds the ability to post jobs to Facebook Jobs, adds new External Resume Search providers (Dice and CareerBuilder) and improvements to our Resume-Library integration.
Finally, we've improved our placement export feature to make it easier to get raw placement data out of the system. Full details of the latest release can be found below. To see what we're working on next, check out our roadmap page.
NEW – Client Portal
We are very excited to announce the release of the Crelate Client Portal feature. Client Portals make it easier to collaborate with clients, share candidates and gather feedback in a secure, configurable and trackable manner. Customize your Client Portal to match your brand and recruitment process. You are in control of what gets shared, with whom and when.

The new Client Portal is available to all Business level and higher customers at no additional cost. Customers may also upgrade to a higher-level Client Portal License to unlock additional limits and functionality.

We're helping recruiters create relationships! With Client Portals, recruiters can:
NEW – Present Candidates – Create executive briefs per candidate, share candidates, resumes and then gather feedback from clients via a fully customizable client portal.
NEW – Weekly Reports – Save time building weekly reports. Use the Client Portal to create custom, branded reports for your clients automatically.
NEW – You're in control – Take control of who can see what, when and how by customizing your client portal and controlling what data is presented and what clients have access.
NEW – Keep Clients Engaged – Know when your clients are engaged with alerts of new candidate feedback, and the ability to see which clients are logging into the portal and clicking on links that you share.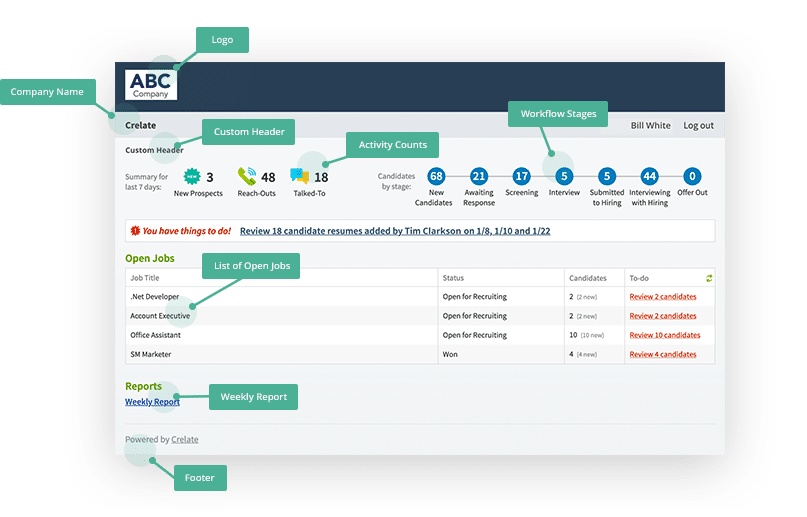 NEW – Enhanced Submittals
Our latest release features a new way to submit candidates to your clients. In addition to submitting via Client Portal, recruiters may now "submit via link". This new capability gives you much more control over who has access to your submissions and even allows you to see who views your submissions. This can help you reduce backdoor hires.

Submit by link is available now to all Business level and higher customers.
NEW – Submit via link – When using a submittal template, users can now select to send via link instead of via attachments. You can even configure what Candidate fields to display when the link is clicked.
NEW – Submittal Link Tracking – When using the new Submit via link feature, you can now see when and how many times a link has been used.
NEW – Link Controls – Control how many times a Submittal Link can be used and how long it is valid for. This can help you keep better control of your data and submissions.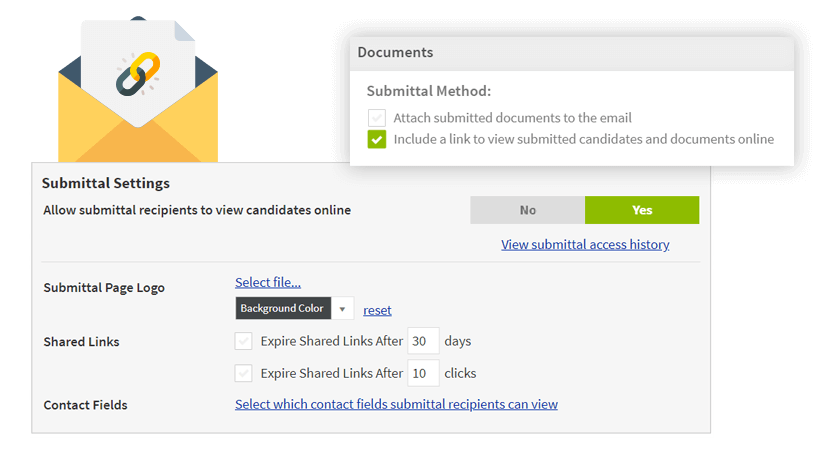 IMPROVED – Text Messaging Enhancements
Texting is more important than ever. Especially for recruiting communication. With improved response rates, lower response times, if you are not engaging with your candidates and clients via text; there's a chance you're missing out. Crelate's Text Messaging capabilities are getting a number of reliability improvements, a new high limit plan, UX enhancements and a new Bulk Texting capability.
NEW – Bulk Texting saves you time when you need to communicate with multiple candidates at the same time. This feature is not intended for spamming and may only be used to communicate with candidates you have permission to text. This feature is available to all Text Messaging L2 and L3 users as well as RingCentral Connector users.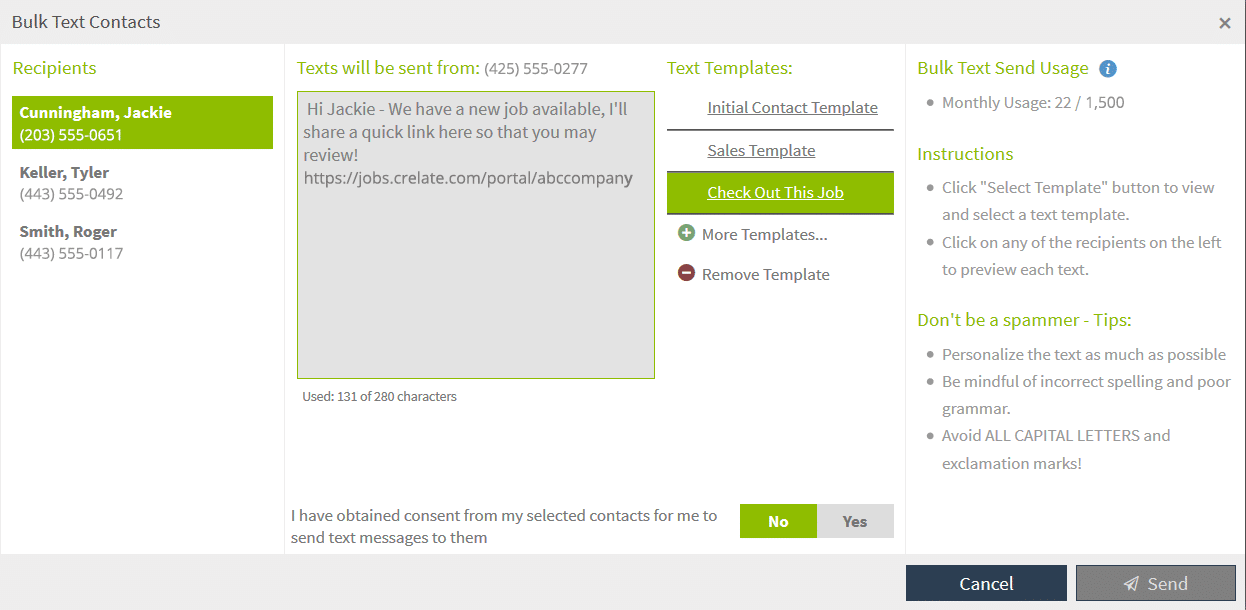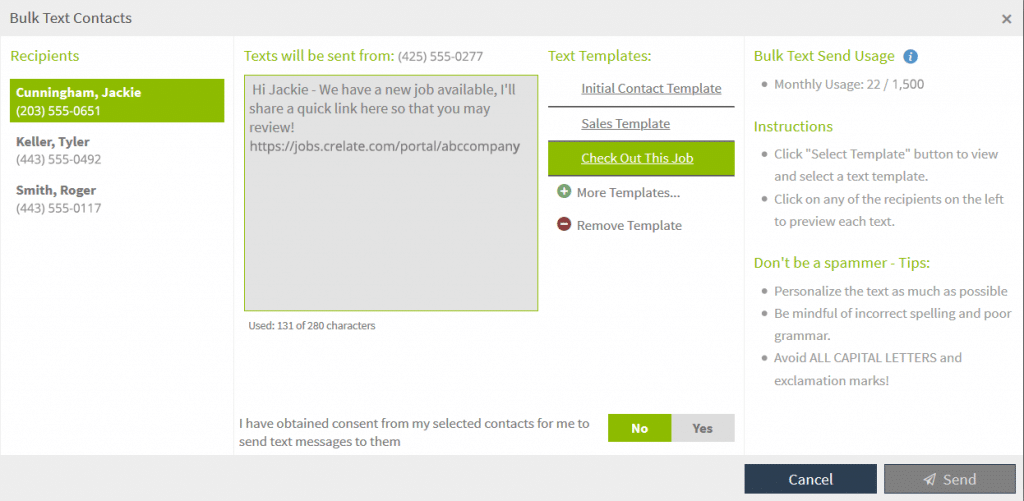 IMPROVED – When searching for contacts from the Text Messaging area, we now show additional contact information so you can differentiate between contacts with the same names.
NEW – L3 Text Messaging Plan is now available and includes increased texting limits at a even greater value.
CHANGED – We are renaming Text Messaging Standard to L1 and Text Messaging Professional to L2. This aligns Text Messaging naming with our standard add-on naming convention.
NEW – External Resume Search
Save time by searching for candidates across three of the largest resume databases in the world. In addition to our existing Resume-Library integration (available to all customers), we've added Dice and CareerBuilder resume search for our Business level customers and higher. Dice and CareerBuilder search allows you to connect to your existing Dice and CareerBuilder subscriptions, search resumes from within Crelate and seamlessly import the candidates that you want to unlock all with just a few clicks.
NEW – Dice – Connect your Dice subscription to Crelate and search, unlock and import resumes with just a few clicks.
NEW – CareerBuilder – Connect your CareerBuilder subscription with Crelate and search, unlock, and import resumes with just a few clicks.
IMPROVED – Resume-Library search is improved with additional filter options (job type, education level, work experience, driver's license, and search mode)
IMPROVED – Resume-Library search results now show additional data, which makes it faster to find the right candidate.
NEW – Facebook Jobs
Helping you get your jobs in front of even more potential candidates, our Facebook Jobs integration was soft launched in December, but is now ready for prime time. This feature allows you to automatically share your published jobs with Facebook Jobs. Different than posting jobs to your timeline, Facebook Jobs is Facebook's own job board where anyone can search for jobs within Facebook. Candidates can apply to your jobs directly from Facebook. You'll see those applications in Crelate, and they'll be marked as having come from Facebook.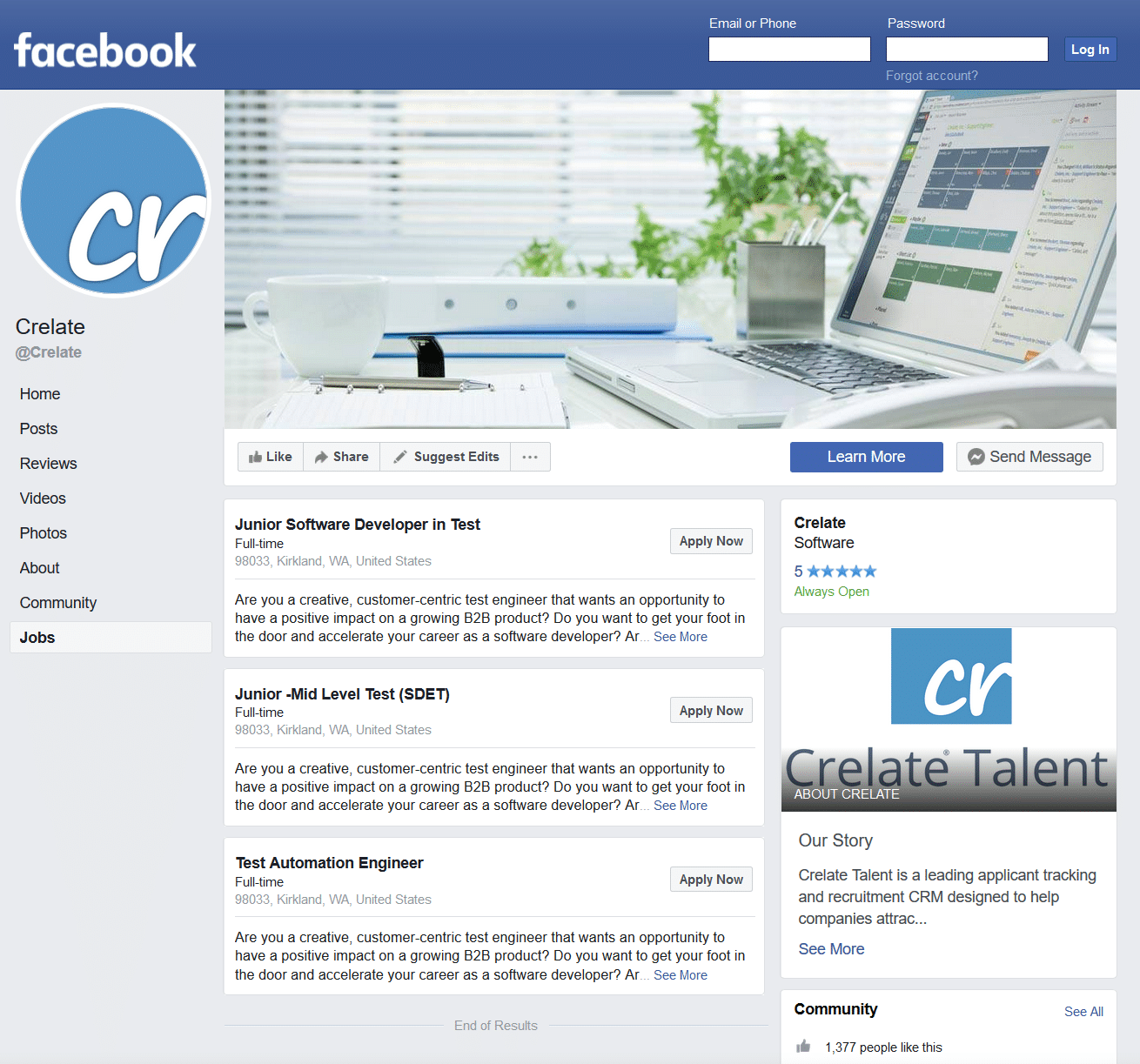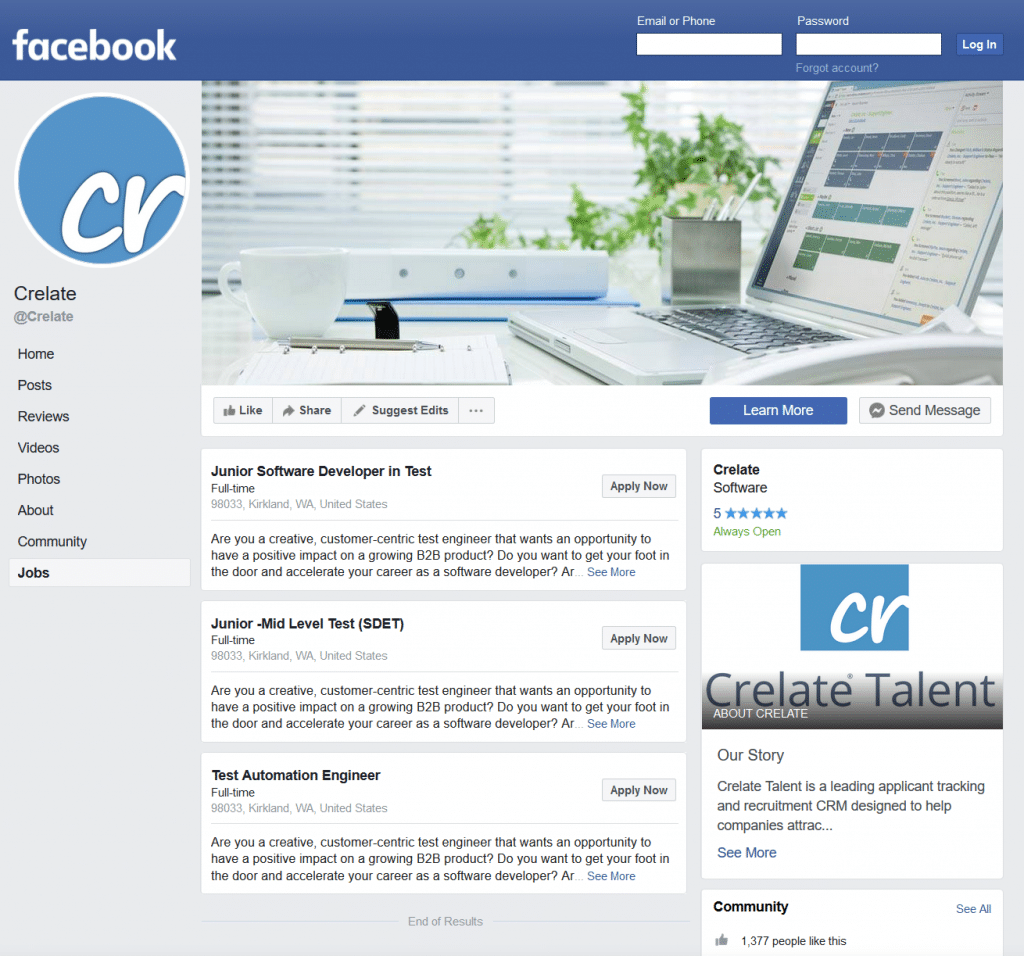 NEW – Placement Full Data Export
Many customers often use Placement data to calculate commissions, send candidates to their back office systems or enable other processes. Because of this, we are making it even easier to get Placement data out of Crelate Talent. Business level and higher customers may download a comprehensive export (500+ fields!) of their organization's placement data to a CSV file. From here users can use Excel to enable a variety of business scenarios.
Note: Only Administrators may request Placement Exports. Export requests are audited.
Upgrade Impact Guide
As we continuously advance the Crelate Talent platform, we sometimes need to change behavior. Our goal is to minimize any impact to users. Administrators should review the Crelate Upgrade Impact Guide.
A Note About Release Schedules
We also want to share changes we are making to our release schedule. It has been six months since we did a major release. This doesn't tell the full story. Since our September 2019 release, we've completed over 20 releases. These have all been smaller and unadvertised. This work included a number of engineering improvements, tweaks to existing features and a beta of our Client Portal.
Filed under: Crelate Updates