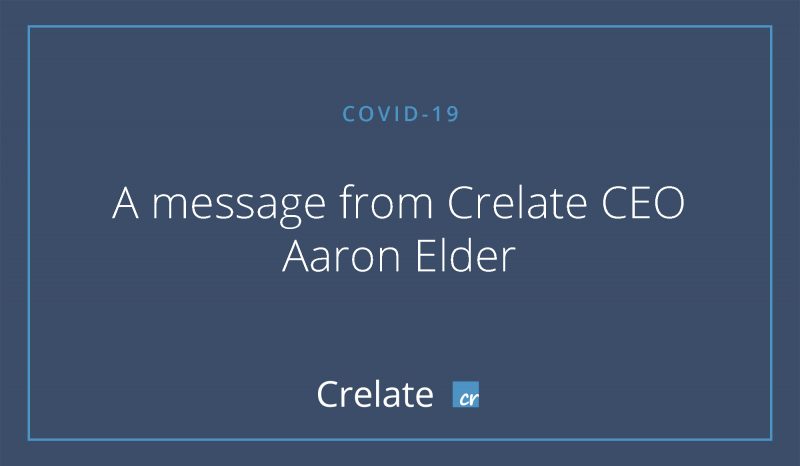 On behalf of everyone at Crelate, we hope you and your families safe and well. Our sympathies go out to everyone that is impacted by COVID-19.
I want to update our customers on how the Crelate team is responding to the COVID-19 pandemic. We are also sharing three ways that you can join us in helping fight this global pandemic through either your time, your money or your computing power. 
For those who are not aware, Crelate's hometown is Kirkland, WA, and I live less than two miles from the Life Care epicenter that I'm sure you have read about in the news. Our team has been diligently working to stay ahead of the curve to keep our employees safe.
I know that the coming months and quarters will be particularly challenging for our customers. I also know that our customers are some of the most entrepreneurial and tenacious people on the planet. It takes tremendous courage to start an agency; building it and keep it going, however, is a different game entirely. Even in good times, it takes grit, and our customers have that in spades. That grit will pay off as we get through this challenging time together. If you can find a purple squirrel, you will find a way through this.
I believe that on the other side of this crisis, America and the rest of the world will get back to work. The world will need the services of the staffing, recruiting, and talent industries like never before.
People first.
Crelate has always been about people and the relationships they forge. Our empathetic meritocracy prioritizes the health, safety, and prosperity of our employees. Doing our part to #StopTheSpread and #FlattenTheCurve, our team moved to a fully remote work model several weeks ago. Here are the steps we've taken:
Inform – On February 24th, we started preparing our staff for the possibility of a significant outbreak. Since February, we have been preparing our systems for remote work, asking employees to be vigilant, and implementing restrictions on employees traveling to CDC restricted areas to avoid unnecessary risk.
Remote Work – On March 1st, we enabled optional Remote Work for all employees, and on March 4th, we requested all employees work exclusively from home. We also canceled all business travel. We've made investments to ensure that we can sustain remote work for as long as needed; providing our team with the tools and information they need to be engaged and stay productive. Because we've had remote employees since our founding, this was something we were able to do with no disruption to our customers.
Preparation Holiday – On March 13th, we held a morning Company All Hands meeting, providing the latest information on the outbreak and gave all employees the remainder of the day off, so that they could prepare their families for school closures and additional COVID-19 related measures
Our systems and our business.
I want to assure each of our customers that you can rely on Crelate during these troubling times. As a small business owner, the future is never certain. My past businesses survived a ".COM bust", as well as the "Financial Crisis," and I fully intend for Crelate to survive this crisis as well. Our team lives by our Leadership Principles, one of which is Resourcefulness and Frugality. We know how to pull together during tough times by running smart and lean. Additionally, with our capital raise in 2019, Crelate is well-positioned and backed by solid institutional investors.
Regarding our systems. Over the last few weeks, we've been working hard to further prepare our company and team members to face the challenge of COVID-19. We need a great team to run our company. To protect our people, we've implemented the changes noted above. To protect our systems, we have double-checked our existing disaster policies and system redundancies to ensure that every aspect of our business runs at least "two layers deep," including technology, geography, and people. We've expanded this to ensure that key personnel are physically separated and that essential access controls are in place to prevent any single point of failure.
Rest assured that your data and your recruiting technology is safe and available.
What we're doing, and how you can help.
Every little bit helps. Here are three small asks:
1. #FlattenTheCurve – If you are not already, please take the COVID-19 pandemic seriously and take care of yourself. We're past containment. Our last, best line of defense is to follow CDC recommendations, practice social distancing, wash hands, and do our part to stop the spread of this deadly virus.
2. Give if you can – We've set up a donation campaign for our customers and the recruiting community at large to pull together and help the American Red Cross help others. Through this donation link, we will match up to $4,000 in customer donations to the American Red Cross. 
Please feel free to share this link with other recruiters to maximize our match.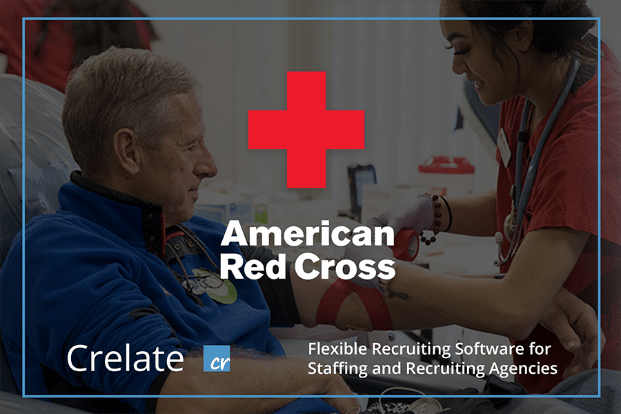 The American Red Cross is facing a severe shortage of blood. If you are not able to give monetarily, please consider instead giving blood. With people being asked to shelter in place, blood banks the country over are running severely low. You can find a local donation center here:
3. Help Find a Cure – The Crelate team has started donating spare CPU power to the Folding @ Home Computing Grid. If you are not familiar, this massive shared computing platform allows researchers to "fold proteins" and find therapeutic antibody targets that can bind with viruses like coronavirus. On February 27th, the project announced that it was working to crack the code on how the COVID-19 spike protein binds to the ACE2 receptors in the human body. With this information, researchers can better understand how the virus works and hopefully find compounds to combat it. 

If you want to help:
a. Download the Folding@Home app here: https://foldingathome.org/start-folding
b. Install the app
c. Select "Any Disease"
d. Join the Crelate team. Our team is #234725
The entire Crelate Team and I sincerely wish you and yours the best of health during these trying times. We believe in the strength and goodness in humanity, and together we will find a way forward.
Sincerely,
Aaron Elder
CEO, Crelate, Inc.
Filed under: Crelate Updates