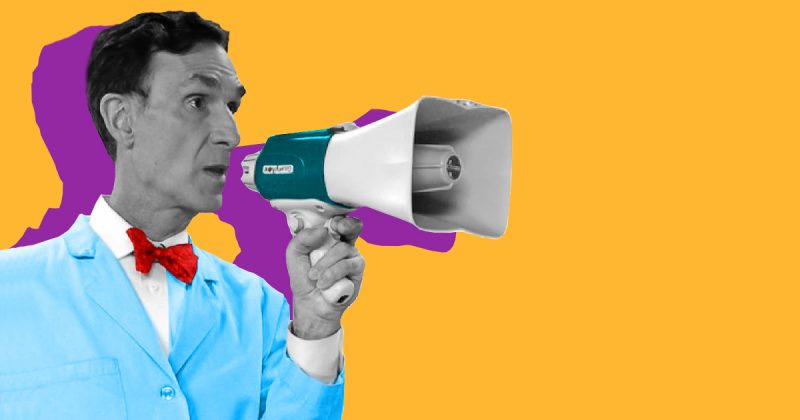 The Recruiting Process
Creative recruitment strategies set successful recruiters apart. Whether you're building a recruiting strategic plan, or simply looking for something new you can use today, these modern recruiting strategies can take your performance to the next level.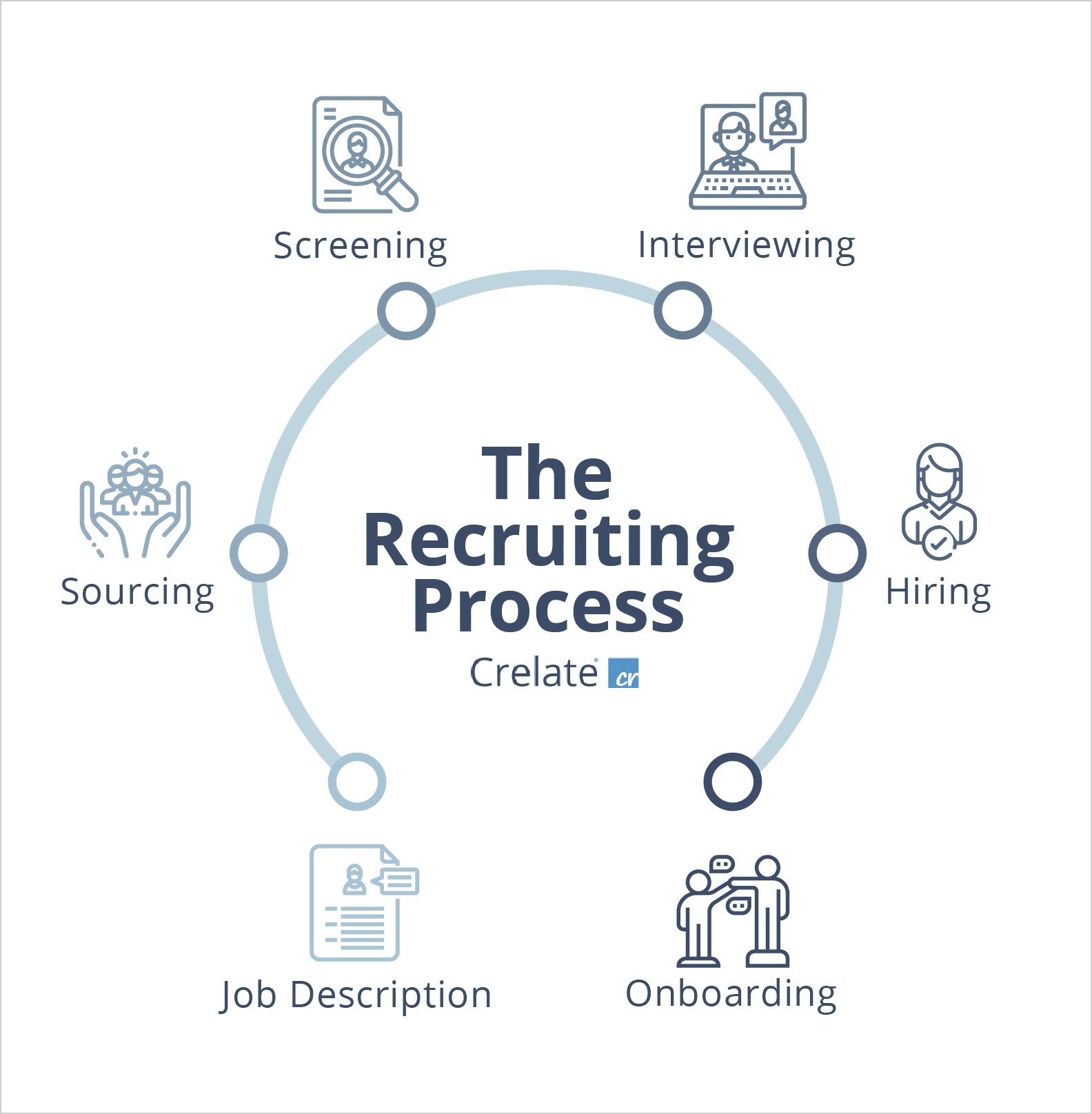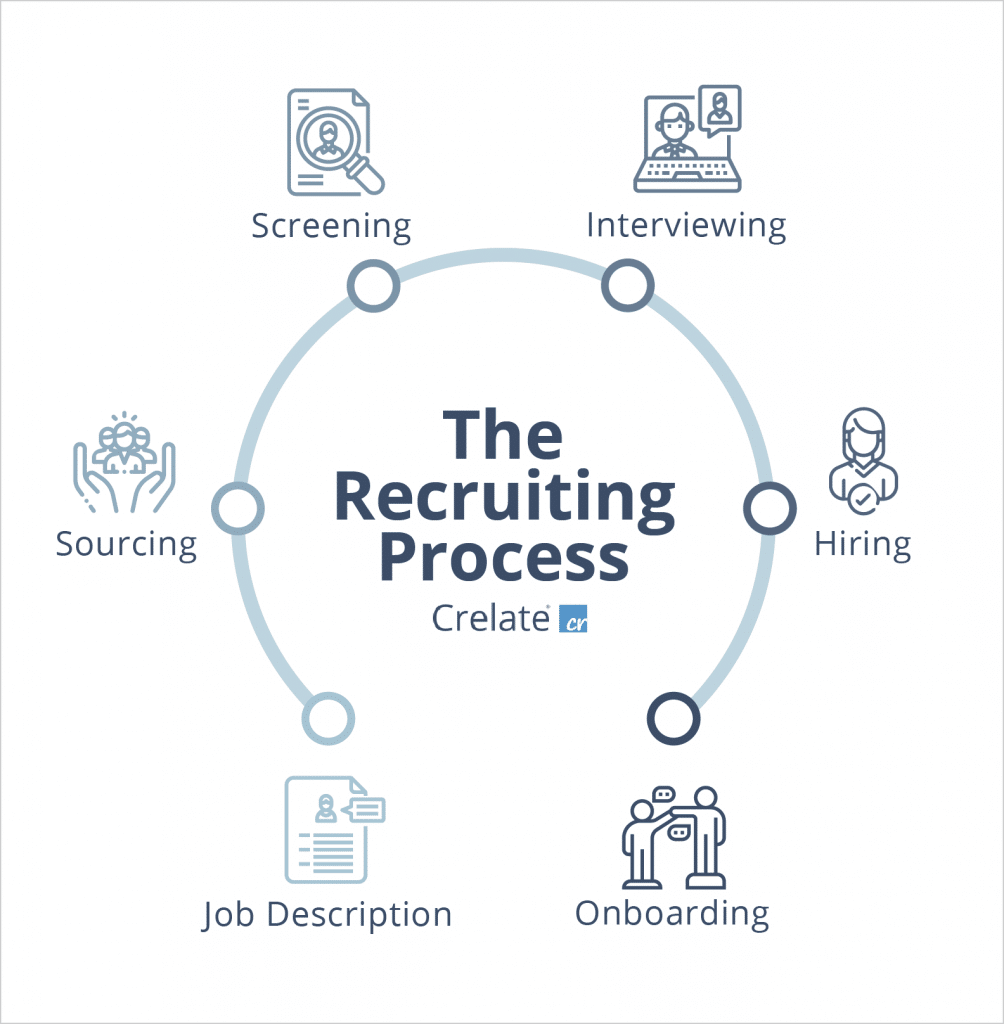 When professionals talk about recruiting strategies, they often mean sourcing – proactively identifying and attracting candidates for a particular job opportunity. Sourcing can be the responsibility of a single recruiter or separate sourcing team. Regardless of how the work between candidate sourcing, screening, and interviewing breaks down in your talent acquisition practice, the 7 sourcing and recruiting strategies in this article will give you a leg up on the competition.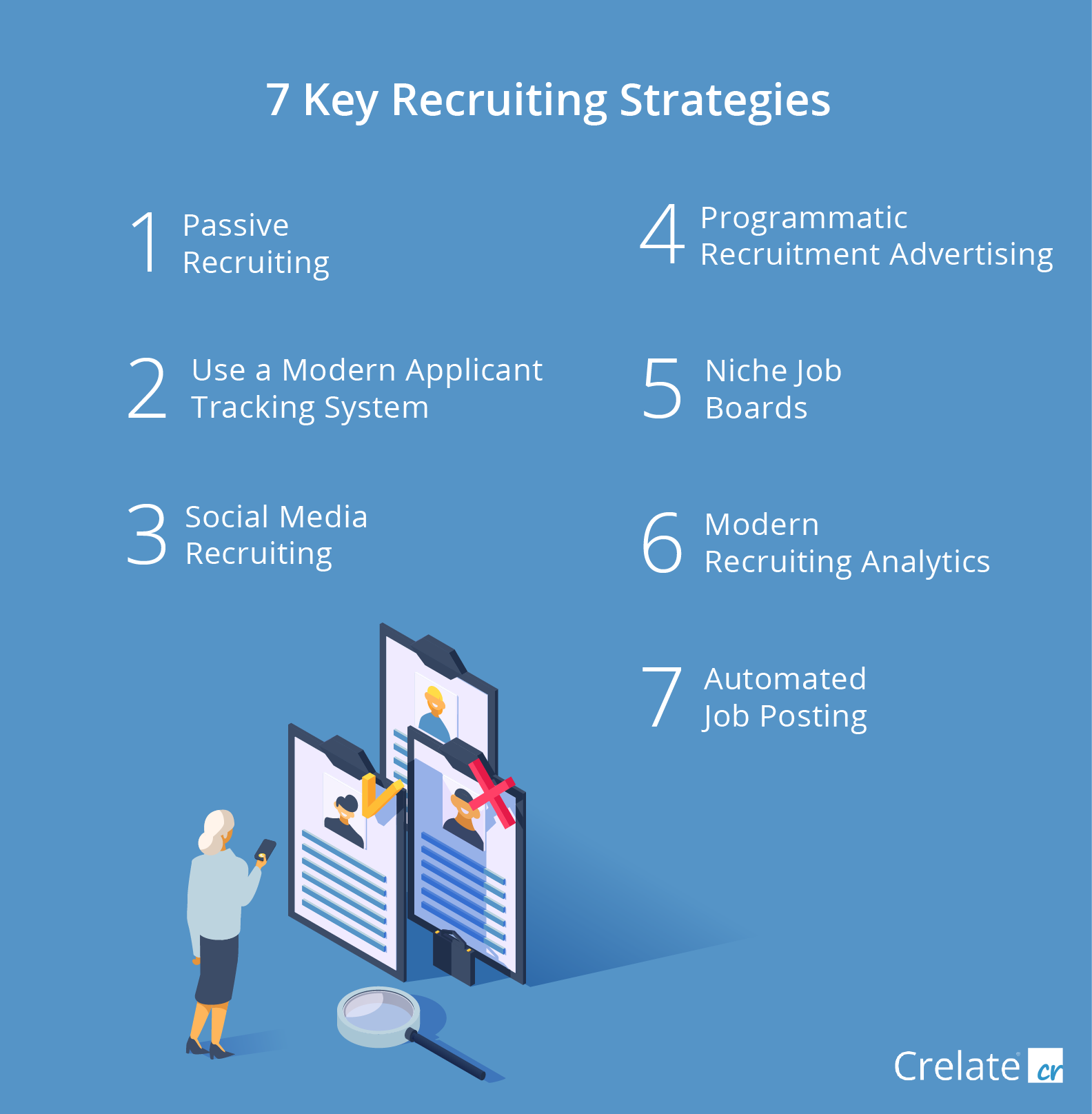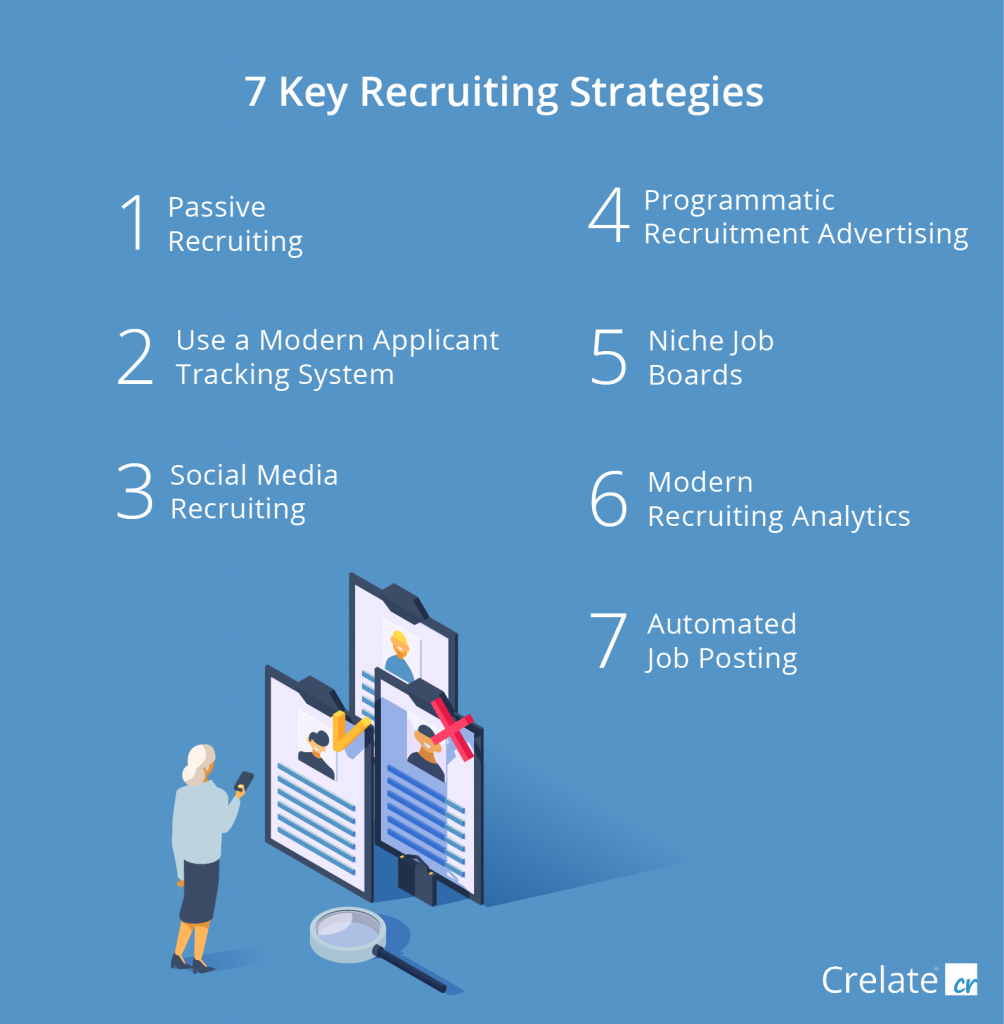 Passive Recruiting
When San Francisco-based recruiters Hager Executive Search named their top 5 recruiting blunders, they had a clear #1 mistake to avoid: Relying on inbound talent to fill your crucial positions. In other words, ignoring passive recruiting.
The Crelate Client Portal is designed to save you hours each week because you're able to deliver candidate information to clients with a click of a button, instead of compiling spreadsheets and emailing them for each job requisition. All client feedback is stored in Crelate Talent, which means recruiters don't have to dig through email to find it.
"Even with the huge demand for talent, it is surprising how many companies are not augmenting their talent pools with passive talent … If your organization is relying only on inbound talent, you are only getting the talent that are applying, not the best talent available."
The "passive" in passive recruiting does not refer to you as the recruiter. Passive refers to the fact that the candidate is not actively looking for a job. For recruiters, there's nothing passive about it.
Particularly in a tight labor market, it's common to hear recruiters and talent acquisition leaders talk about the best candidates coming in the form of passive talent. It's a good indication that the potential candidate is strong enough in their ability and execution that they're being compensated well and simply don't need or want to move. While there are arguments to the contrary, and current employment is not a guarantee of ability or future performance, attracting passive candidates is a huge component of successful recruiting.
Importantly, there should be an element of passive recruiting in most if not all of your recruiting or sourcing strategies.
Passive recruiting means attending industry conferences, responding to social media posts, writing emails, and yes, cold calling. The great ones probably have days when they do all four — all in hopes of adding another future A-player candidate to their talent pool or a particular role.
Great sourcing and recruiting is a lifelong process of making real connections with the top talent in business, tech, or the field that you serve. Anyone who is ready to commit to recruiting as a career will need to start building their passive recruiting skills, along with other sourcing strategies in recruitment, if they ever want to reach the top of the field.
Importantly, good technology combined with a consistent process will help you maintain the relationships you develop through passive recruiting especially as your network grows. For example, Crelate Talent makes it simple to track all your interactions with contacts, whether that be pure networking, placing them in a role, or supporting the same person in building their own team. With only a few clicks, you can see the entire history of your interaction with any contact, whether they're a job seeker, a hiring manager, or a connector, so you know exactly what to say next.
Modern Applicant Tracking System
If time is money, then a modern applicant tracking system is an ATM.
Punch in the right combination of keys, and you can save yourself days and even weeks of sourcing. Not to mention the value of ensuring that you never pay for the contact information of a great candidate twice, especially if you're using a more expensive sourcing platform like LinkedIn or Indeed.
A modern applicant tracking system captures the details of every candidate your firm has ever contacted — from the passive job-seeker your most junior recruiter met at a networking event three nights ago, to the executive who interviewed for a job three years ago.
With modern searching techniques, reporting capabilities, and secure record storage of these new recruiter-friendly platforms, you can find qualified candidates in seconds.
The days you save by proactively contacting qualified candidates (rather than waiting for résumés to pile up) will get your clients the talent they need, and you onto your next placement or req. If you shave one day off the recruiting process for your next 10 placements, your ATS has handed you two weeks. We'd like to see an ATM do that!
Social Media Recruiting
"As a staffing firm, we use all kinds of sophisticated technology to build talent pools and source candidates for our clients," says Jon Hill, CEO and Chairman of The Energists, a staffing and management consulting firm that caters to the needs of the energy sector. "But we recently hired a man who found out about us on Facebook."
According to Hill, the candidate, and now new-hire, recently came back from serving in the Marines where he stumbled across a Facebook post from a former high school classmate — and current employee with The Energists.
She'd simply posted "My department is looking for a new sysadmin if anyone is looking for a job." He applied for it and ended up landing the job.
Says Hill:
"The point is that you should never discount the value of social media for sourcing candidates. And you don't have to stick to LinkedIn, either. Facebook, Instagram, and all the other platforms out there can be useful for finding strong and reliable candidates."
Social media can be a part of every phase of a recruiting process and organization — from connecting with passive candidates, to finding client companies who need help with a specific role.
You can directly advertise job listings to potential candidates, or amplify content about your company to attract the interest of passive job seekers.
And of course, there are always the more organic scenarios like the one that happened for The Energists.
Establish a presence on the key platforms. Follow the leaders in your target industry, and reach out to rising stars. It's in everyone's interest to share engaging info and get visibility. See yourself as a facilitator of connections and information sharing.
One major side benefit: By doing this, you'll get a lot more knowledgeable about your key industries. Meanwhile, as an individual TA professional that's practicing social recruiting you're building a highly-visible, personal brand for yourself that will be valuable to current and future employers.
Pro-Tip: A modern candidate relationship management (CRM) system can help you make and extend social media connections. Using Zapier integrations, in many cases you can tightly align and track your interactions and contacts on social media within your ATS and CRM.
Programmatic Recruitment Advertising
Programmatic recruitment advertising is like having a recruiting assistant working for you 24 hours a day. For in-house recruiters, it's also a potentially huge tool for distributing and building your employer brand message.
The term "programmatic advertising" refers to the type of ad you'll see when you search "things to do in Los Angeles" one morning, and see an ad for Universal Studios pop up on your favorite website that afternoon.
Likewise, if someone searches "tech jobs in Seattle" during their job hunt, a good programmatic advertising campaign will show them your new listing for a programmer at Amazon. Or perhaps a banner ad that links to a video of what it's actually like to work at Amazon in general.
Programmatic advertising learns and adjusts, too. If ads on a certain website aren't converting applicants, a good platform that's configured correctly may yank the ads entirely, or try different wording. You can create all these settings ahead of time, then let your assistant work away in the background. Or if you prefer, track the results hour by hour and make adjustments in real time.
Configured correctly, you don't have to fear runaway costs, either. Programmatic ad campaigns can and should be built with maximum spends per day, per week, per role, or some combination of both time and overall performance.
As a recruitment strategy, the low-touch allure of programmatic advertising is no replacement for the high-touch work of building relationships with top talent. Still, it's an extremely powerful outreach tool that may one day find you an ideal candidate.
Niche Job Boards
Sometimes, employers are looking for candidates with a specific skill set: a particular certification, deep knowledge of a technology platform, or proven connections within an industry.
In other cases, employers are primarily concerned with soft skills like leadership, change management, or work ethic.
These are two completely divergent goals and a niche job board can help you in both situations. 
When an employer needs practical experience in a specific industry, a niche industry job board can be just the ticket:
Archinect offers industry news, training, awards, and job listings for architects.
HotellerieJobs is a jobs database for the hospitality industry, with categories like food service, spa & wellness, and others.
Crunchboard job listings board is associated with the leading tech news site TechCrunch.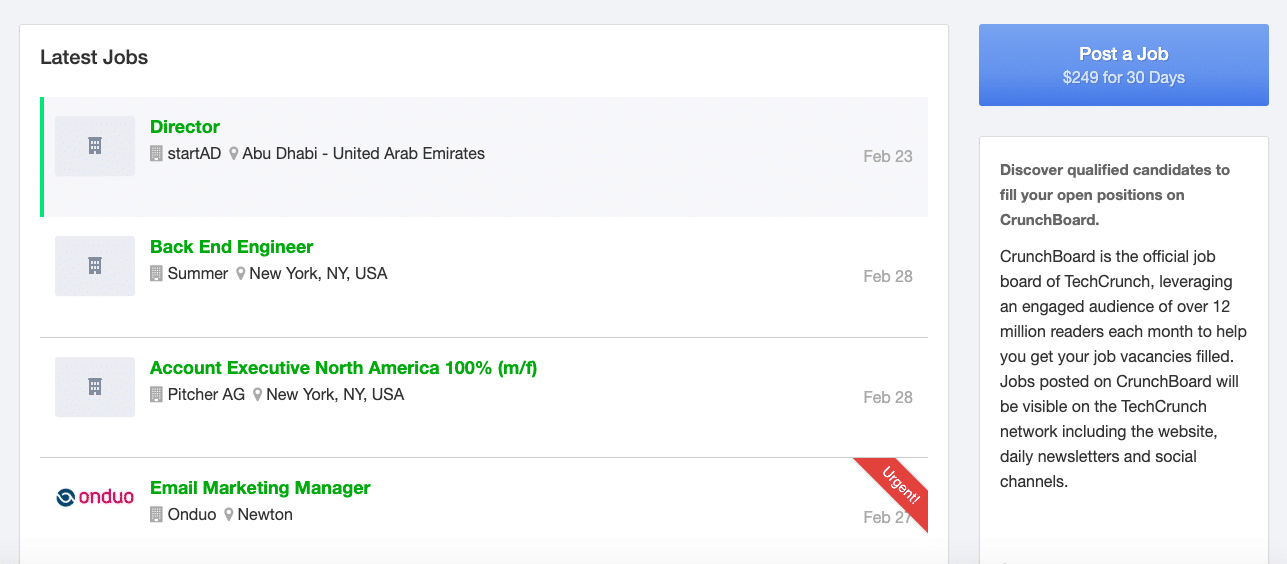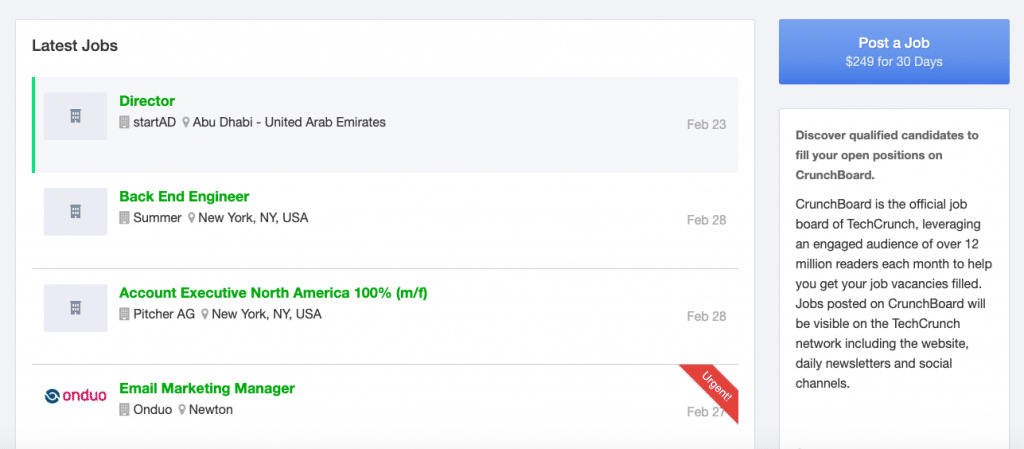 There's a job board for just about everything you can imagine. Here's a link to a very active one for jobs in the produce industry.
This may not be obvious, but a niche job board can also be a place to find nontraditional candidates with the soft skills that may be applicable to a specific position. Expert recruiters who really listen to their clients know when a non-traditional candidate might be an unexpectedly perfect match. 
Let's say that your client has a talented team, a solid market position, and a clear roadmap to success. They may not need a visionary industry expert. They just need someone solid, and with great leadership experience to keep the train on the tracks and the team focused on their mission.
Job boards like that of the Military Officers Association of America could be a place to recruit a person with decades of leadership experience. 
And don't define a job board too narrowly. Anywhere people with specific skills or interests gather is a potential place to find candidates that set you apart from other recruiters.
On the popular Programmer Humor subreddit for example, talent firms such as TripleByte advertise seeking qualified candidates.
If you focus on a specific industry, these sites can be a source of knowledge and talent.
Modern Recruiting Analytics
Lightning-round recruiting questions: Where are you most likely to find the winning candidate for CMO at a mid-size manufacturing company?
Based on previous results, how should you divide your outreach efforts between online listings, social media promotion, and programmatic advertising?
Do transplants tend to succeed at this company, or do in-area candidates stay in their jobs longer?
Even if you're the most experienced recruiter at your firm, you won't know the answers to these questions off the top of your head. And even if you have a gut response, it's one you should be able to validate with data.
When you track data with a combined applicant tracking system and CRM, you can pull up years of job reqs, candidates by source, interview notes, etc., and generate all types of analytics to guide and optimize your recruitment process.
Usually, this information will help you make better placements, faster. And even if the search doesn't go as quickly as you hoped, using data bolsters your case in those difficult conversations with demanding clients.
Things will go a lot better when you can say "10 years of data suggested this approach, but now we know we need to course correct."
Instead of "Well, we thought this would work but it didn't." 
Data shouldn't replace your experience. But it should allow you to validate your assumptions, and suggest the tactics and criteria most likely to help you source, evaluate, and place that purple squirrel (perfect candidate). 
Start asking for this data. If your employer doesn't have it, make it your mission to propose a new addition to your company's tech stack that addresses this blind spot.
You're falling behind in your career if you aren't working with the latest recruiting analytics.
Automated Job Posting
Robertson Associates, one of the world's first executive recruitment firms, puts it plainly in the title of a post from the front lines of modern recruiting: Why Recruiters Who Focus On Adding Value Succeed In The Digital Age (And Why Recruiters Who Don't Will Go Out Of Business).
In the post, they make an obvious but important statement: "The digital tools that have disrupted executive searches have made the easy parts of recruiting even easier."
There's nothing inherently difficult about posting a job description to an online job board, scheduling an interview, or forwarding a résumé to a client. The world's most talented recruiter can't do these things that much better than an entry-level recruiter the first day on the job.
The hard parts of recruiting — the skills you have to develop to become the world's most talented recruiter — haven't really changed. You still need to forge relationships with talent, understand the needs of clients, quickly assess the skills, interests, and capabilities of a candidate in a relatively short time. 
What technology can do is handle the easy stuff so you have more time to do the hard stuff. As we like to say at Crelate: "Recruiters are busy building relationships with people, not tracking applicants."
A Good ATS & CRM Can Help Make These Strategies A Success
Good candidate relationship management software can automate more than job posting. It can automate basic communication, scheduling, screening, and all of the easy tasks that take time away from developing and deploying your skills as a recruiter or HR professional.
As Robertson Associates points out, these skills will be the difference between success and failure.
Crelate Talent gives you the tools to maximize each of these key strategies — to "make the easy parts easy" as Robertson Associates puts it. Schedule a demo today to see how our tools are helping recruiters take the next step in their careers. 
Filed under: Recruiting Tips
Tagged with: Recruiters, recruiting, Sourcing