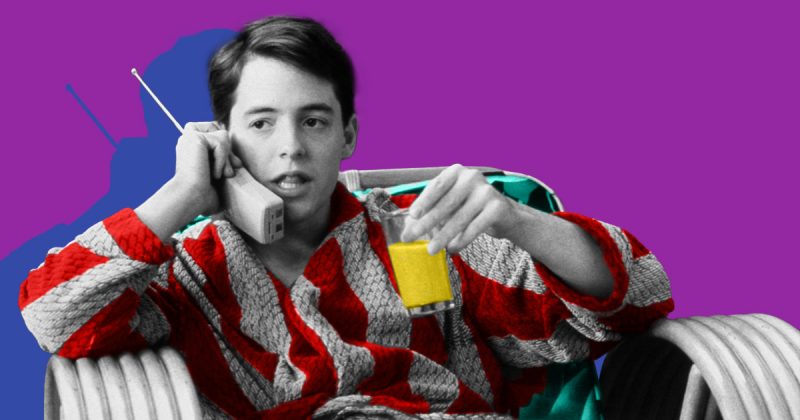 What is a Client Portal?
As part of a larger engagement experience, the Crelate Client Portal specifically provides a way for recruiters to communicate with their clients and have an audit trail of client interactions about candidates. All while saving time spent producing reports and information for clients.
For a better candidate experience, the Client Portal helps recruiters limit the time candidates spend waiting for next steps, feedback, job offers, and more.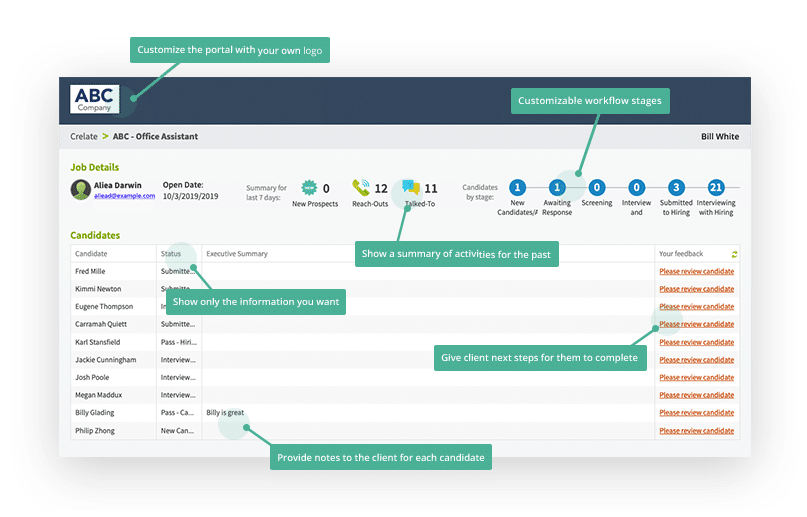 How to use the Client Portal?
Client Portals for Executive Search Firms
As an Executive Recruiter, you take time to deeply understand the needs of your clients. You're specialized in your industry and you work tirelessly to seek out strong leaders for every client. Because every candidate you place already has a job that they're good at it, it means you must sell those candidates on your client's opportunity, too.
It's important for you to be in constant communication with your clients so that you don't lose great candidates and vice versa. By keeping your customer engaged, you can also keep candidates engaged – because you need to sell both sides of the opportunity to make a match happen.  
Your clients need information quickly and securely, so that they can decide if they would like to move to the next stage with a candidate or pass on a candidate who is not a good match.
With the Crelate Client Portal, your clients can simply click on a link in an email to get to the Client Portal without logging in. Once they're in the portal, clients can see that you have distilled the information that they need in the form of an executive summary, where you highlight why the person is a good hire, and even how they relate to current market conditions.
In the Client Portal, clients can also read the candidate's resume if they have time, but they usually don't – in which case they have your executive summary to highlight key qualifications about each candidate.
You can give them a curated experience for each job that saves both parties a considerable amount of time, and all the information stays within Crelate's secure platform. With the Client Portal, you'll know if and when your client views a candidate. This way you don't miss out on any fees because we know that a single "backdoor hire" can cost you thousands!
When your client makes a decision about a candidate, you can act on it fast. The real-time notifications from the Client Portal tell you when you're needed to act on something.
The Crelate Client Portal is designed to save you hours each week because you're able to deliver candidate information to clients with a click of a button, instead of compiling spreadsheets and emailing them for each job requisition. All client feedback is stored in Crelate Talent, which means recruiters don't have to dig through email to find it.
Providing high quality matches is important to build trust and rapport with your clients. That's why we're so excited to share the new Crelate Client Portal functionality.
Client Portals for Staffing Firms
As a staffing agency recruiter, you often have hundreds of jobs each month that you need to fill with talent. Sometimes your clients are requesting a very short turn-around time, so you have to act fast, while still submitting quality candidates.
A good day is when you can fill a job placement within the same day. And it's not unusual for you as a high-volume recruiter! This kind of fast-pace recruiting is hard to manage over emails because you're required to manually transfer information in and out of Crelate to communicate with your customers. With the Crelate Client Portal, you can now quickly submit multiple candidates for a job while your clients simultaneously receive a message that notifies them to review the candidates you submitted.
Your clients can click on a link in an email to access the candidate information in the Client Portal. The feedback that your clients provide is instantly recorded in Crelate Talent. If they want to, your clients can print out resumes and other candidate information in the Client Portal.
You'll receive notifications when your clients take action in the Client Portal, which reduces your time spent checking in and following up with clients.
The Crelate Client Portal is designed to be a game-changer for staffing agency recruiters by increasing the speed of placements and enhancing the level of service you can provide to clients.
Client Portals for Corporate In-House Recruiters
When recruiting talent for your company, your clients are hiring managers and your colleagues. Sure, you may have the benefit of working in the same building as them, but you're both extremely busy. That's where an ATS with a Client Portal can help.
Corporate talent acquisition teams can use the Crelate Client Portal to collaborate with hiring managers throughout the hiring process. You can save time by sending candidates you screened and vetted directly to the Client Portal for hiring managers to review. Your hiring managers will get a notification when you've added applicants to the Client Portal.
Efficiently gather feedback from hiring mangers through the Client Portal and have that information automatically stored in Crelate Talent. If you're hiring manager is ready to move candidates along to an in-person interview, you'll know instantly.
There's no need to print countless resumes to put on your hiring manger's desk before interviews. All this information can be sent to the Client Portal, and if anyone wants to print the documents, the option is still there to do so.
What if you're spending a long time hiring for a position? How do showcase all the work you've been doing while you're urgently trying to acquire the right talent for the role? No need to spend hours every week gathering a report of resumes you reviewed, candidates you screened, suggested hires you made, and all the other work you're doing. You now have the ability to send reports to the Client Portal and the hiring managers can appreciate all the work you've done. And you can do this without the administrative burden of pulling this information into an excel file or email thread.
The Crelate Client portal is meant to save you time so you can be more productive doing what you do best: recruiting the best talent for your organization.
Client Portals for Agency Recruiters
Client Portals are the golden means between recruiter, client, and CRM. This hub is managed by the recruiter, easily accessed by client, and powered by the recruiting CRM. Clients see only the recruiting information that you want them to see.
As a user of Crelate, you can govern the candidate data and job details that are visible to your customers without exposing everything in your database. On the other end, your customers can interact with the material you provide by moving candidates to the next stage in the hiring process. Actions taken in the Client Portal are reflected immediately in the Crelate system.
The Crelate Client Portal keeps consultants and hiring managers in sync. Your recruiting workflow is fluid because the approvals you need are no longer buried in inboxes. You're notified immediately when your client engages with the portal. And you're moving candidates through the hiring process at a faster pace.
You and your recruiting firm can easily encourage adoption with the Client Portal because your customers are spending less time sorting through candidate information in email chains. Instead all client interactions take place in the Client Portal while feedback is immediately stored under job records and candidate records, while eliminating the need to send emails back and forth.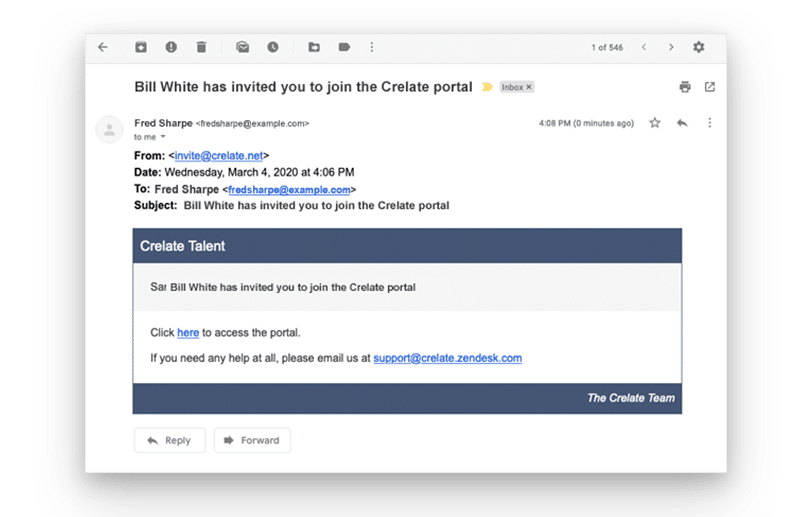 What Can Recruiters Do with a Client Portal?
At its core, Crelate is here to help recruiters create relationships with both clients and candidates. With this feature recruiters can:
Curate candidate information efficiently
Personalize candidate information for clients by:Customizing the default settings for all portals
Customizing the settings for each individual portal
Customizing each Client Portal home page
Customizing the Client Portal jobs page
Customizing the Client Portal weekly report
Customizing the Client Portal per client, showing or hiding information as appropriate (For example, allow clients to provide ratings or not, show workflow stages or not)
Mapping your internal recruiting workflow names to client-friendly names
Providing an executive summary about each candidate, to help clients make quicker decisions about candidates
Providing resumes or supplementary documents for each candidate, for clients to review
Removing any documents from each candidate's record on the portal (which does not affect that document within Crelate)
Add/remove jobs on the Client Portals
Add/remove unlimited number of candidates to those jobs
Add/remove users to each Client Portal
Ensure privacy by limiting who has access to the portal
View who has what type of access to each portal
View the history of interactions that their clients have had with information on the portal
Receive immediate alerts when customers provide feedback on candidates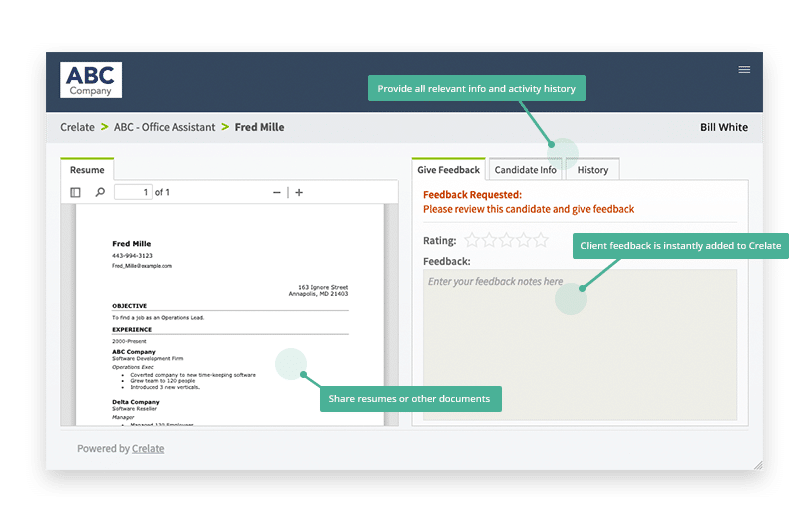 How to configure the Crelate Client Portal?
Our Customer Success team created support articles about how to enable the Client Portal in Crelate Talent. Once your portal is enabled, there are additional articles about how to manage notifications and user roles.
How do your clients interact with the portal?
The Client Portal can be accessed on any device. You can send your clients an invite via email, and they can click the link without the need to log in. Depending on your configuration, the dashboard your client sees will appear something like this: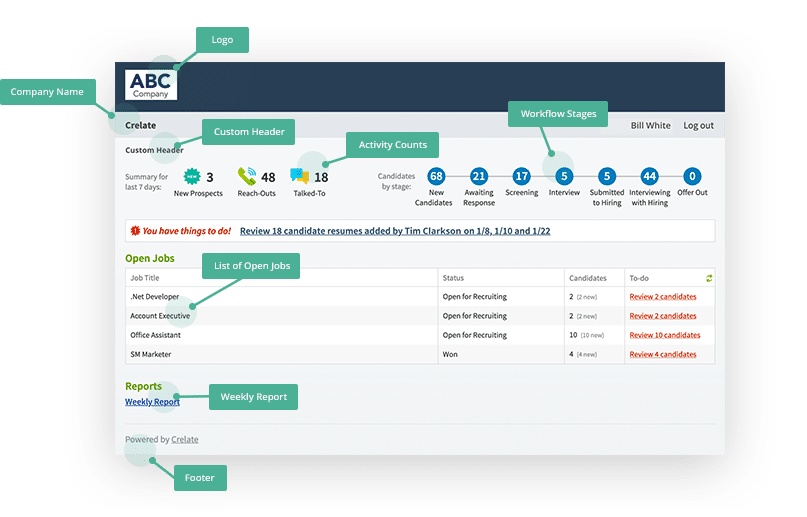 When you add new candidates to the portal, your clients will get the following notification in the top banner of the Client Portal dashboard: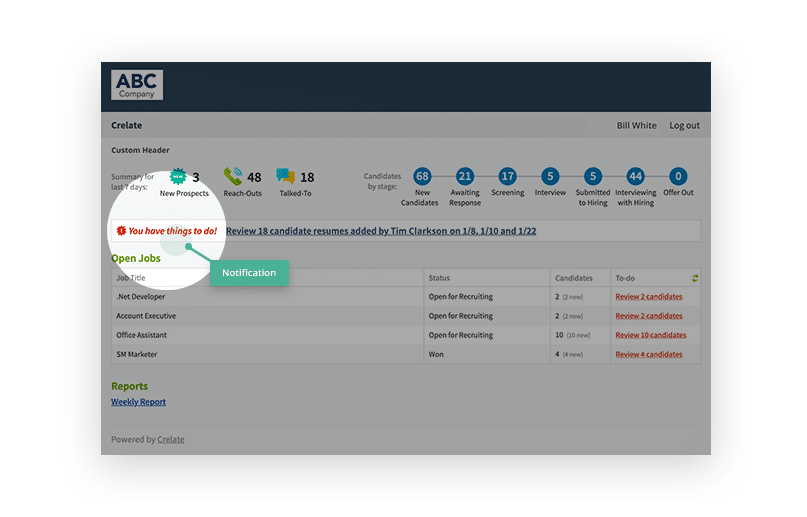 Depending on your permission settings, your client may also provide a rating, disposition, as well as feedback on candidates in the portal. To help your clients navigate the Crelate Client Portal for the first time, please feel free to share this support article or the overview video here.
How can recruiters manage visibility in the Client Portal?
Clients receive immediate email notifications when recruiters submit candidates for their jobs via the Client Portal
Clients access the portal through an email link, bypassing the need for login credentials
Clients provide feedback to recruiters on candidates as a simple rating as well as written feedback or questions. For example, a client can simply give a 1-5 star rating. Or they can also write comments such as, "I need to know if they have a CDL before I can move forward with this person."
Clients can see all jobs that recruiters are working on for them (or, more specifically, the jobs that the recruiter has added to the portal for them)
Clients can sort the data in the grid of candidates for a job, to help them act quickly on prioritized candidates
Clients can see reminders in the Client Portal about what action they need to take next
Filed under: Crelate Updates
Tagged with: client portal, recruitment portal