10 Solutions to the Top Executive Search Challenges
Download this recruiting eBook and learn 10 solutions to the top Executive Search challenges that headhunters and recruiters are facing in the modern age. Explore new methods to overcome the biggest challenges of Executive Search so you can make more leadership placements for your clients.
Effortless recruiting with Executive Search software.
Any experienced headhunter knows that a qualified executive probably isn't actively job searching, and most of the time, Executive Search requires attracting passive candidates. It means you're enticing people who are happy at their current place of work. Learn how Crelate Talent optimizes the executive recruitment process.
Get your insider guide
Download the eBook
Crelate is committed to customer privacy. Crelate uses the information you provide us to contact you about relevant content, products, and services. You may unsubscribe at any time. For more information, check out our Privacy Policy.
Executive professionals might not be actively job searching.
In this guide, we share the best strategies for recruiting passive candidates. You'll learn:
Tips and best practices for recruiting c-level talent

The latest Executive Search industry trends

Technology that improves Executive Recruitment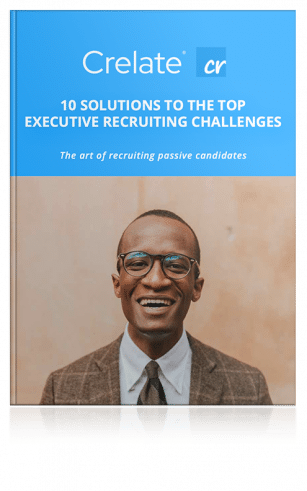 Join over 1,300 staffing and recruiting agencies that are making more job placements with Crelate.