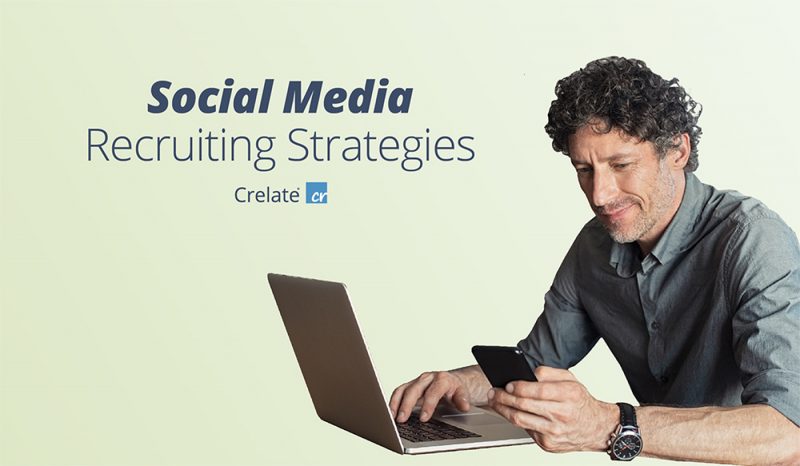 The right hire for your company, or the right candidate for your client, will exemplify the skills needed to execute the job and match the core values of their team. But where do you find and engage this ideal candidate?
Increasingly, on social media.
How Is Social Media Used in Recruiting?
Recruiters can use social media to attract and engage great talent by posting job opportunities, searching for and messaging qualified candidates, and by posting engaging and relevant content to help build a network of passive candidates.
According to The Muse, 92% of companies are using social media platforms to recruit.
In point of fact, LinkedIn is so broadly used by most TA professionals now that we start to see articles and podcast like "If you're a Tech Recruiter and you only use Linkedin to source, then QUIT." However, the simple fact that LinkedIn, and increasingly Facebook, are some of the most widely used and known destinations for sourcing does not mean that you can or should ignore them. They form a baseline of many successful recruiting and sourcing processes, and that's precisely because they offer both massive reach and increasingly powerful targeting and communication tools for recruiters.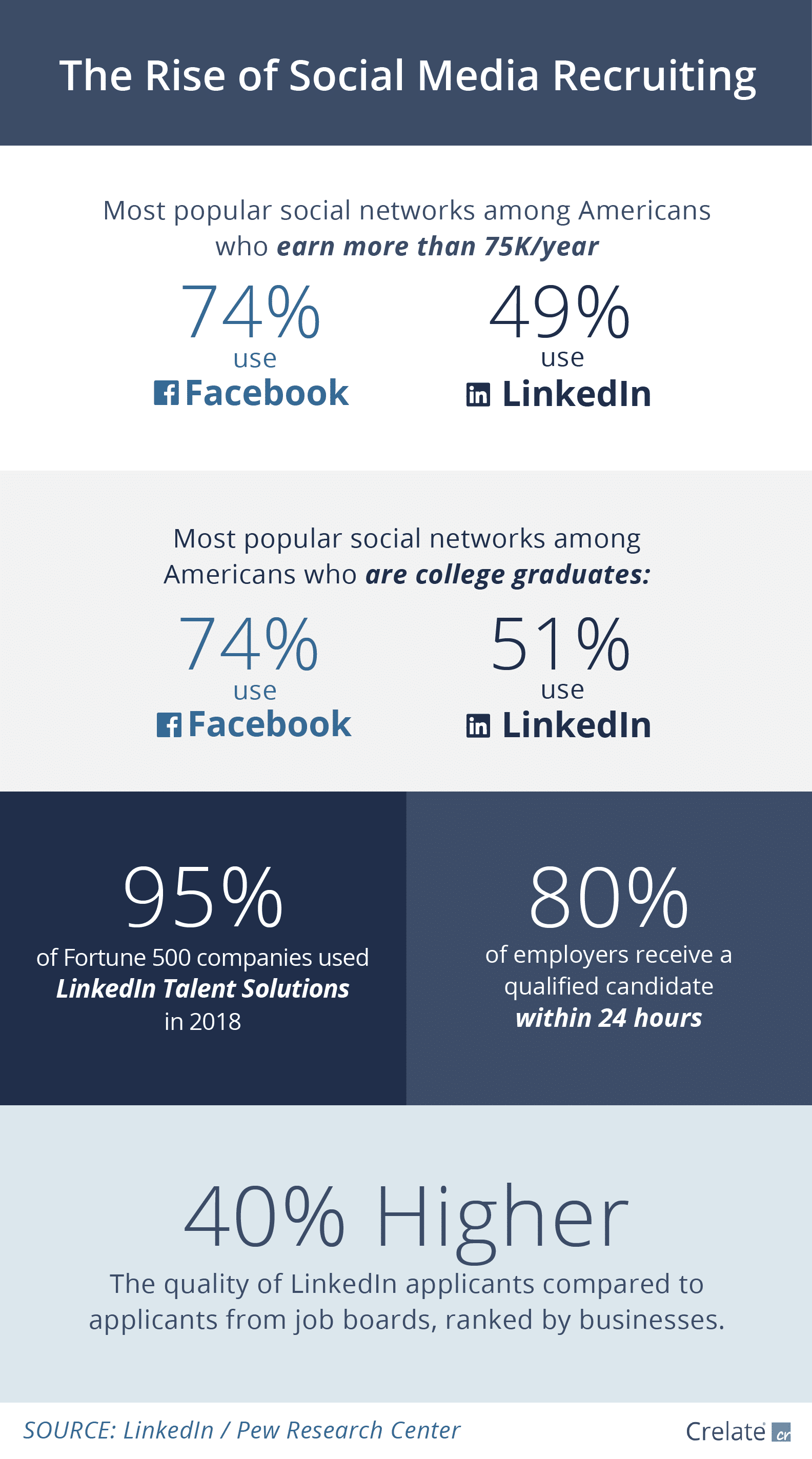 "Diversifying how we recruit candidates is 100% essential to hiring the best employees – including using social media," said Ashley Fogarty, Managing Director of Avenica. "Learning how to engage with a wide variety of audiences, especially as Gen Z enters the workforce, will be imperative for companies to continue to attract the best talent."
There are two very different ways to reach job candidates via social media.
1) Pay the social media networks to show your message to their users, whether one-to-one or one-to-many.
2) Build a network of authentic connections who care about what you have to say.
The first is the easiest and quickest, and will take the most money out of your pocket. The second is harder and requires budgeting time, effort, and probably a little money, too.
You can and should be working on both of these methods to ensure short-term and long-term success.
Which Social Media Site Is Most Commonly Used for Recruitment?
LinkedIn and Facebook are the two social media sites most commonly used for recruitment. As of 2019, they are the two most popular social media platforms among college graduates, which is the group that's most sought-after by employers.
Both sell recruiting-specific products and services. LinkedIn Talent Solutions offers access to millions of users (plus their job titles and companies) and the ability to message them. Facebook for Business leverages (some of) Facebook's targeting capabilities and broad audience.
And with the right amount of hustle, you don't always have to pay to get the benefits of social media.
Getting Started: LinkedIn and Facebook
LinkedIn has established itself as the premier social networking site for professionals. While any business can create a free LinkedIn profile, the most powerful tools are reserved for those with premium accounts. Recruiters we've talked to say the expense is worthwhile, although it can't be your exclusive sourcing tactic.
"LinkedIn offers many tools for advertising to and speculatively approaching appropriate candidates in a professional manner," said William Koutney, a financial services recruiter at CML Offshore Recruitment. "We've had great success in using a combined strategy of targeting ad content to the newsfeeds of appropriate eyeballs while simultaneously making direct InMail approaches to similarly qualified users."
By contrast, Facebook does not have the professional focus of LinkedIn, but it does have greater reach – according to the authoritative Pew Research Center, 69% of U.S. adults use Facebook while just 27% of U.S. adults LinkedIn. As long as nearly 70% of the country is using it, Facebook belongs in the social media recruiting conversation. Increasingly so as Facebook for jobs becomes more and more clear on the radar.
Messaging Candidates Directly Over Social Media
If you're brand new to this: LinkedIn's InMail product is a premium service that allows recruiters to message anyone with an account whether or not you have a connection with them.
The cost depends on how many people you plan to message. LinkedIn's top-of-the-line recruiting tools cost close to $1,000 a month per recruiter.
Being able to identify and directly contact a qualified candidate through LinkedIn is an incredibly powerful tool — but success will depend on how well you are able to communicate the opportunity. People in highly sought-after industries like software engineering can get daily solicitations from recruiters. How will your message stand out?
You can message people over Facebook too, whether you are friends or not. But many people view Facebook as a personal social network for family and friends, not a place for job solicitations. At this point, we wouldn't recommend messaging a perfect stranger on Facebook about a job opportunity. Although that etiquette and mindset may shift over time, especially as Facebook makes further efforts to position itself as a player in the space.
What about messaging friends or acquaintances? That's a bit of a gray area. There's a risk of annoying or even offending the person. Then again, if the opportunity truly is valuable to them, they may really appreciate that you reached out. It's worth considering if any of your actual friends are potential candidates for a job opportunity, but use your best judgement about when and how to contact them.
Whether you message over LinkedIn or Facebook, the wider your network is, the better the success you will have. In the case of LinkedIn, you don't have to pay to send InMail to people who are direct connections.
Use Paid Social Media Advertising
LinkedIn offers four different recruitment solutions that could broadly be described as "advertising."
LinkedIn Career Pages
LinkedIn Career Pages are a recruiting-focused extension of your company's general LinkedIn business page. The page can feature information about your company, testimonials from employees, and of course, links to open jobs. LinkedIn considers this part of an awareness stage of the consideration funnel. Passive candidates may seek out these pages as they are thinking about their next move.
LinkedIn Recruitment Ads
LinkedIn's powerful recruitment ads product is a specialized version of their overall Dynamic Ads product. Dynamic Ads are personalized with the name and picture of the person the ad is targeting. LinkedIn gives you targeting options that help you reach qualified candidates, and allow for different calls-to-action. Rather than urging candidates to "apply now", you might push them to a Career Page to learn more about the company and opportunity.
LinkedIn Sponsored Content
For employers, Sponsored Content can build awareness and interest for their organization. As a recruiter or recruiting agency, Sponsored Content can help you build a network of passive candidates in a specific industry or field of expertise. LinkedIn calls Sponsored Content "the best way to engage your target talent on LinkedIn."
This is obviously a long-term play. Reaching people like the ones you want to hire — and getting them to follow you — will build trust and make these folks more likely to respond when you have an opportunity for them.
LinkedIn Pipeline Builder
LinkedIn Pipeline Builder is a type of lead-generation ad specifically aimed at recruiting candidates. LinkedIn Lead Gen Forms allow users to take action. Pipeline Builder ads give candidates that you've targeted the ability to express interest in a position rather than complete the onerous task of filling out an application. You or members of your recruiting team can then follow up with the person to determine if the position is a good fit.
This is especially helpful if you're on a monolithic ATS that puts candidates through the ringer in both outdated UI and the amount of information that they'll have to manually re-enter from their CV in order to apply.
Facebook Advertising
In response to concerns about employment discrimination, Facebook dramatically limited the targeting options for recruitment ads.
Advertisers can no longer target ads or content about employment opportunities by age, gender, ZIP code, multicultural affinity, or any characteristic that might cause ads to be specifically limited to a particular protected group.
Because you can only target broadly, Facebook advertising is probably best reserved for jobs that don't require specialized skills. However, it might be valuable to retarget those who browsed your job pages or interacted with content that could imply they're interested in making a career change.
Build a Strong Employer Brand Page
Prospective candidates are doing research before interviewing at a company, and they're looking at more than just a website. In fact, 59% of employees say their company's social media presence influenced their decision to work there, according to Betterteam.
"Social media pages are the best way to put together a highlight reel of sorts to showcase all the amazing things your company does," said Ashley Fogarty of Avenica, which matches employers with recent college grads. "While the application may not come directly from social media, candidates are increasingly viewing social pages to get a sense of the mission, culture, values, and engagement of a company to determine if it matches what they're looking for."
If you expect candidates to develop a long-term relationship with your agency or your brand, you may want to ask: What does your company's social media page say about you? This is obviously a little more complex if you're an agency recruiter looking to fill a position for a brand. But as a rule you'll want to ensure there's a compelling, relevant story for both your agency and the client company. For your agency it's about professionalism, results, and approach, which should help you straddle the need to engage both candidates and clients.
On the content side, setting a consistent publication schedule will, at the least, avoid having potential candidates come to your page only to find a couple of pictures from a months-ago holiday party. But successful recruiters aim much higher.
Become a Thought Leader in Your Industry or Industries
"Social media is an incredibly powerful tool for recruiters, but only when used in the right way," said Ian Clark, Head of the Americas for the global tech recruiters Frank Recruitment Group. "Sure, it can be a great way to source new candidate and client leads, or to stay in touch with existing contacts, but using it transactionally for business development alone is a real waste."
Recruiters should ideally be thought leaders in the industries they serve, or at least productive and contributing members of it. Encourage and train your recruiting team to use their professional, or personal accounts to help recruit top talent and interact with candidates.
"To truly be a presence in their professional network, recruiters should position themselves as thought leaders by researching and sharing insightful content from their focus industry, or by leading discussion around hot or newsworthy topics," Clark said.
Doing this consistently and well gives potential candidates an opportunity to engage with the posts in an authentic and natural way.
This is easy to say. It takes a lot more effort to do.
Smart, compelling, industry-leading content isn't going to get done in between meetings or during unspecified down time. You must commit to expending time and energy, and to learning new skills.
"We use short videos (under 20 seconds) to talk about a role and skills that would lead someone to be successful in it to encourage applications," said Ashley Fogarty of Avenica.
Video is a powerful medium for connecting with potential candidates, but it's also a dangerously easy way to make your brand look low-budget. Quality video requires lighting, sound, makeup, editing skills, and a bit of acting talent.
Use the social network that plays to your personal or brand strengths.
For instance, if you love talking to the camera, but can't stand writing, YouTube is a better bet for you than LinkedIn would be.
If you're a witty writer who likes following the news, but don't want your face on the Internet Twitter is probably more your style than Instagram.
Creating any form of content is a long-term investment. It creates visibility and additional touches on your way to becoming known and trusted by a broad pool of candidates. That's incredibly useful whether you're an independent recruiter, or a member of an internal TA team trying to build and nourish a great employer brand.
"This is the best way to grow your professional network organically with candidates and clients who want to have conversations with you," said Ian Clark, Head of the Americas for the global tech recruiters Frank Recruitment. "You'd be surprised how easy it is to fill a role when you already have active candidates in your comments section."
Achieving thought leadership is a career-long journey — but a rewarding one — for the reasons you'll see in the next section.
Tap Into Your Network for Free Referrals
The power of social media is the ability to communicate with many more individuals at once than any single person ever could before.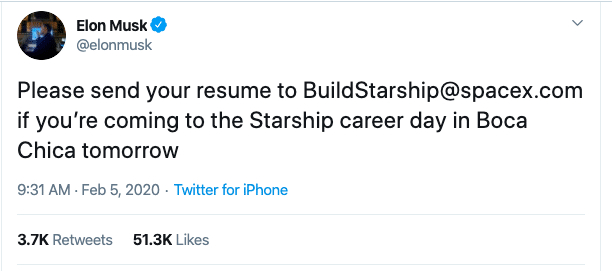 The more people you have in your network — whether it's on LinkedIn, Facebook, Twitter, Instagram, YouTube, or some network yet to be invented — the greater that power is.
Of course, sourcing candidates with social media also brings costs down. Anyone you're connected with on LinkedIn, you can message for free. As you build up a network of authentic relationships, you'll not only be able to avoid InMail fees, you'll get the network effect of having people who trust you share your postings and thought leadership content.
And though achieving 33.1 million followers like Elon Musk would seem to be an unattainable goal, even a small network can lead to big results.
"It's actually kind of funny because as a staffing firm, we use all kinds of sophisticated technology to build talent pools and source candidates for our clients. But we recently hired a man who found out about us on Facebook," said Jonathan Hill, CEO and Chairman of The Energists, a staffing and management consulting firm that caters to the needs of the energy sector. "He'd recently come home from serving in the Marines and was looking for a job when he stumbled upon a post by one of our other employees about the open position.
"She'd simply posted "My department is looking for a new sysadmin if anyone is looking for a job." The two of them had gone to high school together, so they were following each other on Facebook. He applied for it and ended up landing the job!"
Post and Engage in Niche Slack Groups to Source Talent
A good way to find content ideas and expand your knowledge of your target industries is to join a niche Slack group (you can use tools like Slofile.com to find these (or just search "[industry] slack groups" on Google). These worldwide conversations appeal to the most focused and active practitioners in their fields.
Most have a jobs/work offers channel specifically for posting employment opportunities. The people in these groups are likely to be far more engaged in the group than they are on LinkedIn or Facebook.
Some examples of such Slack groups:
Groups for specific types of work practices like Elixir, a Slack community for the Elixir programming language.
Groups oriented around geographic areas like South Florida Tech, a Slack community for the tech industry of South Florida.
Groups about entire industries like WomeninSales, a group for women who work in sales
Post Listings and Engage in Niche Meetup Groups to Source Talent
Much like Slack, most meetup.com groups have a jobs section or discussion board area. Just review the posting rules for that community and make sure to not overdo it. Sponsorship of these groups can be a relatively cheap tactic if the audience is a good match for candidate types you're consistently looking to place.
Some real-life examples:
As you can see from the examples, the tech world is (not surprisingly) among the first to adopt these new services, but other industries won't be far behind.
Why Is Social Media Important for Recruiting?
Social media platforms offer sophisticated targeting tools for your job listings, and the ability to cost-effectively promote content that builds your brand.
Since these sites are so popular, you can reach potential candidates with targeted ads, and then directly connect with them one-on-one. In some cases, people are even willing to raise their hand and explicitly say they're looking for a gig.
That allows recruiters to find those looking for a job faster, and at a lower overall cost. Your competitors know this, and they're using social media to find candidates. Your clients or hiring managers know it too, and will expect you to be ahead of the curve with social media recruiting.
Successful social media recruiting requires upfront investment and consistency — but the benefits are too big to ignore.
Keep Experimenting and Learning to Develop the Social Media Strategies That Work for You
Learning the fundamentals of social media recruiting strategy will help you get off on the right foot. But there are as many possibilities for using social media as there are jobs in the world. The biggest mistake you can make is thinking you've found the perfect one.
For William Koutney of CML Offshore Recruitment, his team's social media recruiting strategies include multiple touchpoints with candidates to get traction.
"In the Venn diagram of these pools, there is often a tremendous amount of overlap — which on first blush, may seem wasteful," said Koutney. "However, we've found that oftentimes a message will need to get in front of a potential candidate six or seven times before we gain traction, especially when it comes to enticing them to explore an international relocation."
We couldn't agree more with that approach as part of a successful, strategic approach to start and nurture your relationship with great talent.
Filed under: Recruiting Tips, Social Media Recruiting Strategies