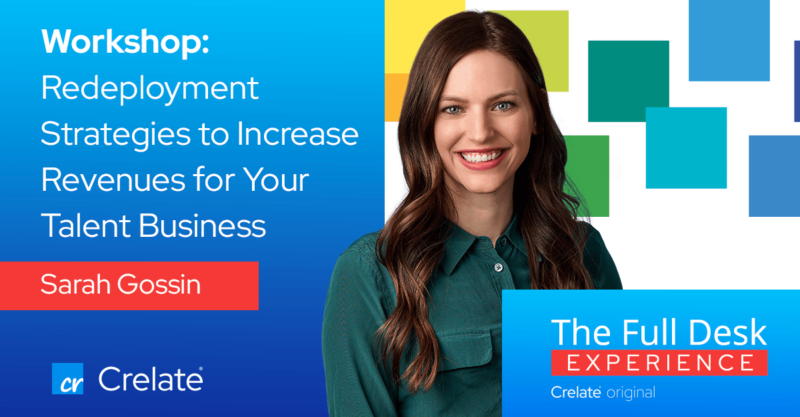 Sign up for The Full Desk Experience updates!
Kortney Harmon sits down with Sarah Gossin, Director of Product at Crelate, to share their expertise on redeployment strategies for staffing businesses.
Despite the benefits of redeployment, many firms struggle with retention and redeployment due to lack of time, resources, or effective tools. Kortney and Sarah provide valuable insights to help businesses build a successful redeployment strategy.
In this episode, you'll learn:
the importance of measuring and setting goals for your redeployment strategy
how implementing effective workflows with technology is key to a successful redeployment strategy
other tips to improve or create a redeployment program for your firm
Transcription
Sarah Gossin, Guest Speaker:
I wish I would've been able to use technology better to help support my redeployment focuses, because everything we did was pretty manual. We had Excel Spreadsheets and we were remembering people coming off assignment. I know that sounds terrible a few years ago, but yeah, I would've used tech more.
Kortney Harmon, Host:
That's a really good concept. We always say for that… We want to be able to tell our teams what's going on in case someone gets… We don't want to say hit by a bus, but in case they win the lottery and they get to go live their life. But if it didn't happen in your ATS, then how do you know that it even happened?
Hi, I'm Kortney Harmon, staffing and recruiting industry principal at Crelate. Over the past decade, I've trained thousands of frontline recruiters and I've worked with hundreds of business owners and executives to help their firms and agencies grow. This is the Full Desk experience where we will be talking about growth blockers across your people, processes and technologies.
On today's episode, we're going to be talking about redeployment. Yes, this conversation is geared to the staffing industry, but if you're a direct hire office, I don't want you to tune out this conversation completely. Many of the offices that I've worked with over the past have really focused on direct hire, but also have the ability to do contract staffing for many of our clients, or their clients. It's a different line item for your client's budget. It's a try before you buy concept and another way for your organization to look to pull in revenue.
With that being said, use this conversation to think differently about the talent that you are placing today and how it can equate to additional dollars for your teams as we encounter this market cycle and any future ones. Happy Valentine's Day to you all. I have brought my wonderful colleagues, Sarah Gossin here with me today. We're going to be talking about redeployment together.
Sarah, thank you so much for joining us and taking time out of your busy day. It's so nice to have a familiar face and someone that shares the same passions around redeployment as I do. Thank you for making the time and I love the festive look.
Sarah Gossin, Guest Speaker:
Oh my gosh, of course. I'm so happy to be here. It's my first podcast.
Kortney Harmon, Host:
First of many, I can probably just say that. In today's conversation, we're going to focus on the current market cycle and building a successful redeployment strategy and how that will give your organization a valuable edge. By redeploying workers, you can make the most out of your investment in sourcing, screening and establishing relationships with candidates who already have proven their higher ability within your organization. Therefore, you can decrease your time and cost to fill, increase brand awareness and candidate experience all while increasing your revenues.
In my experience with dozens of offices across the United States, firms struggle to retain and redeploy contingent workers. Redeployment can oftentimes be put on a back burner due to lack of time or lack of resources, or simply not executed well because of lack of tools and measurement. Today's episode, we're going to probably uncover where many organizations go wrong when focusing on redeployment and how to develop a thriving strategy for your organization, all while ensuring your tech stack can support your process and initiatives to unlock success for your teams.
For those of you in today's live event, we will actually be providing a checklist for redeployment around our conversation today. Those of you listening to the podcast, you will be able to find that in the show notes as well. Before we get started and dive into all the details with Sarah, I want to take a quick poll. You know me and my polls, or two polls. I promise there'll only be two today, but I want you to get your mics ready. Katie, do you have our polls up and ready?
My first question to you guys today is, as we talk about redeployment rates, do you know what your redeployment rate is today in your organization? It might be yes, you track that metric. Maybe we track it, but you don't really focus on it a lot, or maybe you don't track it at all. That's okay. The first step is really understanding where you're starting in this process today.
Okay. I think the verdict's in. Majority of this audience doesn't track your metrics, and that is okay. My question to you is how do you know how a failure to redeploy talent affects your firm's bottom line? Do you truly know your cost per hire? Now, you are not alone. So many staffing firms are missing out on growth potential of redeployment. There is research that shows that staffing firms fail to redeploy between 70 and 95% of their talent, meaning contractors often only complete a single contract. Only one.
Now, if your organization just increased their redeployment rate, they could have a significant impact on the firm's bottom line. That's what's important to you as operations leaders. Doubling redeployment alone can increase your revenue by 20%. However, you're going to hear in today's episode, leveraging technology is critical for the success of this process. With our market shift and tightening of our talent pipeline, prioritizing redeployment and exploring technologies that can help you better engage with your contractors and your contingent workforce is a must.
All right, Sarah, I'm off my soapbox. Before we dive into our topic of redeployment and what you've seen firsthand, let's first talk to our listeners a little bit about you, who you are A, here with Crelate, but also your experience BC, before Crelate, who you were, what you did, and why you're so passionate about this topic of redeployment.
Sarah Gossin, Guest Speaker:
Oh my gosh, of course. I'm Sarah. It's nice to be here today. I'm our director of product at Crelate. I own our strategic roadmap. My team is in charge of bringing all of our features to life for all of you. I'm very passionate about this. Before I came to Crelate, I was a VP at a staffing agency. We focused primarily on temp staffing with a direct hire site of our business.
I'm an operations nerd, okay? I'm a process person. I know all about timekeeping and payroll and invoicing. This topic of redeployment is something that I'm passionate about because it directly affects your bottom line. It's pretty cool when I look at where I've been and now being here because I get to help build products that I would've used as a user, like all of you. I have all these pain points that I know I've experienced, and now getting to lead a team to really think like the end user. Oh my gosh, there's really nothing better.
Kortney Harmon, Host:
I love that. That's going to be such valuable insight to our audience. I love, and I can't wait to dive into more of this. If you're ready, I've got my questions ready? You ready?
Sarah Gossin, Guest Speaker:
Let's go.
Kortney Harmon, Host:
Awesome. Let's talk about the biggest challenges you've seen with redeployment. Now, I want you to take any of these questions as a two-part question. Number one, what you saw when you were a VP running in the trenches with your teams, but then what you see differently now running a product team. Talk about redeployment and the challenges that you've seen across the board.
Sarah Gossin, Guest Speaker:
Yeah, of course. I feel like the challenges… There's so many. You mentioned so many in your opening spiel, but here's the deal. There's two that I see that no matter what I think about, it always boils down to this. One, we're just not doing it. Literally.
Kortney Harmon, Host:
We see that in the poll.
Sarah Gossin, Guest Speaker:
We see it in the poll. There was not a single person here that answered that poll that said they know what their redeployment rate is. That's the biggest thing. The second thing is that even that people that do it, it is a task and it's not a program. The way that they're tackling it is reactive and not proactive. I'm hoping we'll get into some details about the differences and all of that, but overall, we're just not doing it.
Kortney Harmon, Host:
That's fair. Now, when you ran your desk, were you actively measuring redeployment? Is that something that you actively did? Hindsight, maybe I should have did it better. Any thoughts behind that?
Sarah Gossin, Guest Speaker:
Yeah, for sure. I was not perfect. My team was not perfect at this. I am not preaching from a, I've been there and been amazing at it, but I'll tell you what, when we did nail it, it was the best feeling. Just when you look at that process of getting your candidates and all the steps that you go through. Just to take a little journey, you get your job, right? You're posting a job. You hope people apply. Once they apply, you're screening them, you're interviewing them. Hopefully they do a good job. Then your client has to like them. Then, on top of that, they have to get through onboarding. We all know, those of you in temp staffing, we all know that not everyone gets through onboarding, or a background check, or a drug screen, and then they have to get to work. And then they have to do a good job, and then you have to pay them in log time.
When you think about this, and that's what I did. When I took a step back and I looked at how hard it is to get someone from rec to check, it is worth it to put your time in redeployment because you skipped the first 15 steps.
Kortney Harmon, Host:
Absolutely. Not only are you saving time, you're saving your resources to work on other things that you can continue to bring in revenue. We'll talk about onboarding and the cost of that, I'm sure, later, we can go into this, but you mentioned something. It's initially the start. This first step in this process is really setting the groundwork of this process of redeployment. Your organizations measure redeployment. Actually, most of us don't. For those of them whom are not measuring redeployment, Sarah, how does one ensure that they even start this process? How do they ensure their systems are set up to capture these metrics? Where does someone start if they're looking at redeployment to say, I need to do this?
Sarah Gossin, Guest Speaker:
That's such a good question. Ultimately, the first thing lies with all of you and it's commitment. You have to commit to making redeployment something that you're focused on because otherwise, it becomes a task and it becomes an afterthought. No matter what, you've got to commit first.
Secondly, what I would encourage everyone to do when you're thinking about starting this process is whiteboard it. Whiteboard every possible thing you could think of. "Oh, I should reach out to them 30 days before their assignment ends. What about 60 days? How would I reach out to them? Would it be text or email or call? How do I start marketing these people to other jobs?" You got to have that discovery and that whiteboarding session and make it raw. It doesn't have to be perfect, but you've got to start. Once you get that, then you have to look to your technology to help bring that process to life.
Kortney Harmon, Host:
I love that. Establishing the process, what do I want it to do, but what do I want it to look like? How do I want their candidate experience to be? What do I think good looks like for us if we're talking redeployment? I'm sure that's something that you saw. Is that something that was established within your organization, or did you help really mold your redeployment strategy whenever you were in the field?
Sarah Gossin, Guest Speaker:
Yeah, when you think about redeployment, it is not a one size fits all. This is constantly changing and evolving and growing with your business. Sometimes, you think, "I'm going to Google it and I'm going to say, 'Oh, talk to me about redeployment,'" and it doesn't work like that. I think what I really challenged my people with, and when I look back at building out this process, you've got to think about your candidate base. Are they more accepting to text messages? Do they even read their email? Do they have a computer? When you think about building these processes, yeah, absolutely. I'm asking tons of questions to my recruiters. How do you reach out? How often? How communicative are your hiring managers and these orders? Yeah, it's always evolving and
Kortney Harmon, Host:
That's just the candidate side. That's not even what we want to accomplish as leaders, as operations leaders within our organization. When we talk about metrics and measurement of redeployment, sometimes it gets confusing for our teams. We talk about reducing the cost of the candidate acquisition. We talk about time to fill, we talk about increasing revenue, we talk about increasing retention. Heck, if we talk of the client side, you can continue to develop key accounts on the client side. You can reduce job board cost out of this.
That's something that most people probably don't think through, to say your job board cost actually correlate with your redeployment strategy. Can you discuss the goals and metrics that you had to measure for success for your staffing organizations and operations? I'm not saying the nitty gritty, the numbers per se, but what were the things that you knew, yes, our redeployment strategy is successful because we're measuring? Was it two things? Was it three things? Was it 10? Hopefully it's not 10 because…
Sarah Gossin, Guest Speaker:
It's not 10. I'm not going to write a book for you guys today, but I would say there's definitely a couple things. First of all, you should know your cost to hire. That's really important. You should know how much job boards are. When I look at my last role, I had an entire person who was a candidate services employee. Their entire job was screening and intake. That contributes directly to your cost to hire because that person has a full-time job that wouldn't exist if we did better at redeployment.
On top of that, it comes down to gross margin. I knew we were being successful when our time to fill was faster. My employees had less time in between assignments and our gross margin was higher, because you don't have all these other expenses because you're able to bypass all those steps.
Kortney Harmon, Host:
I love that. When you talk about cost, throw this number out. Does anybody, I'm curious in the chat, this is unplanned Katie, so I'm going to do this. Anybody understand or throw out a number of what they think the cost of onboarding talent is? What is the general cost that you think it costs to onboard talent into an organization?
Okay, Daryl says five to 15K. I love that. 30K. I love these numbers. Sarah, do you by chance, and I'm putting you on the spot here, do you know what yours was for onboarding talent? I know we talk anywhere from it depends of trainings involved. It depends what's going on. Someone else said three-fourths of an employee's salary. Did you know what the cost was for that concept of onboarding new talent? Going back to the drawing board every single time, do you have any idea what your cost was?
Sarah Gossin, Guest Speaker:
I know it was a lot. It's been a minute, so I don't want to speak incorrectly, but I'm not shocked by any of these numbers in the chat.
Kortney Harmon, Host:
No. Honestly, I think a minimum number that I see across the board, at minimum, is four to $5,000, just to onboard. That doesn't include training, that doesn't include extras. You guys are on it. You are understanding that it takes time and money to do this process.
Sarah, you talked a little bit about the role of that person. That's going to lead me to my next question. Let's talk workflows. As we talk workflows, sometimes leaders think workflows can really be about a recruiting workflow, or a sales workflow, like getting them into the process or getting them out. Can we dive into best practices for redeployment workflow? It's like a workflow off the workflow, but it's really something obviously that's overlooked. When we think about best practices with workflows, you have to understand what you need to have or use in order to help achieve your goals.
But let's face it, if you're waiting till a candidate rolls off a project, so you talked about proactive versus reactive. If you're waiting until they roll off of a project, it's too late. It is absolutely too late. This has to be a proactive approach.
I know when I was running a desk, it was with Microsoft Consulting Services. These people were looking for a job two months before their assignment ended. When you think of workflows, what does this have to be? You talked about the type. Okay, understanding is the people that I'm reaching out to, should I text, should I email them? But do you have any insights of cadence? How soon is too soon to reach out to somebody? How late is too late?
Sarah Gossin, Guest Speaker:
Yeah, for sure. Again, I'm going to say, everything is very industry specific. If you're looking at a true temp staff, 680 hour or 520 hour assignment, 30 days is pretty golden. You want to start at 30 days. That gives enough time to market them out. In my example, we did a lot of non-clinical healthcare call center administrative work. We had a lot of those jobs that were constantly coming up. 30 days gave enough time to start talking/ how's their performance? How are they doing? Are they interested in continuing to work? It's normally a few reach outs. It's not just a first one. It takes two, three, sometimes four to really nail everything down. I tried 60 days and I'll tell you what, people lose interest really fast. In that temp world, it's 50 cents more here, oh, but I got a better opportunity tomorrow. I'd say 30. 30 days is my sweet spot. But then you're also, it's not just the candidate side, Kort. It is your client side. You've got a start MPCing these candidates and building, or we used to call it STAR marketing. We market our candidates to new customers for new work. That's a head start.
Kortney Harmon, Host:
I love that. You brought up a really good point, and I have this later in my brain, so I'll bring it to the surface now. As we think of redeployment, we oftentimes only think about the candidates. Let's get on the list. Let's roll them from one project to another. Let's make sure it's a smooth transition. But you also have to develop and make sure… Have that conversation with the client first. "Hey, are you looking to extend this person?"
I don't know about you Sarah, but I can tell you, one of my longest people that I've seen, even in the course of between running my desk and coaching, I've seen someone on a contract, contract, that was renewed every six months for eight years straight.
Sarah Gossin, Guest Speaker:
Oh my gosh.
Kortney Harmon, Host:
Eight years. People were like, why wouldn't they just hire them? Well, it's at a different line item of a budget for these people. It literally, that person in IT was able to just stay there. They belonged there. It was their everyday life, but they were there for eight years as a contractor. But if I didn't reach out, or that person that's running that client didn't reach out to that client first and they just assumed they had to go place them some somewhere else, you are back to finding a new job for that person. But that's the easiest, and oftentimes we forget that.
Sarah Gossin, Guest Speaker:
Absolutely. You've got your relationship with the current client. Sarah's on assignment. We want to see if she can be extended, but I will tell you one of the best sales tools and something I wish I would've done better is build a sales process around my good candidates that I already had, that I had references for. Here, take your pick. Here's five of my best call center people. They come off an assignment in three weeks. Let's make it happen. I know you're not looking for a partnership with a staffing agency, or maybe you are. And then get my foot in the door that way.
Kortney Harmon, Host:
I love that. Sales process is key. Katie, I don't know if I'm allowed to do this, but shameless plug, I'm doing a webinar for a staffing hub next week on the 23rd that it's on our social profile. Katie might be able to throw the link in there too if you want to dive into that. I love Sarah. I love where your brain is going.
Okay, we talked about the importance of workflows. We talked about the importance of being proactive, but as we talk about doing all of these things, establishing this process, how do you emphasize the importance of metrics with your team and communicate process? Because this is obviously a new thing for you if you haven't done redeployment. It's like, how do I make sure… How do I even go about of getting everybody on board? Because they have to be on board. If they're not on board, this is probably going to fail.
Sarah Gossin, Guest Speaker:
Yeah. Metrics is so tough. I think what I come back to the most when I think about metrics, it's rewarding the right behavior. I'm the first person to admit, when I first came into staffing, I had no experience. I thought… I came from a sales training background. Everything that I did was very much productivity. I want to see lots and lots of productivity. Something that I learned really quickly in my role was, how do I incent the teams on certain metrics, and especially ones that help redeployment? You're looking at your time to fill all of that, to help get them excited and feel like they were working towards a better purpose and not doing busy work.
Kortney Harmon, Host:
Absolutely. Did you find any key things that worked for you whenever rewarding that good behavior?
Sarah Gossin, Guest Speaker:
Okay, this one's so silly. Starbucks gift cards worked really well.
Kortney Harmon, Host:
Did you do that on a weekly, like, "Hey, we talk about our redeployment numbers on a weekly," or is that one-on-ones? How did you approach that?
Sarah Gossin, Guest Speaker:
Yeah. We had our stand-ups every morning. I'm sure every person that comes in from a temp staffing background, you have your daily stand-ups. Everyone has this big whiteboard with all your jobs on it. Or hopefully you have a system in ATS that has that workflow in it. That would be nice too. I didn't at the time, so I had a big whiteboard. It's about getting excited about it. From a leadership standpoint, you put all this work into building this program, you got to talk about it.
We would celebrate every time that someone would get a candidate back on assignment. It is every touchpoint. Okay. It is your morning meeting. The water cooler talk when we were still in the office. It is celebrating on a team's channel. "Oh, heck yeah. Kortney got a redeployment. This is amazing." We actually secured new business for it and then we would give out little Starbucks gift cards because it was fun and people really love coffee. Surprise.
Kortney Harmon, Host:
Everyone will do something for a Starbucks gift card or an Amazon gift card. Still put me into that category. I love those little things. I love it. That's good. Thank you for sharing your little secrets.
Sarah Gossin, Guest Speaker:
Of course.
Kortney Harmon, Host:
Obviously, with all the thing you know now, I want you to think of this differently. All the things you know now, from Sarah here at Crelate with product, and looking at Sarah, I don't want to say baby VP, that's not it. In your other role, what is one or two things that you wish you would've done differently when it comes to redeployment?
Sarah Gossin, Guest Speaker:
Okay, what I wish I would've done differently. I would've… Two things. I would've treated it as more of a program, because even though I talked about it, I was still so reactive. I never got ahead of it. There was wins and we would get momentum, we'd fall back, we'd get momentum. I think making it that true program that everyone's bought in, you're consistent. It's the consistency. The second part, I wish I would've been able to use technology better to help support my redeployment focuses because everything we did was pretty manual. We had Excel spreadsheets. We were remembering people coming off assignment. I know that sounds terrible a few years ago, but yeah, I would've used tech more.
Kortney Harmon, Host:
That's a really good concept. We always say for that… We want to be able to tell our teams what's going on in case someone get… We don't want to say hit by a bus, but in case they win the lottery and they get to go live their life, but if it didn't happen in your ATS, then how do you know that it even happened? We talk about that very frequently here. I love that. It really comes down to not only making sure they know in the beginning of those launch and learns, those educational videos, those SOPs, those mentorship programs, but continuing to make sure that conversation doesn't fall off. It's in your morning meetings, it's in your coaching appointments, it's in being able to navigate your metrics backwards to say, we need to be better at this. When we're better at this, we get this result. We get more revenue. We get a better bottom line, whatever that might be. But we have to make sure it's first and foremost in our brains.
I'm going to switch into a different little bucket of questions. I'm really thinking, we talked to smidge about it on the last topic, but really the idea of candidate and client experience. Talk to me about relationship building when it comes to candidates with redeployment. I've seen firsthand running to desk and coaching people. If there isn't a good experience with your company, candidates are less likely to choose your company for a new opportunity, or the next opportunity. Number one, do you feel that that experience matters? And then how do you prioritize improving the candidate experience in your staffing organizations?
Sarah Gossin, Guest Speaker:
Yeah, Kort, you took the words out of my mouth. We're in a people business. If you don't like people and if you don't have empathy and you don't care for people, you're in the wrong business. I'm sorry. The candidate experience is hands down, the most important thing that we do, that we offer, especially with the market the way that it is today. People have choices. You better believe a good temp candidate has many choices. It is down to every interaction that you want that candidate to choose you. When we think about redeployment, it's about caring about your people. It is not just how do we save money? How do we make our time to hire faster? It is, "Hey, I've built a relationship with Kortney and I really care about her. I want to get her back on assignment. I want to know that Mondays are hard for her to work at 7:30 AM because she takes her kids to school, so I'm going to make sure that I suggest jobs that start at eight." It is such a people business. I love that you brought that up. That's so important.
Kortney Harmon, Host:
I love that that's important to you. Obviously, that's important to me. Even the AI. Nothing's a shiny tool that's going to fix everything for you. You have to remain to have the human element, always. From your perspective with operations and how much you nerd out on it, how would you evaluate the candidate experience and identify areas of improvement for your processes? How do you know that it's bad? How do you know that it's good? How do you as an operations leader to say, "Nope, this is where it needs to be better."?
Sarah Gossin, Guest Speaker:
Okay. I wish I had a magic answer for you on this one, but a lot of this is a bit subjective. Redeployment, obviously, if you don't have good relationships with your people, not only can you not redeploy them, but they're also probably not finishing out their assignments. They're not giving you feedback. Your clients feel it too, because if you don't have good relationships with your candidates, what if you have no shows? What if someone's late? There's this air in an office where you feel it. You can feel when you've messed up, or if you don't have that good candidate engagement. I wish that there was, again, some silver bullet that you could see that would help you with this, but redeployment rates for sure. How often are your people finishing their full assignments and getting hired as well? I saw someone in the chat that said a lot of their candidates, they get hired. That's the goal. We wouldn't really be talking about redeployment if you could get your people hired all the time, right?
Kortney Harmon, Host:
Absolutely. Absolutely. I love that. There's some good questions coming in, so I'm going to keep going to my next question. Obviously, we talked a smidge about clients. We talked about them being overlooked in this process. Do you find that the client experience matters? Why does it matter? How do you check with your current clients to see if they want to extend a project, or retain great employees?
Sarah Gossin, Guest Speaker:
For sure. I feel like there's a couple facets to the client side. You've got a current person on assignment and then you have that relationship. In my past world, we had order managers. They were the ones that were in communication with clients. We had a role that their job was purely communication based. For me, the things that were important that I challenged those people on, were, are you getting feedback early and often? No feedback's not good. You want to know good, bad or ugly. How's it going? What can we do to improve? So then not only are you caring about that customer, the candidate experience, you're also building trust with that customer. The feedback is important. The 30 days before the assignment is done, it is reaching out saying, "Hey, how's it going? Is there an opportunity for us to extend this?" Or if not, can I backfill this person? If they're not doing well enough, can I put someone else in that role and make sure that you're having all your needs met?
Kortney Harmon, Host:
If you don't ask that question, someone else will ask that question and you won't continue to retain that business.
Sarah Gossin, Guest Speaker:
It's true. I am. I worked in a very competitive environment, so we did a lot of hospital staffing. There was normally four or five different agencies. You're right. If we didn't feel it, someone else would. One thing that I love so much, in hindsight, I don't know if I really consciously thought about this in the moment, but I did a talk on this topic at Staffing World recently. When I was building my talk track for that, I was thinking, when you have these people on your bench, you're cultivating these relationships with your candidates that you want to put back out on assignment. You're able to not only fill faster for your clients, but you are filling them with good people. The more you do that, the faster they're going to reach out to you first. In a competitive environment when there are so many agencies competing for the same role, you want to be the first person those customers call.
Kortney Harmon, Host:
Yeah, absolutely. You want to be everything to them. You want to be like their one stop shop. I love that. I love that. I'm going to go ahead and switch us since we're getting down on time here. I want to switch to the other piece. You talked about technology. Obviously, being where we are, that's obviously something that we're passionate about, but let's talk about that. Can you explain the role that technology played in your process for qualifying and rehiring good candidates?
Sarah Gossin, Guest Speaker:
Yeah. This is going to be a what I wish it would've done because it didn't. Technology played very little role in my ability to be able to work on redeployment, but it's also something that if I would've known what I knew now, I would've tackled it differently.
A couple things. I wish I would've had insight into when people were ending assignment sooner. In-app notifications, or a report that was generated and emailed to me on Monday mornings. Everyone that's ending soon. I wish I would've had something like that. I manage that in an Excel spreadsheet, my recruiters manage that in an Excel spreadsheet. It was not pretty, but that would be one thing I would look at.
Another piece of technology is really just helping automate a little bit. I want to say automate with a caveat. Technology is not the end all be all for making your redeployment processes work. Kort, you and I were talking about this earlier. People often think, "Oh, I'm going to buy all this technology and then I'm going to be really good at redeployment." No, if your process sucks, your redeployment is going to suck. It's like putting lipstick on a pig. It doesn't work. It's still a pig. You've got to focus on your process first and then use the technology to just take you one step further and to bring that process to life.
Kortney Harmon, Host:
It accelerates your success. It doesn't make your success.
Sarah Gossin, Guest Speaker:
Absolutely. You think about it. You've got a huge call center project. I'm going to use that because that's my world. I have 150 people on assignment. I know they all end in a month, in 30 days. What if I could use technology to throw them in a journey, or in a sequence, whatever you call it, and I can automate that first reach out, "Hey, I know your assignment's ending in a month. Let's chat. I'd love to put you back to work." You've just automated a process that you've already put in place. I already knew 30 days before the end of assignment I wanted to reach out, but I'm going to use my technology to help me with that to automate that initial reach out.
Kortney Harmon, Host:
Essentially, what you're telling me is you set up your system to do it for you so your teams aren't getting lost in the day-to-day to figure out what their to-dos are for the day that they have to go send that email or send that text message. It's just going to happen where we then can be reactive to what their response is, right?
Sarah Gossin, Guest Speaker:
Absolutely. Focus your time on what matters most. Don't write out a hundred individual emails. Let technology do that for you, but you better believe when they respond, you get to be the people element. That's the fun part of the job.
Kortney Harmon, Host:
Absolutely. Love that. Obviously, that's going to help with retention because they're not going to get lost by the wayside. The running joke that I've always had as I've coached over the years is the number one complaint about recruiters is they call too often. Whenever they want something, they call us endlessly, call, email, text, call, email, text. I finally answer them, but guess what? The number two complaint is they never call me back when I need them. What you're telling me is we can solve that second half of that complaint and we can be forefront of mind just by keeping the retention there by automations and technologies.
Sarah Gossin, Guest Speaker:
Yes. Come on, we're all smart people here, but if you're relying on your brain to remember when and what and how, you're working too hard.
Kortney Harmon, Host:
God bless America. As I get older, I can't remember anything. Two kids does that to you, and a busy schedule. I love that. Talk to me, can you discuss in ways which you leverage technology besides automation. Is there anything else besides automation to improve stacking operations? Is there anything else outside that as you're thinking from this side of things to say, "Oh yeah, there's this one other thing."?
Sarah Gossin, Guest Speaker:
Yeah, reporting is key. We talk about reporting a lot. Not only is it just reporting. Reporting can be this huge thing. You need to be able to get the data out of your system, or see it in a way that makes sense, that's digestible. I would say even the ability to schedule reports, why not get that report to your inbox Monday morning?
Kortney Harmon, Host:
That's huge for operations leaders on this call. That's literally… I don't necessarily know. I know as the offices that I've worked at with the past, they didn't even know that they could get the automation, or the report, number one, or it was so convoluted to try to find the report. Only the certain one person in the office that had access to that that they could pull the report. It was a full-time job.
Sarah Gossin, Guest Speaker:
Well, and then Susie's sick on Monday doesn't get the report, then you have a week that you don't have redeployment numbers. I get it.
Kortney Harmon, Host:
I love that. That speaks the way to my heart. Absolutely. We talked about those automatic reports to keep your… Those can even go to your teams. You can automate those not only to go to you as a staffing leader, but you can have redeployment. If you have 52 people on project, you can individually get a report. It's not just on you as an operations leader, you can just better set your teams up for success to get that information too.
Sarah Gossin, Guest Speaker:
Absolutely. Yeah.
Kortney Harmon, Host:
I love it. Is there anything else that you think as we talk about redeployment, we've talked for 38 minutes, so I'm going to give you one last hurrah. Is there anything else that you could think is absolutely key to redeployment as these operations leaders are here, something they need to think about as they're diving into this journey that we didn't talk about?
Sarah Gossin, Guest Speaker:
Honestly, Kort, this is not rocket science. This is given a crap about your people. This is building a unique process to yourself and honestly not being scared to fail and fail fast. If you've never done it, which most of you here have not focused on this, you're not going to nail it off the bat. This is something that's constantly evolving, growing, nurturing it, and things will change. I would say, just commit. If I can give you any advice, you've got to commit. Don't rely on technology to be your silver bullet. You've really got to build out that process. Work as an operations person, work within your team. Get to know what that process looks like, and then who challenge your ATS, or the system that you're using to help bring your process to life because they should be able to do that to help support your process.
Kortney Harmon, Host:
Absolutely. Oftentimes, when we look at this process and to know what good looks like, I'm throwing this out here, you can tell me if it's good, bad or ugly, but reevaluate that process on a quarterly basis to know, "Hey, this quarter we were here. We want it to be here." Or maybe reeva… I think reevaluating it too frequently might get you spun up, but the idea of if you look at this quarterly and be able to assess where you're going and if you're going in the right general direction would probably be a good baseline as you're starting this process. Correct?
Sarah Gossin, Guest Speaker:
Yeah, I agree. Quarterly is perfect.
Kortney Harmon, Host:
Love it. Katie, I think we're to the point we're ready to call you back in case there was any questions and if we have anybody that wants to come talk to us.
Katie Jones, Producer:
Cool. I do have a couple questions. I have one from our lovely friend, Daryl, but Daryl would prefer me to ask the question today. Sarah, you kind of touched on this briefly because Daryl said that most of their candidates end up becoming full-time employees with their clients, which is yes, of course, the goal. How would they incorporate a redeployment strategy? If most of them end up being hired anyway, is that something that they should keep in mind in the back of their head, just in case? Or what are your guys' thoughts on that?
Kortney Harmon, Host:
Sarah, I'll let you start this one.
Sarah Gossin, Guest Speaker:
Yeah. Okay. I have two separate trains of thought. The first one is, are you keeping in contact with these candidates? Because you've got a relationship with them, so maybe in the future if they're no longer there, you obviously want to know that they're in your court, or you're in their court to help. Secondly, I would probably switch the thinking to more of a sales first process and instead of focusing on getting all the candidates back out, you're marketing them to potential clients that you want to gain their business of. I would probably start client heavy on your redeployment strategy. What do you think, Kortney?
Kortney Harmon, Host:
I love that. The only thing my brain was going differently, I'm 100% of what you said, but if you're then also placing these people, contract, they end up placing, don't forget the referrals. That's something… I know this isn't even a topic that we're supposed to be talking about, but it's just where my brain goes. You are having people that are placed that you are getting good traction with. Who else do they know? You are a good source of information, who else do you know? And references. References can lead to new opportunities. Make sure you're calling those references throughout that process. Don't forget to go say, "Hey, by the way, you were a reference for Susie Q. She got this job. I just wanted to stop to say thank you because she got this. I wouldn't be doing my job if I didn't ask, do you have anything that I can help you with too?"
My brain wasn't even on redeployment. You covered all the redeployment. I was like, "What else can I get out of this call selfishly?" My brain went to referrals and references from that. I love what you said and I think that's great.
Sarah Gossin, Guest Speaker:
But also, congratulations, Daryl. That's incredible. I think everyone on this call probably strives to have a business model like that.
Kortney Harmon, Host:
Absolutely.
Katie Jones, Producer:
Thanks Daryl. All right. Then I'm going to pull Eric on stage. Eric is a VP at a contract recruiting firm.
Eric, audience member:
I actually run a mostly perm shop. We do IT and MarTech. Our contractors are probably… When we're running good, we maybe have 35 contractors deployed in the market. We're slow right now. We have 15 or 16. When you're redeploying, is your strategy with current clients, so the current book of business, or with prospective clients? And then I've got a couple thoughts on this.
Kortney Harmon, Host:
Sarah, do you want to start and then I'll chime in?
Sarah Gossin, Guest Speaker:
Absolutely. I would say it's both. I think it depends on your strategy and where you're trying to expand. For an example, for me, we did hospital staffing, non-clinical. When I would redeploy, I would try and target new departments to get into. I need finance, or I need to get into HR. I would use it kind of like a carrot to dangle, "Hey, I know you have an opening. Susie, my hiring manager, told me. Here's a candidate. Just look at it."
Kortney Harmon, Host:
It all depends on timing too. Do you have the time to be able to play with this to say, "I'm actually going to market you, I'm going to use you as that so-called MPC to go drive new business. Do we have the time for that?" A lot of times the answer is yes. Eric, I was in your world too with IT staffing, for specifically Microsoft, but it was really the idea… Nine times out of 10, as long as we were having that proactive approach to things, we were able to say, "Hey," over here, this regional person that was leading Microsoft, we could say, "Hey, I want to give you first writer refusal. Is this something that someone that you'd be interested in? They are cutting edge. They have this many years of experience. They're your top 20%. Do you want to even see them? I want to give you first write a refusal before I spin them off to anybody else." But then I would do that in conjunction to the people that were actually my clients as well. That might have been a mass email, but I would do those in conjunction depending on timing.
Eric, audience member:
Okay. Yeah, because we're heavily automated on the business development front. We're essentially 91… As everybody is. 911 for operating itself. We're not really specific with our BE reach out. We just… Say we do tech… In MarTech, we're heavy firm. We do some contract. A lot of our contract is contract to hire companies. A lot of our contractors do get hired, but we definitely do not take advantage of redeployment, but part of the reason why is I've got a contractor that's a power DPI developer, I've got a Salesforce developer, I've got an architect. Then our business development process has to become more manual because we've got to look for people that are hiring for those types of roles. You're not just randomly reaching out to prospective clients saying, "Hey, do you need a power BI developer or are you doing that?
Kortney Harmon, Host:
Sarah, do you want to chime in on that? My opinion is I'm just thinking lists, tags, making sure as you're putting that stuff in your system, that's for first and foremost, even if it's a prospect, to make sure we're able to differentiate who do we need to reach out to and why do we need to reach out to them. Sarah, any other thoughts?
Sarah Gossin, Guest Speaker:
I'm just thinking from personal experience. I would always take these candidates and give them to my marketing team and I'd say, "Hey, go do a weekly star marketing campaign," is what we called it. They would actually… Yeah, they wouldn't put pictures or anything PAI in there, but they would say, "Here's what we've got. They are ready for assignment now. Let us know." We actually had really good traction from that.
Kortney Harmon, Host:
Yeah.
Eric, audience member:
Okay. I like that idea.
Kortney Harmon, Host:
Any other questions?
Eric, audience member:
Thank you.
Kortney Harmon, Host:
Great questions Eric. Love it.
Sarah Gossin, Guest Speaker:
Thank you for coming on.
Katie Jones, Producer:
Thanks Eric.
Kortney Harmon, Host:
Black shirt and all. No big deal.
Katie Jones, Producer:
Black shirt and all. No big deal at all.
Kortney Harmon, Host:
Katie, do we have anything else?
Katie Jones, Producer:
All right, I had another… We did. I have a question from Tom. He says that in his firm that they've tried to establish a redeployment strategy, but the recruiters can't easily find the… Who these people are. They remember first names but not necessarily where they are deployed to. I guess this question is more targeted to Sarah since Sarah is director of product for Crelate, but what kinds of tools do you recommend to see who's coming off assignment soon and how you can automate some of that process?
Sarah Gossin, Guest Speaker:
Sure. Yeah, absolutely. That's a great question. I can speak to Crelate on this one, just a couple little tidbits of what you can use and then maybe what you should look at in your own ATS if you're not with Crelate. Getting data out of your own system is really hard. I know I've experienced it. I've worked with three other ATSs before I came here. Data is the hardest thing. Tom, thank you for asking that.
I would say in-app nudges are really phenomenal. If you have a system that can help you, that you can set up some sort of rule, "Hey, let me know 30 days before end of assignment." That's ideal. You also, the scheduled reports that we talked about earlier, being able to say, "Hey, show me a list of everyone who's off assignment in this threshold of days, or even anyone that's ended recently." Sometimes we miss them. Sometimes they think, "Hey, I don't need to work with you again," but maybe it's great to follow up with them five days or a week after their assignment ended. Being able to schedule that.
Something I love particularly, and I think that we do a pretty good job at, is a sequencing tool, or some of you might know it as a journey. Basically what you're doing is you're building out an automation workflow. It says first step is an email. Here's the template. It mail merges fields in so it sounds really personal. Just like Eric said, a lot of their reach outs are automated. Same. The second one is maybe a text. The third one is maybe another email. It's building that process inside to help automate, really.
Our sequencing tool does that. I know that if I would've had that back in the day, I think redeployment would've been a lot easier because it's templated. Everyone, it's standard. It takes the work out of it, honestly, Tom. Those are the things that I would say. Anytime you can automate or templatize emails or texts, it makes… Again, it just takes the guesswork out of it, makes it easier. That's some technology pieces I think I would use.
Kortney Harmon, Host:
Great answer. No Excel spreadsheets and no remembering. Up my alley.
Sarah Gossin, Guest Speaker:
Please. Please, no more Excel spreadsheets.
Katie Jones, Producer:
No, I can write Power queries, but I would prefer not to. I love that answer, Sarah. Thank you. Kortney, it wouldn't be a podcast episode without somebody in the audience asking us if we have any kind of ebook or checklist for today.
Kortney Harmon, Host:
Yes, absolutely we do. Katie is going to throw it in here. We actually put this together. It kind of goes along with our talk too. It's really the idea of what you need to do first whenever you think of implementing, what you need to do second, whenever you think about getting your teams on board, what you can do for implementation, and third, how you bring technology alongside of this whole process to make sure that we're doing those automations, that we're getting those reports, we're having the holistic view of our business, make sure that we can do this as a fine oiled machine. Download this. This is good for you as a baseline for those of you who are starting your redeployment journey. I encourage you, again, take the leap. Katie, any more questions or do you want me to wrap up?
Katie Jones, Producer:
No, I think that that's all the questions that we have for today. I'm going to hop off with you guys to wrap up.
Kortney Harmon, Host:
Awesome. Love it. Thanks Katie. I appreciate you and I appreciate you working to get this ebook. Thank you, thank you, thank you.
In closing, remember, as staffing and recruiting operations leaders, you could be realizing how much of a missing link redeployment is within your organizations. Remember, the good news is it doesn't have to be. Use your platform as a point solution to build an overall tech stack around and amplify your redeployment results and ultimately increase your bottom line.
Remember, the first step is to measure your redeployment rate. Anything that can be measured can be improved. Just by doubling what your current redeployment rate is, you can increase your revenue by 20%.
Step two, set a redeployment goal. After determining your redeployment rate, the subsequent action is to establish and define an objective for that rate and aim to attain within what you want to do for the year.
I suggest creating that gradual quarterly objectives to monitor and advance towards through your 12 months target. By doing so, you can guarantee that you are heading in the right direction and achieving steady growth.
Most importantly, utilize the technology that you have help accelerate your success. The right talent platform can help staffing firms engage with their talent throughout the lifecycle of the contingent workforce, from recruiting to redeployment and keep them engaged through the entire process.
Thank you so much, Sarah, for joining us today. This was fantastic. I love to nerd out with like-minded people, so thank you for joining us.
Sarah Gossin, Guest Speaker:
Of course. Thanks for having me.
Kortney Harmon, Host:
Sarah and I will actually be attending Staffing Industry Analyst Executive Forum in March. If you're going to be there, shoot us a message. We'd love to meet up with you, or stop by our booth, booth 129. My goal is to be talking with leaders like yourselves and really engaging in discussion of what's happening in the staffing world, for better or worse, and maybe even line up a few future podcast guests for our industry spotlights. I'm Kortney Harmon with Crelate. Thank you for joining us for the full desk experience.
I'm Kortney Harmon with Crelate. Thanks for joining the Full Desk experience. Please feel free to submit any questions for next session to [email protected], or ask us live next session. If you enjoyed our show, be sure to subscribe to our podcast wherever you listen and sign up to attend future events that happen once a month.
Filed under: The Full Desk Experience