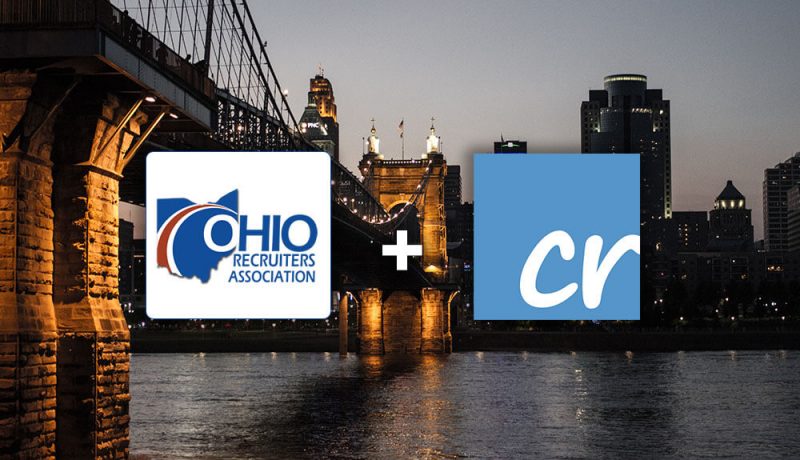 Crelate is pleased to announce that we are now Associate Business Partners of the Ohio Recruiters association (ORA). We are always excited to support non-profit organizations within the staffing and recruiting industry. Organizations such as the ORA are critical to advancing professionalism and expertise within the talent placement profession. The connection with the Ohio Recruiters Association enables us to connect with our community and enhance the business of staffing and recruiting firms.
Anjela Mangrum, President of the ORA, says she is "excited to have Crelate join the ORA as an Associate Business Partner", as "they are a unique and creative ATS system" that she expects will be a great resource and a vital software partner for many of our members.
This partnership reaffirms Crelate's continued dedication to being an engaged member of the recruitment industry and learning from the community of professionals. Through this relationship, we can offer members of the Ohio Recruiters Association flexible recruiting software that will help them build and manage their talent and opportunity pipelines in an increasingly fluid industry.
Crelate's system integrates customer relationship management (CRM) and an applicant tracking system (ATS) into an all-in-one solution that gives staffing and recruiting firms everything they need to source and engage more candidates and make more placements.
The Ohio Recruiters Association is a registered non-profit organization with the State of Ohio. ORA membership is comprised of talent placement firms from a wide range of recruiting specialties. The Ohio Recruiters Association was founded in 1997, and is "committed to advancing the recruiting profession by providing educational opportunities, best practices and networking opportunities for our growing membership."
The ORA is the premier association for member search firms in the State of Ohio, and has members in neighboring states as well. The Ohio Recruiters Association provides easy access to training and certifications, and hosts networking and best practices webinars and seminars around the state.
Additionally, the ORA has a member base of Associate Business Partners. These partners are companies, like Crelate,  that provide products and services to executive recruiters. This network of providers supports the Ohio Recruiters Association mission and helps its members find the right solutions for their business.
The ORA also works in cooperation with the National Association of Personnel Services (NAPS) to provide certified immersion classes for CPC (Certified Personnel Consultant) and CTS (Certified Temporary Staffing Specialist) exam preparation.
Ohio Recruiters Association membership benefits include:
Monthly chapter programs on recruiting topics for search professionals.

Statewide conferences featuring nationally-recognized speakers.

Networking with other search professionals.

Searchable member profile listing on our website.

Continuing education credits for CPC and CTS designations.

Use of ORA logo for marketing to distinguish yourself as a search professional.

Special member pricing for ORA events.

Access to special offerings through our Associate Business Partners including special discounts on Crelate subscriptions.

Ten percent discount on NAPS conference registration fees.
Ohio Recruiters Association membership is open to any business entity or individual whose primary business is to provide staffing services to third party companies and organizations on a fee basis. Visit the website here for more information on the Ohio Recruiters Association. Click here to join.
Hat tip to Tanner Daniels for the photo.
Filed under: Crelate Updates