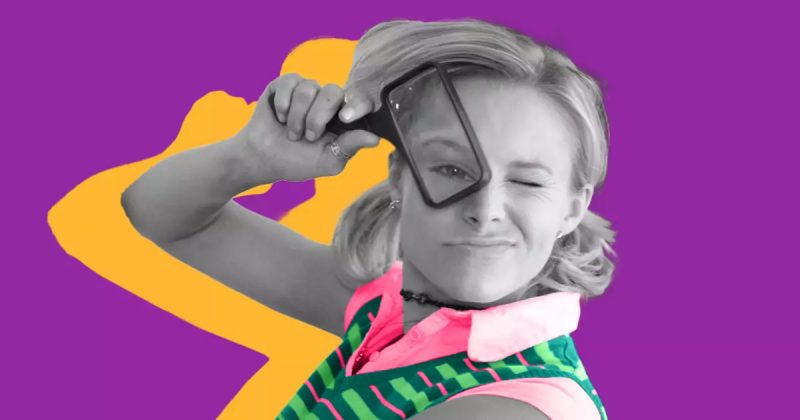 How to Use LinkedIn to Find the Ideal Candidate.
It's no secret that social media is an incredibly powerful tool for the staffing and recruiting industry. Social media makes it easier to connect with prospective talent because of its massive reach. And the candidates you find via social media are often more qualified (certainly more passive) than those you might find on job boards or other "traditional" recruitment tools.  
According to a 2016 SHRM survey, fully 84% of companies are using social media to recruit talent. As for candidates, 79% use social media in their job search. And in a sign of social media's  rapidly increasing role when it comes to the job market, 73% of millennials found their most recent job via social media. 
On top of that, 59% of recruiters rated candidates sourced through social media as being of "the highest quality." And, in even more good news, according to SHRM, 71% of recruiters said that using social media decreased time to fill for non–management, salaried positions.  
But of the myriad social media platforms that exist in 2021 – gone but not forgotten, Vine – one stands head and shoulders above the rest in terms of its value to recruiters: "the world's largest professional network," – "with nearly 740 million members in more than 200 countries and territories worldwide" – LinkedIn. 
In this blog post, we'll walk you through LinkedIn's various products applicable to the recruiting and staffing industry, then explain step-by-step how to use LinkedIn Recruiter Lite to find the ideal candidate for your next open req.
LinkedIn – The Place to Be for Recruiters
As we mentioned in our Social Media Recruiting Strategies blog post, 95% of Fortune 500 companies used a LinkedIn Talent Solutions product in 2018. And there are good reasons they did so. According to the Pew Research Center, 51% of Americans who are college graduates use LinkedIn. Additionally, businesses ranked the quality of LinkedIn candidates to be 40% higher than applicants from more traditional job boards.  
For these reasons, LinkedIn has become so widely used by recruiters that it needs to be supplemented with more creative sourcing strategies in order for your agency to stand out from the pack. But it remains a foundational tool all recruiters need to master.
So, high-quality candidates, massive reach and faster hiring processes?  

Differences Between LinkedIn'
s
Products
 – The Basics
Whatever your talent or recruitment situation, LinkedIn offers a product that will likely suit your needs. LinkedIn's tiered approach for increasingly powerful search and communication tools – with, not surprisingly, a corresponding increasing in cost – provides a near-ideal solution for recruiters of all sized business and agencies to navigate the platform. 
Here, we'll quickly explore some of the less-expensive options, then dive into the more-powerful products best suited to recruiters and staffing agencies. (We'll skip over some of the tools that are focused on sales and marketing, and we'll aim to focus on those that are most relevant to the recruiting and staffing industry.) 
Standard
 LinkedIn
You know it. You love it. LinkedIn's basic functionality is what we're all familiar with. A LinkedIn profile is effectively a beefed-up online resume. And while this lowest level of LinkedIn membership is offered for free, it still comes equipped with a couple of tools that recruiters might find useful. Specifically: 
Boolean 

search

 – though the number of searches 

you're

 allowed to perform is 

limited

 

T

he 

ability to invite other members to 

connect

 

S

aved searches

 

…

and, honestly, 

that's

 about it.

 

 
Considering it's free, a standard LinkedIn account is still great for job seekers and useful for salespeople, but most recruiters will need a bit more horsepower. 
LinkedIn Premium
 Career
For the low, low price of $29.99 a month, you can have all the basic functionality of standard LinkedIn plus three – count 'em: three! – InMail messages. These are messages that you can send to any LinkedIn user, without being required you to connect with them first.  
With LinkedIn Premium Career, you'll also get full visibility into who's viewed your profile, and gain access to LinkedIn's library of professional education courses, LinkedIn Learning. Again, great tools for anyone seriously looking for a new job, but not a significantly more-attractive membership level for recruiters. 
LinkedIn Premium Business
One of LinkedIn's "Business Solutions" tools, LinkedIn Premium Business is essentially more of the same, with additional tools designed to help business owners. LinkedIn Premium Business gives you 15 InMail messages, insights into competitor data and performance analytics, expanded search filters, and additional allowed searches.  
The additional 12 InMails are nice, but for $59.99 a month, there still isn't much here for serious staffing and recruiting industry professionals. But don't worry; here comes the good stuff. 
LinkedIn Recruiter
 Lite
LinkedIn says that Recruiter Lite is "ideal when your hiring needs are limited," or if you're "only making a few hires this year." For $2,399 a year, it offers you only one seat per account – meaning that only one recruiter can use it, or the account must be shared. You also get: 
30 

InMails

 

M

ore

 than 20 filters you can apply to your candidate 

searches

 

A

n 

additional

 3

rd

 degree of separation 

from your 

contacts

 – meaning you can see contacts of contacts of contacts

, broadening your talent pool

 

 

A

utomated reports on the effectiveness of your InMail efforts.

 

 

Also

: Same great flavor; fewer calories.

 
LinkedIn Recruiter 
LinkedIn Recruiter – "Recruiter Heavy" – is the gold standard of LinkedIn's Talent Solutions products. According to LinkedIn, Recruiter is "ideal if you're consistently hiring or need to fill your pipeline quickly."  
It offers "multiple" seats, as opposed to one; access to "Talent Pipeline," which allows you to add tags, status and custom fields to candidate profiles for easier search; "Hiring Manager 2.0", which allows you to share profiles with hiring managers for feedback; and ATS integration, which allows LinkedIn profile visibility within your ATS. And – oh, yeah – it lets you send 150 InMail messages a month, and you can even send mass InMail messages personalized to each recipient! 
Of course, with great power comes a great price tag: If you want ultimate staffing and recruiting access to "the world's largest professional network," you're looking at $825 per month or $8,999 per year. Sounds pricey, but its value becomes clear when you remember that top recruiters are 60% more engaged with LinkedIn recruiting tools (vs. average recruiters)… according to LinkedIn. 
How to Use LinkedIn Recruiter and LinkedIn Recruiter Lite
Now that you're holding the keys to your LinkedIn Recruiter or Recruiter Lite account, here's a little primer on how to use some of the fancy tools that come with your new toy.
At Crelate, our excellent HR team subscribes to Recruiter Lite, so we'll be documenting steps for that product specifically. But there are enough similarities between Recruiter Lite and Recruiter that the process should be more or less the same.
One critical difference for agency owners is that with Recruiter Lite, you'll lose access to LinkedIn candidate messaging history if a member of your recruiting team leaves, taking their rolodex and data with them. That might seem trivial at first vis-a-vis the price difference, but that history is incredibly valuable to your bottom-line. Just like a well-organized ATS that lets you find your pre-qualified talent at the critical moment without paying to source and vet them all over again. 
Performing a LinkedIn Recruiter Lite Search
From within your LinkedIn Recruiter Lite home screen, click your cursor into the search bar; text will appear above the bar that reads, "Who are you looking to hire?"
Within this search bar, you can search by title, keyword, or Boolean combination.
For our example, you would type "Director of Product Management," and select "People with Director of Product Management titles" from the dropdown. At this point, you're invited to "enter a location" where you'd like to focus your search. (Pro tip: Selecting "Greater Seattle Area," as opposed to just "Seattle," will broaden your search to include candidates in nearby communities.)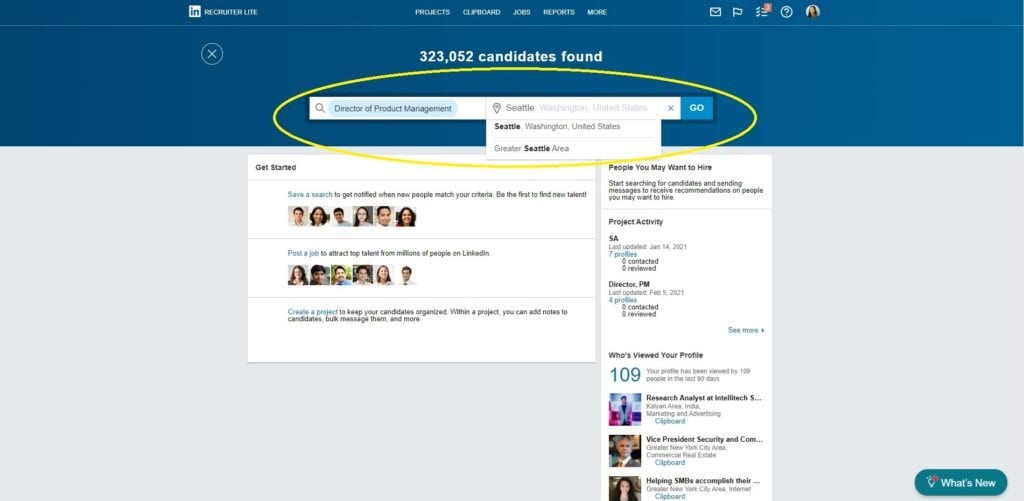 Click "GO," and you'll be taken to a screen listing likely hundreds, if not thousands, of potential candidates that meet all the criteria laid out in your search criteria.
Along the left-hand side of the page, you'll be presented with numerous filters that can be applied to help narrow your search by particular skills, past companies, education, and much more.

Review your candidates for a good fit. (As with Standard LinkedIn, you can click into their profiles to explore their potential more thoroughly.)
Once you find a good candidate, click on "Save to project" to add the candidate to your list. At this point, you can name you "project" – the position for which you're hiring – so you can save all candidates for the same position in one list. (Pro tip: Give your project a name that makes it clear who and what you're searching for.)
Once you've added a number of potential candidates to your pipeline, click on "pipeline" in the navigation bar. This will present a list of all candidates added to your pipeline.
By clicking on the "PROJECTS" tab in the top navigation bar, you'll now be taken to a list of all your current projects. Upon clicking into each project, you're presented with you list of saved candidates specific to that role.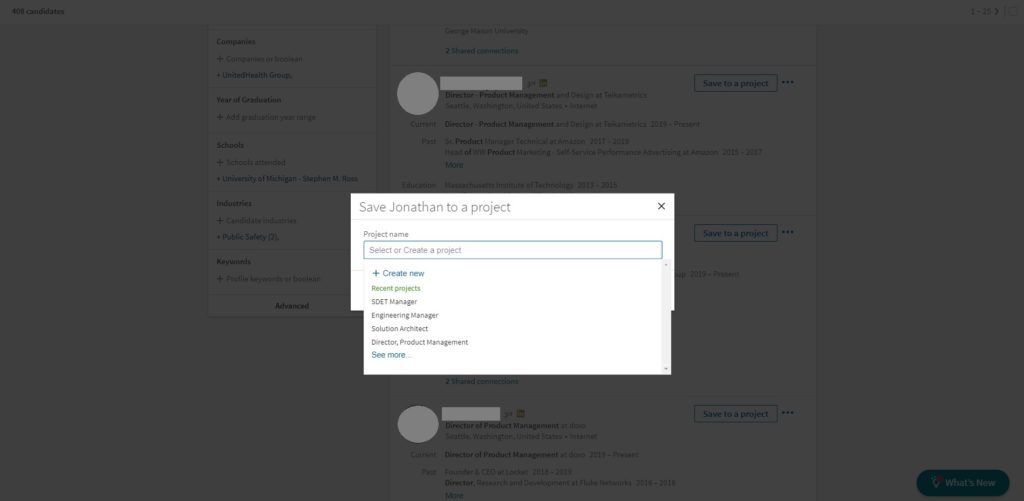 From this page, you can message candidates individually, or you can "Message all" candidates with a templated form InMail using LinkedIn's template tools. The templated InMails can be personalized to each candidate. (Templates can also be saved for future use.)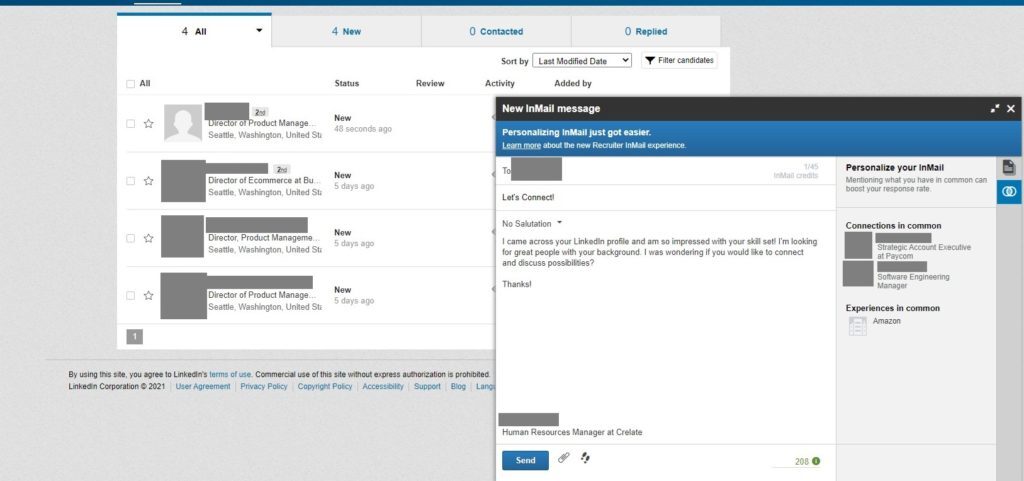 Now you hit the send button and watch the responses from interested candidates roll in!
Sourcing accomplished.
LinkedIn – An  Invaluable Arrow in Your Recruiting or Staffing Quiver
And there you have it: a basic rundown of LinkedIn's recruiting and staffing products, and a quick-and-dirty guide to using Recruiter Lite.
Remember that, in terms of tools and functionality, you get what you pay for. The most useful LinkedIn tools for recruiters are, not surprisingly, the most spendy. But that's because they're among the most powerful tools anywhere that are available to serious recruiters.
Hopefully this guide will help you choose the best tool for your needs, and also help you use it to its full capacity. Good luck, and good hunting!
Filed under: Relationship Management Software
Tagged with: #linked