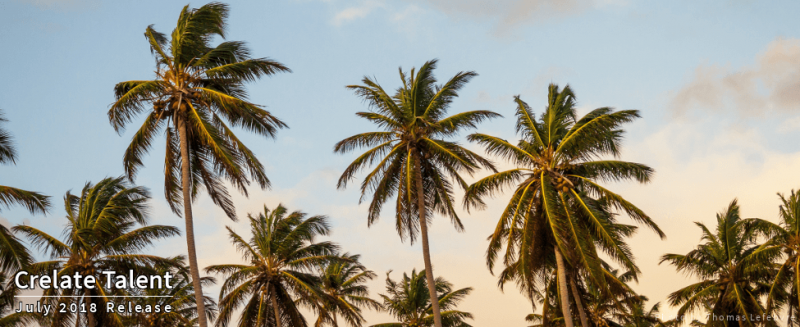 Your Crelate subscription just got a little bit better. Summer is in full swing, and our July 2018 release is ready to roll. The name of the game this month is integrations! We've been working hard to develop relationships with new partners and deepen functionality with existing ones. Our new partnerships with Spark Hire means quality video interviews are available within Crelate. We're also moving our Resume Library integration out of beta, enabling all users to search for resumes both in and outside of Crelate from one screen. Finally, we're continuing to invest in our Microsoft Office Online integrations, to deliver new levels of recruiter productivity.
As always, we're thankful for our wonderful community. If you would like to see what we are working on next, be sure to check out our Product Roadmap. Your continued support and suggestions help us make Crelate every day.
– The Crelate Team
NEW – Spark Hire Integration
Crelate is now integrated with Spark Hire to let you schedule video interviews directly within Crelate! Track video interview requests with our new Spark Hire activity type and have it automatically link to your Spark Hire account.

NEW

Spark Hire Activity – Out of the box, the new Spark Hire activity type integrates directly with your Spark Hire account. Easily create video interview requests that include pre-defined questionnaires directly with Crelate.

NEW

Automatic Synchronization – Video interviews that are sent out and completed by the interviewee, the activity will automatically update with a link to the video interview. No manual steps required!To get started with Spark Hire, head over to Settings > My Setting & Preferences > Spark Hire Account to add your Spark Hire API key. Within the dialog is a link to find your API key, and if you need to get a Spark Hire account, there's also a link to get in contact with a Spark Hire representative.For more information about our Spark Hire integration, please visit our Spark Hire Help Article
NEW
– Microsoft Office Online Integration
With our new Microsoft Office Online integration, you can now view and edit Microsoft Word, Microsoft Excel, Microsoft Power Point, and Microsoft Visio documents right from inside Crelate! This new integration allows you to

NEW

View Documents – View .docx, .xlsx, .pptx , and .vsx files with the native Microsoft Office Online viewers.

NEW

Edit Documents – Not only can you view documents with Microsoft Office Online, but you can also edit the documents online without the need to download to your computer. Multiple users can edit the document at once and edits are saved automatically! Note: To edit documents, an active Microsoft Office 365 subscription is required.To get started our Microsoft Office Online integration, head over to Settings > Documents > Office Online to enable the Microsoft Office Online integration.For more information about our Microsoft Office Online integration, please visit our Microsoft Office Online Help Article
NEW
BUSINESS
– Multiple Email Journaling Domains and Bulk Email Domain
NEW

Multiple Email Journal Domains – Now you can associate multiple Email Domains to journal emails to your Crelate!

NEW

Multiple Bulk Email Domains – We've also added the ability to associate multiple email domains to your Crelate to allow a choice to send bulk emails from.To add additional Email Journaling Domains or Bulk Email Domains, please contact

[email protected]

.
NEW
– Indeed Sponsored Posting
We already offer organic job posting with Indeed, but we're stepping up our offering by including Sponsored postings! Use sponsored postings to secure prime visibility on Indeed and capture the finest candidates. The perfect candidate is just one posting away!

To get started with Indeed Sponsored Postings, head over to Settings > Portal > Advanced Settings > Indeed Information and enter an email address associated with your Indeed Account. If you do not have one set up, enter an email address as a point of contact and an Indeed Representative will reach out to you!

For more information about Indeed Sponsored Postings, please visit our Indeed Sponsored Posting Help Article
NEW
– External Resume Search
Continuing with our new integrations, we're introducing External Resume Search with Resume Library. With this integration, you've expanded our search capabilities beyond just searching your Crelate database. Now you can search the Resume Library database directly from your Crelate search screen. Everything is done right inside of Crelate and if you decide to unlock and import a resume, the contact record will be candidate automatically with the full resume attached.

To get started with External Resume Search, head over to Settings > External Resume Search to enable the feature and select a plan that is appropriate for you.

For more information about External Resume Search, please visit our External Resume Search Help Article
IMPROVED
– New Add Candidates Experience
We've revamped our "Add Candidates" experience on the Job Dashboard to include all of the available sources inside Crelate at your finger tips. The new experience allows you to more quickly search for candidates without leaving your job dashboard, add from another job, or even using our new External Resume Search integration to find candidates and add them directory to the job dashboard!
IMPROVED
– Activity Security
Administrators rejoice! We've added better security options around Activity Types. Now instead of None or Full, you can select between None, Read, Create, Edit, and Full! Also included is the ability to change security around the Note and Task activity types.
And a few more goodies…
As always, this release has a wide array of other improvements based mostly on customer feedback and requests.
ENGINEERING UPDATES

–
We've made additional engineering improvements throughout the app to increase speed and performance.
Filed under: Crelate Updates