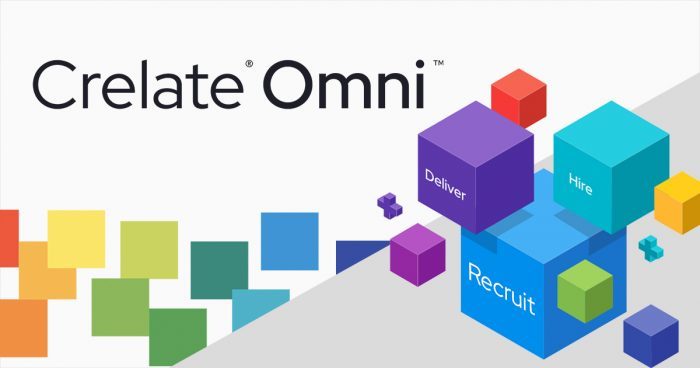 Crelate Adds All-in-One Recruiting and Staffing Functionality in Our Biggest Product Update Ever
Since Crelate's founding in 2012, we've been proud to listen to our customers, and to follow our values of continuous self-improvement, transparency, and flexibility.
And this week, we launched our most significant product update ever: Crelate Omni™.
The prefix "omni" means "all," and Crelate Omni is our full suite of products: Recruit, Hire, and Deliver, which together comprise an end-to-end solution for the modern staffing agency.
Omni pairs our fast and flexible front-office recruiting platform with an intuitive, middle and back-office offering, all integrated seamlessly to support every critical part of the recruiting and staffing process.
This combined offering enables us to support a wider range of staffing and recruiting customers by prioritizing recruiter productivity and enjoyment, and accelerating hiring, onboarding, and timekeeping.
Crelate Omni – Recruit
You know it. You love it. Crelate Recruit has been strengthening client relationships, managing applicant lifecycles, driving recruiting processes, and continually measuring recruiting success for nearly a decade.
Built for recruiters, by recruiters, Crelate Recruit's award-winning all-in-one Recruiting CRM and Applicant Tracking System is now used by more than 1,500 recruiting agencies and solo-recruiters across the country.
What's Included in Recruit?
Crelate Omni – Hire
From the time a candidate comes across your desk, right up to their first day on assignment, Crelate Hire streamlines and automates your hiring process, consolidates feedback, and easily manages credentials and compliance.
What's Included in Hire?
Crelate Omni – Deliver
Crelate Deliver lets you create and manage assignments relevant to your business, and track time and expense to generate billable and payable items. Timekeeping makes it easy for your workforce to submit time and expenses, and easy for you track their time.
What's Included in Deliver?
Manage your employees' assignments easily within Crelate from an intuitive dashboard, and never lose contingent talent to a competitor because of disjointed assignment or tracking systems. Automated status alerts help you anticipate and act when your team is coming off assignment and ready for what's next. From transparency into assignments, to integrating with timekeeping and invoicing, Assignments holds the critical information you need in order to make the right decisions.
Our timekeeping feature provides an easy, consistent, and mobile-first process for tracking and managing your critical billable hours. Manage timecard submittals and approvals directly from your Crelate dashboard. Assign timecard templates and manage expenses. Inform employees, clients and internal users of submittal and approval deadlines with automated alerts. Regardless of your firm's model, Timekeeping lets you track your employees' time seamlessly and integrates with your entire Crelate toolset to accelerate and streamline your business.
Never again create an invoice by hand. We're not here to replace accounting, but we can help you ditch the spreadsheets for a customizable, integrated tool that actually makes getting paid easier. To help you manage this critical aspect of your business, our Invoicing tool directly integrates with Crelate's time and expense tracking, allowing you to create batch or individual invoices and track payments from your dashboard. With a built-in aging report and exportable general ledger, the Invoicing tool puts a crystal-clear view of your organization's cash flow front and center.
Front, Middle, and Back Office, All with Omni
Crelate Omni is designed for all types of agencies: big, small, regardless of industry, contingent, retained, contract, whatever.
If you are in the business of aligning people with opportunity, we are in business for you.
Learn more about Crelate Omni from a Crelate product expert.
Filed under: Crelate Updates, Relationship Management Software