As we all welcome in a New Year, the Crelate team is looking forward with optimism.
2020 has been a challenging year for our customers, employees, families, and friends. Through it all, I'm proud of how our team came together to deliver continued value for our customers. From the charities our team and customers supported, to the compassion we demonstrated in working with customers facing hardships, to the resilience of our customers and our employees, the entrepreneurial spirit is alive and well in the hearts and minds of the Crelate team and the thousands of recruiters we serve. It is this spirit that will keep us all moving forward, working to make each day a little brighter than the last.
I am also very proud that our team could support our customers during these challenging times. While we accomplished a great deal, it's you, our customers, who are the real heroes. Despite the pandemic, Crelate customers helped tens of thousands of individuals prosper by placing over 30,000 candidates into new, better opportunities!
Product Updates
March 2020
We started the year with a bang. Our first major update of 2020 included our Client Engagement Portal launch, which takes Executive Search scenarios to the next level. We also added improved Resume Submittal (Sendout) capabilities and a new trackable submission process. We improved our Text Messaging offerings, including Bulk Texting. We added two new External Resume Search Partners – Dice and CareerBuilder – and we enhanced our integration with Resume Library. We added Facebook Jobs integration and the ability to export Placement Data for commission management scenarios.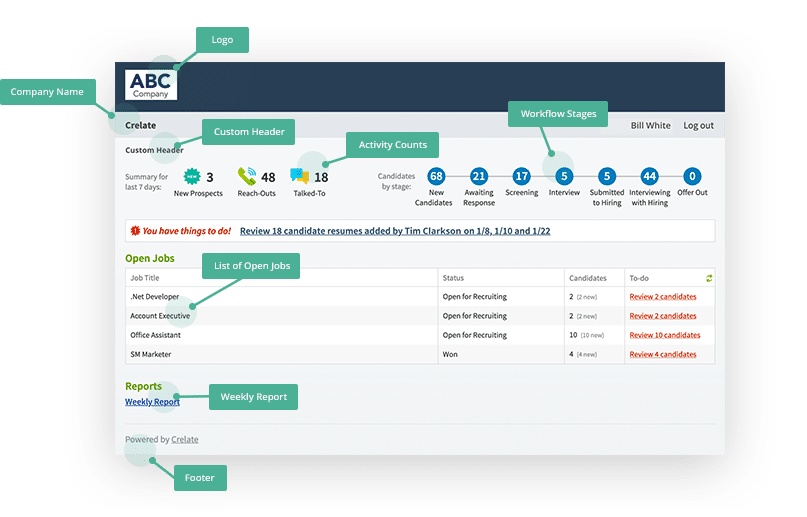 June 2020
The Summer was a busy time for the Crelate team, as we demonstrated our continued ability to be responsive to our customers by shipping three product releases in three months! First, we added Bulk Activity Creation, which was paired with a new Follow-Up Activity feature. We also added urgent COVID-19-related integration updates for our Job Publishing Partners and an expansion of our integration with Indeed.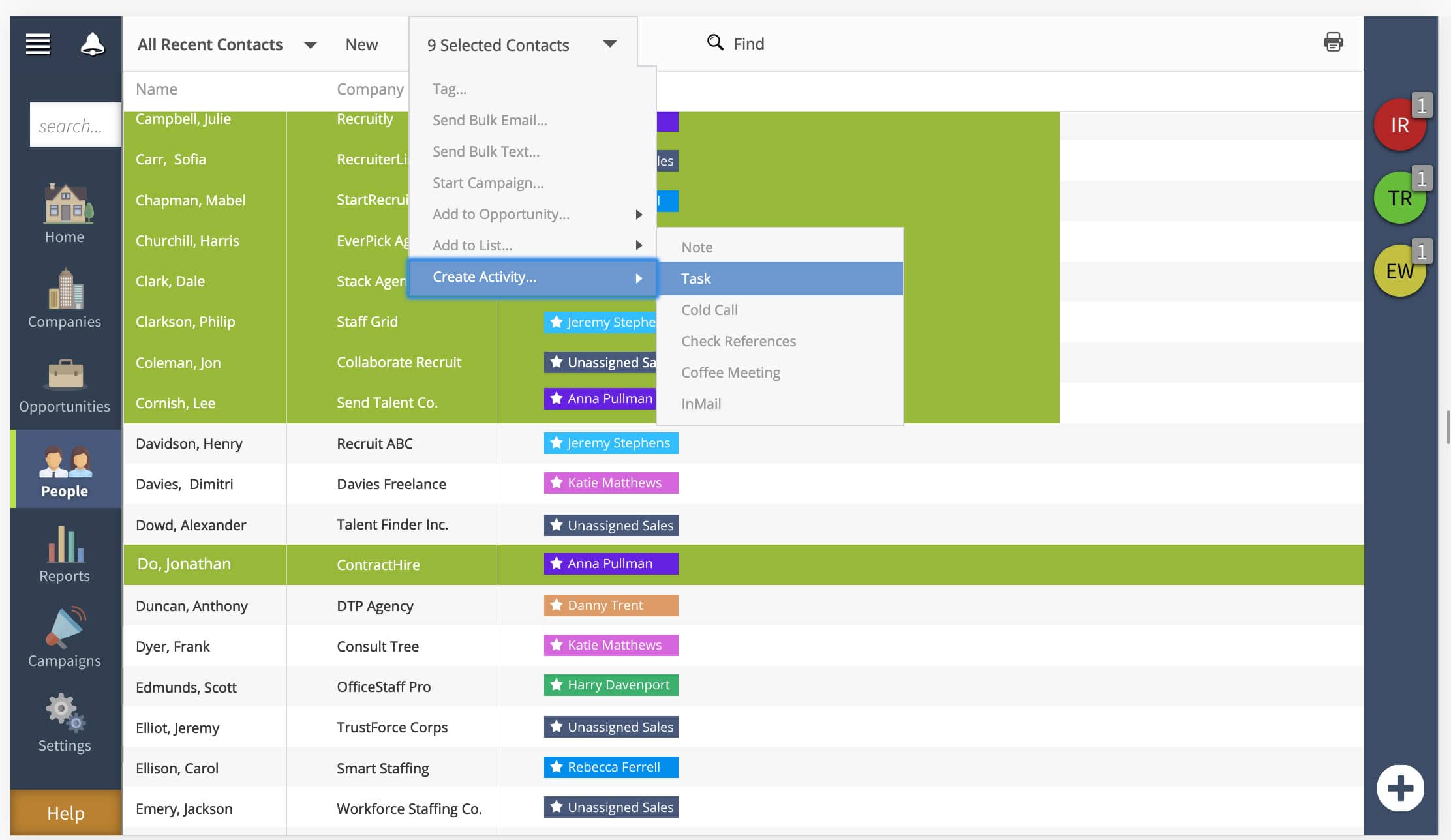 July 2020
Next, we released a set of features for our integration partners and larger customers. Our July product update included new SSO capabilities with Okta, an expanded set of API endpoints, and a range of proactive performance and internal security updates.
August 2020
Finally, we ended the summer with several exciting improvements. We launched our Resume Toolbox, which saves our customers hours they'd otherwise have to spend cleaning and branding resumes! We also launched an improved resume parser that brings in additional details and offers improved parsing for non-US resumes; This was paired with data quality updates to our Company Name normalization feature. In addition, we launched a streamlined Job Publishing experience, faster API operations and new security privileges, giving administrators more control over their data. We also made improvements to our already fantastic Job Dashboard filters.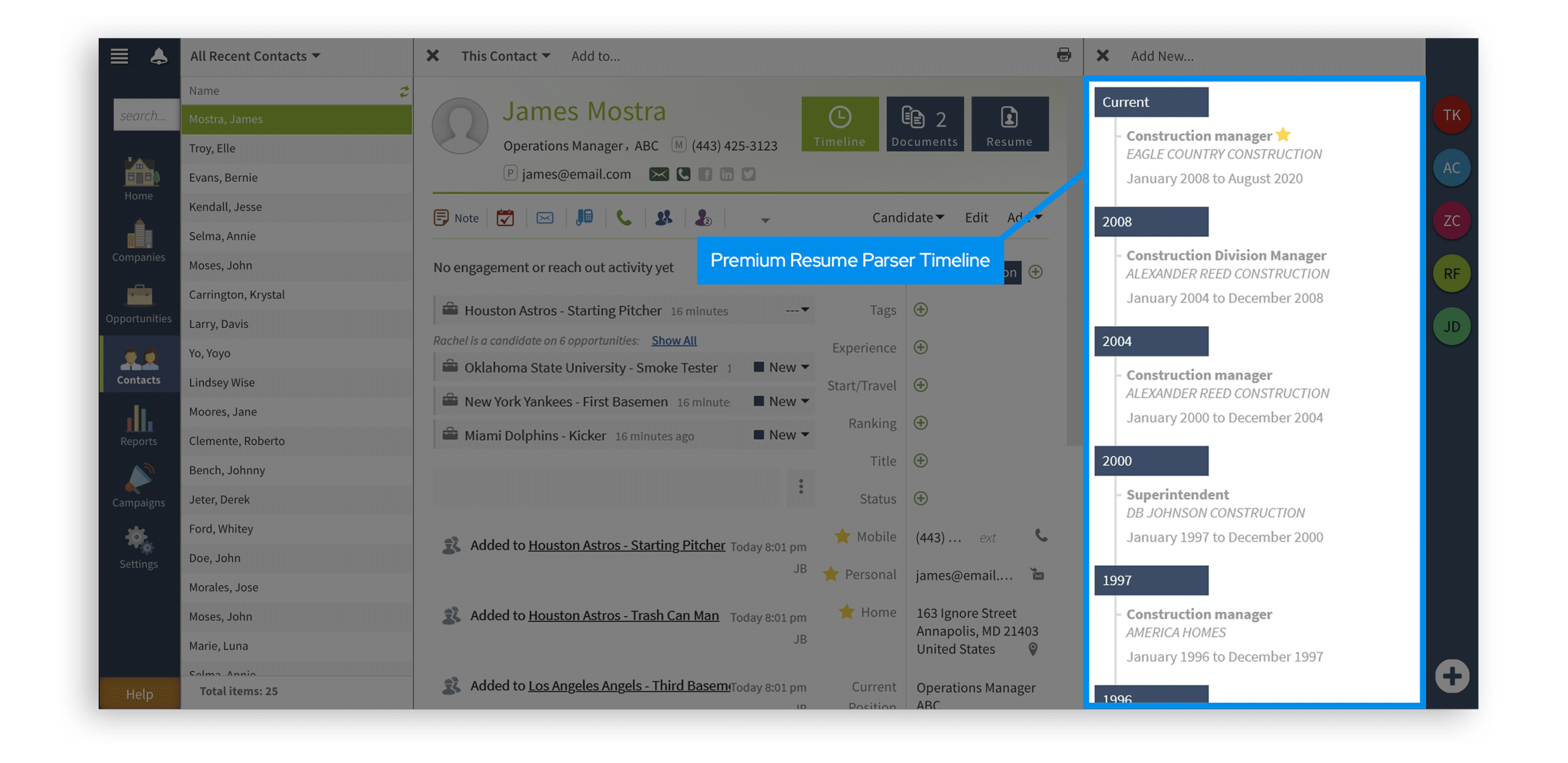 October 2020
We ended 2020 with our most significant update of the year! This release brought a complete User Experience (UX) refresh, including new customizable menus, a visual rendering of Company relationships, improvements to form layouts, and even more configurability for users. We also launched a sneak peek of Record Statuses. This release also added a new Placements Management area, making commission and manual invoicing easier. We launched a new Document Management experience, upgraded our Excel/CSV Importer to support tag splitting, and added the ability to bulk edit additional fields on Contacts, Companies, and Jobs.
We continued our industry-leading tradition of value, as all of the improvements listed above and below, not to mention the hundreds of other product enhancements we delivered in the last three years, were all made without increasing our prices.
Infrastructure Updates
Recruiters are busy, and their time is precious. Seconds of waiting become minutes, and when that time is spent on the same tasks, it can add up quickly. To prevent this, our engineering team made major investments in our underlying platform and infrastructure, all in pursuit of our goal to make Crelate the world's fastest Applicant Tracking solution.
Server Upgrades – In August of 2020, we upgraded the hardware of our entire database cluster to the latest generation machines offered by Microsoft Azure. These new machines offer a 40% improvement in database response times and throughput.
Security Upgrades – Maintaining security is essential to maintaining our customer's trust. In 2020, Crelate worked with third-party security researchers to identify potential vulnerabilities, and we're continuously implementing updates and best practices based on their findings.
Software Upgrades – Throughout the year, the team consistently paid down our "technical debt". We are committed to keeping Crelate state of the art, meaning we're perpetually re-writing and upgrading every portion of platform. In 2020, we made numerous updates in preparation for significant upgrades coming later in 2021.
Service Updates
We love all our customers, big and small, startups and established businesses. As we scale past 1,300 customers, we have an internal goal to "scale the love" at the same time. That means we must always be reinventing our processes,  improving our efficiency, and maintaining our excellent service levels for all.
Chat – 2020 was a year that we outgrew our existing support solutions. While our original ticket-based solution worked for some, it did not provide the immediacy our customers wanted or the efficiencies we needed to scale. Over the summer, we moved our entire support team over to a new chat-first solution. With investments in an expansion of our support team, improvements to our knowledge base, an upgraded AI answer bot, and major changes to our internal support processes and escalation procedures, our Customer Success and Support team has improved response times and resolution times, all while maintaining our already excellent Customer Satisfaction scores and supporting hundreds of additional customers.
Feedback Center – We love feedback, and in 2020 we introduced a new feedback-management solution that's integrated directly into our chat-first support software. Listening to customers, hearing their stories, and growing from their feedback is part of our not-so-secret sauce. The feedback, ideas, and insights our guide every decision we make. With our new Feedback tool, customers can now submit their feedback, see each other's feedback, comment, and upvote their favorite suggestions. Our product team is then able to focus on the highest-impact features more quickly.
Professional Services – 2020 was a major year for our Professional Services organization. As we supported our growing customers by helping them transition to Crelate, transform their business, or get the most out of their Crelate investment, our Professional Services team grew correspondingly. 2020 saw a significant expansion in our service offerings and consulting abilities, and in the size of our team. With the hiring of two new seasoned recruiters as Crelate Consultant hires, improvements to our onboarding processes, new documentation, and more, our Professional Services team has improved our already industry-leading migration times, increased customer satisfaction, and set us up to "scale the love" in 2021.
As the world gets back to work, I look forward to the success stories our customers and employees will deliver in 2021.
Filed under: Crelate Updates