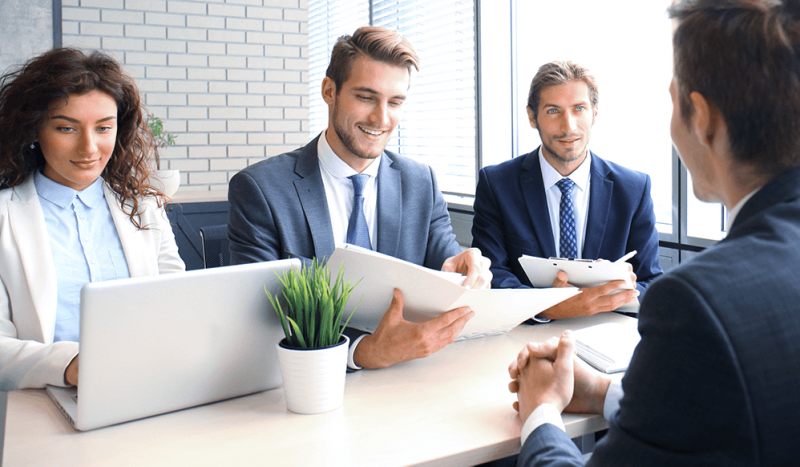 Sourcing candidates as a recruiter isn't always easy. It can be frustrating to try the same methods over and over (cold calling and emails anyone?) and feel like you're not seeing any results. But don't get discouraged, because the right candidates are out there. According to a recent LinkedIn Talent Blog, while only 36% of the workforce may be actively job seeking at any given time, up to 90% of the workforce is open to learning more about a position and discussing possibilities. So how can you get the attention of this wide talent pool of passive candidates? You just need to think outside of the box. Use these creative sourcing strategies the next time you feel a little stuck to find the best candidates for your clients.
1. Contact Candidates Who Have Recently Started A New Job
A candidate who has recently started a new job may strike you as the most "passive" candidate there is, but you could be wrong. The timing of reaching out to someone who has recently started a new job can sometimes work in your favor. Think about it: they still have the momentum of their job search fresh in their mind and are also in an adjustment period at their new workplace. There's a chance their new job might not have panned out exactly how they'd hoped or that the company wasn't what it presented itself as on paper. "New job regret" happens quite a bit actually-studies suggest that roughly one third of new hires will quit their job within the first six months. So just because you see a potential candidate has recently accepted a new position, that doesn't mean you can't start a dialogue with them and feel them out.
2. Try Different Platforms
When most people think of sourcing, they likely think of Linkedin and sometimes Facebook. But trying platforms like Twitter or even Medium and Pinterest can be beneficial. On Twitter you can search by keywords, phrases, and locations, making it ideal for honing in on particular candidates in your region. Use Twitter's advanced search to target people based on multiple criteria at a time, so you can locate the passive candidates that best match your needs. You can also create sourcing lists using Twitter's list function. You can add potential candidates for different jobs to different lists, so that when you click on a specific list, you'll only see those specific candidates. By adding someone to your list, they also get notified, so be sure you name it something obvious like "marketing professionals" for example. (Here are specific instructions on how to create lists on Twitter.) After you've added them to your list, you can also choose to follow them and send them a direct message if they choose to follow you back.
Both Medium and Pinterest can be great for finding more niche candidates; Medium is a platform full of writers of all kind, and many designers and artists showcase their work on Pinterest. You can also look at GitHub for developers and IT professionals. Try and identify which social platforms your candidates may be using to showcase their work, code, and creations, and meet them there. Just because someone isn't very active on LinkedIn doesn't mean they aren't active on other channels.
3. Mine Your Current Candidate Base For Referrals
The candidates you're currently in contact with are some of your best resources for finding more candidates, but many recruiters forget this. You can reach out to a candidate again and again with different job opportunities, but it can also pay to simply ask a candidate if they know anyone in their own network who would be right for a particular role. If you feel you don't have enough candidates with a certain skillset, why not ask candidates with parallel skillsets-who have likely worked with people you're looking for-if they know anyone who might be in need of work. For example, reaching out to a freelance writer to ask them about graphic designers can be beneficial because they've likely worked closely with different graphic designers throughout their career.
4. Use LinkedIn… The Right Way
LinkedIn can still be a recruiter's best friend-if you use it correctly and creatively. For many, LinkedIn can feel like a phone book with no telephone numbers: you can see a passive candidate's resume and experience, but contacting them feels like reaching across the void. If you're going to send a potential candidate LinkedIn mail, use the following best practices to ensure they actually read your message:
Keep your LinkedIn message to 500 characters or less; short and sweet is the goal.
Avoid cliche dialogue about "exciting new opportunities" and instead pick up on specific details about your candidate through their profile. What does their statement say about their favorite aspects of their career? What career move might they be looking for next? What can this potential role offer them?
Don't ask them to call you. A passive candidate isn't likely to carve out time in their day to pick up the phone and call you to hear more about an opportunity. Put the onus on you; ask them if they'd like to hear more and then you can email them or call them at their convenience.
5. Get Social"¦IRL
Meeting someone face to face will always make a better impression and be more effective than sending message after message or cold calling. So how do you get in front of your ideal candidates? Network like they do. Many passive candidates who would be open to a job change attend networking events to stay connected to people in their industry. Make it a point to get social and attend events that your target candidates would be interested in, whether it's directly related to their business or perhaps hobbies or side projects that those candidates typically align themselves with. Introducing yourself and making connections with potential candidates helps you build a relationship with them before presenting them with potential jobs. People are much more likely to respond to someone they've met in person or established some sort of relationship with.
Why Creative Sourcing Pays Off
At the end of the day, recruiting can be a tough business. Sometimes it pays to step outside of your comfort zone and leverage new social media platforms, different approaches, and new tactics to help you cast a wider net and get the best talent possible for your clients. If anything, using these creative strategies can help give you a fresh perspective on the talent pool for a given industry and provide new ways of interacting with passive candidates. The next time you feel stuck, try the approaches listed above and see what kind of responses you get-you might be surprised at the results.
Filed under: Business Development, Candidate Advice, Crelate Updates, Recruiting Tips