End-to-end Staffing & Recruiting Software
Crelate helps you make more placements with an all-in-one modern staffing & recruiting agency platform
What makes Crelate different is that it was clearly developed by recruiters who understand the business.
Brian Connors
Operations Manager & Co-Founder, AllSearch Recruiting
Intuitive and simple.
Purpose-built for the modern recruiting and staffing agency, Crelate's recruitment and staffing software makes managing your entire workflow fast and easy.
Our customizable drag-and-drop interface helps you quickly track the progress of your candidates, and the platform's inbuilt tools make recording interactions, managing important tasks, and communicating with clients and candidates totally straightforward — all right from your pipeline screen.
Join
over 1,700

staffing and recruiting agencies that are making more job placements with Crelate.

"Everyone hates their ATS." Or do they?

Real user feedback consistently puts Crelate in the top-ranked recruiting and staffing software categories on review sites like Capterra, G2, and GetApp. And we're working every day to earn that trust, continuously improving Crelate's features to ensure it's the absolute best tool for recruiters and staffing agencies.

Our modern applicant tracking features let you easily manage talent, while our award-winning recruiting CRM functionality helps you to quickly and efficiently develop more business opportunities to drive your bottom line.

"I don't understand why talent partners use anything else! Agility and responsiveness of the team – they respond to issues immediately (it's incredible!) and they are also very receptive to new ideas. I'm so grateful for the number of times they've built new features from my ideas."
Cassie N.
Vice President of Talent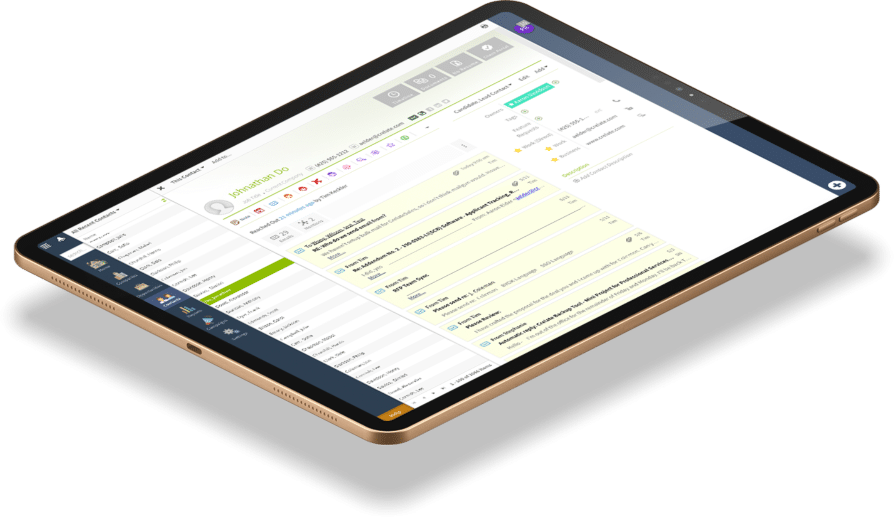 Flexible by default.
You already know what type of workflow works best for your business. We're here to make that workflow more efficient, effective and profitable. That's why our tools are fully customizable to your preferences, methods, tools, and systems. We're not here to tell you how to run your company or your recruiting process — we're here to help you do it better — and on your terms.
Deep Reporting & Analytics.
Crelate is packed with integrated and flexible reporting tools to cover every part of your sales, recruitment, and delivery process.
Back up your decision-making with data, and discover competitive advantages with custom-built, real-time analytics reports across every part of the business. Run reports on metrics that matter to your org, inform your decisions with data, and discover opportunities to improve your process.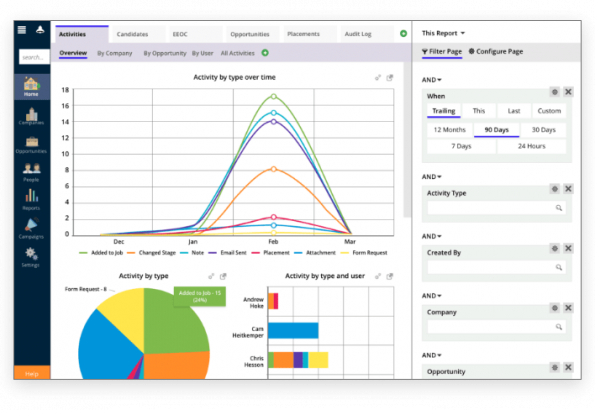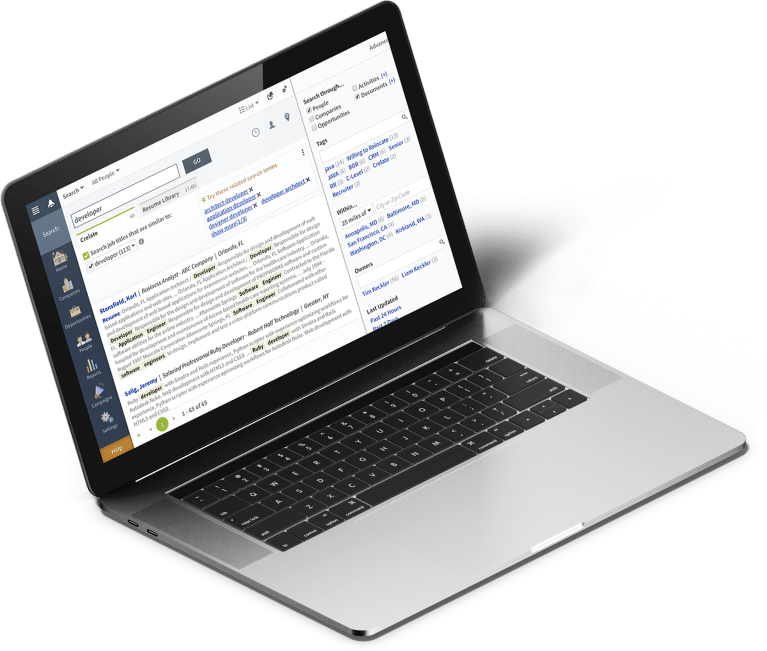 Powerful and fast.
From call-notes to CV, accelerate your recruiting and staffing processes with robust search tools across every candidate and client interaction you've ever had. Your time is valuable, and we know it's better spent building relationships than waiting for your ATS or CRM to respond to your commands.
Crelate moves at your speed, with all of our applications and designs evaluated for performance as we build them, resulting in over 99% of user requests being satisfied within 500ms.
The right fit for you.
Designed to scale with your business every step of the way, Crelate is built for organizations of any size and every model. We put the same amount of time, care and energy into features most useful for single-desk shops as we do into features crucial to the success of industry-leading agencies. Because we understand our industry is about people, whether they work on a team of 100 or a team of one.
Executive Search
Bob Rossi, President
National Search Associates
Direct Placement Recruiting
Vanessa Reeves, Operations Manager
BroadReach Search Partners
Staffing & Consulting
Maria Perny, Head of Operations
Optimus Group
"I would absolutely recommend Crelate to any staffing or recruiting company."
Rebekah Barr
President, AllStaff Technical Solutions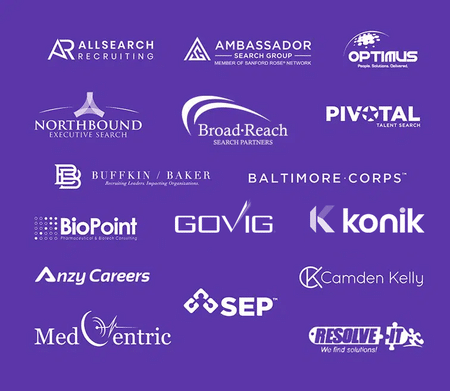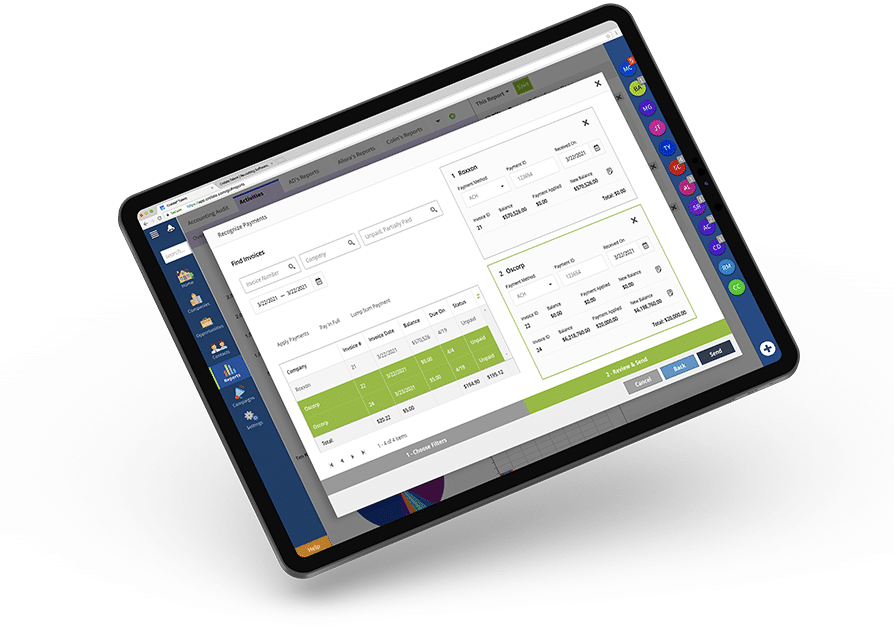 Agency new business is part of our DNA.
To win in a competitive market, you need to be faster at every stage, from sales to recruiting to placement. Crelate's completely integrated sales tools give you an edge over competitors relying on a separate or disjoined CRM to manage new business efforts and then start the fulfillment process.
From day one with a new prospective client, Crelate gives agency owners or full-desk recruiters a bird's-eye view of your the sales process — all on one page. This extremely powerful addition to your business toolbox helps you track when candidates can become new job leads, when new job leads can become candidates, and much more. And – like our other tools – it's fully customizable to suit your unique workflow.
Start to finish.
Recruit, Hire, and Deliver. Everything you need to grow your business.
Crelate Recruit
Agency Sales & Recruiting
01
Source & Recruit
Everything you need to close new business and recruit great candidates.
02
Manage & Nurture
Customer and client relationship management in a single system.
Start to finish.
Recruit, Hire, and Deliver. Everything you need to grow your business.
Crelate Hire
Hiring & Onboarding
03
Interview & Evaluate
From the time a candidate comes across your desk, right up to their first day on assignment, track and expedite it all in a single integrated system.
04
Hire & Onboard
Pre-loaded with purpose built onboarding templates, you can customize every element to fit your firm's unique process.
Start to finish.
Recruit, Hire, and Deliver. Everything you need to grow your business.
Crelate Deliver
Delivery & Back Office
05
Assign & Track
Never again lose an employee to a competitor because of disjointed assignment or tracking systems. Advanced search helps you quickly find the perfect candidate for a specific req.
06
Pay & Invoice
Take manual data entry off your list of 'to-dos,' and ensure clear insight into the health of you accounts.
Start to finish.
Recruit, Hire, and Deliver. Everything you need to grow your business.
Crelate Sales
Integrated tools to empower recruitment and staffing sales
07
Win New Business
Crelate's CRM integrates purpose-built tools to track new business pursuits, won reqs, and client relationships, all side by side with every other facet of your recruiting.
08
Sales & Fulfillment
Running your business shouldn't mean invoicing falls behind, when revenue is the business. Ditch the spreadsheets for a customizable, integrated tool that actually makes getting paid easier.
An end-to-end, integrated toolset for the modern talent business.
Applicant Tracking
Accelerate your entire recruiting process from job opening to candidate placement and everything in between.
Recruiting & Sales CRM
Collaborate with your team and manage opportunities with the people in your network while Crelate tracks it all in your recruiting database.
Analytics & Reports
The data you need to measure recruiting success and make data-driven business decisions.
Contact Data Enrichment
Instantly update contact details in both candidate and sales contact records. Reduce your organization's sourcing and prospecting time.
Job & Client Portals
Customizable portals to interact with candidates and receive client feedback.
Compliance
Simplify and streamline compliance from onboarding to credentialing to pay & bill.
Time & Expense
Track time and expense on mobile and desktop. Easily create billable and payable items, and bill accordingly.
Email & Messaging
Effortlessly communicate with your candidates and clients, while tracking engagement and activities at the same time.