staffing made easy
Modernize your recruiting process. Streamline staffing delivery. Manage your clients, candidates, and contingent workforce with end-to-end software for the modern agency.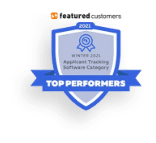 Manage relationships,
not administrative tasks.
You need a talent platform that's as fast and flexible as your team. One that helps you drive superior customer experience, talent engagement, and recruiter flow.
Every part of your business, running exactly the way you designed it. No more one-size-fits-all tech.
Customize every part of your sales, recruiting, and assignment workflow to match and streamline your unique process.
Every Process, Integrated
Your business isn't silo'd, so why is your tech? Your team deserves a modern talent platform where every process seamlessly feeds the next.
Stop spending precious recruiter time on redundant data entry and disjointed workflows.
Business Intelligence Comes Standard
In staffing operations, speed to insight is gold. You need a real-time, 360 view of your business, and the ability to dive deep when you spot a problem.
It starts with software your front-line team actually wants to use, combined with a world-class reporting engine.
See What Makes Crelate Different
Integrated Tools for Modern Agencies
Book A Demo
Chat with one of our expert sales associates. The Crelate team is here for you every step of the way.
Why Crelate
Because no part of your firm should be an afterthought.
Crelate is purpose-built, enterprise-class software for staffing agencies. Work with deeply knowledgeable, hands-on consultants to help you accelerate from day one. You shouldn't have to spend six-figures to warrant attentive, personalized service, to keep your teams working in unison, or to get business critical insight.
Make more placements, beat the competition, and exceed customer expectations with an all-in-one platform tailored to your staffing agency's needs.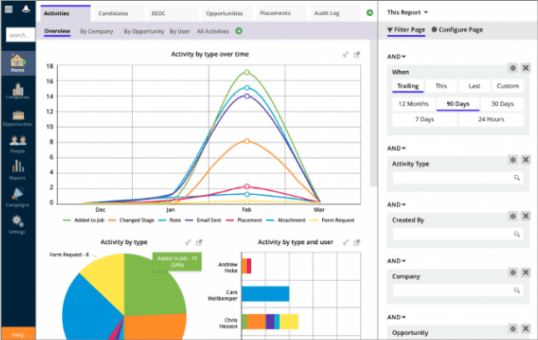 FAQ
We're here to make sure that nothing gets in the way of that. Focus on what you do best — creating relationships and running your business.
See answers to our most frequently asked questions.
Do you offer professional services?
Yes, we have a highly skilled staff with over 35 years of experience in the staffing and recruiting industry. They are available for ad hoc projects or through retainer to facilitate your needs from setting up workflows to optimizing system performance.
How do you handle migrations?
Our seasoned Professional Services team has facilitated hundreds of data migrations from the top names in the recruiting software world. Our staff have been practitioners and end users themselves so know the best practices to accommodate and avoid obstacles in your data migration.
Do you offer timekeeping?
Yes, our mobile-first timekeeping process allows for easy entry from your assignees. This also reduces manual errors. All time and expense entries can then be managed on your team's desktop to easily flow into your invoicing practices. Automated alerts maintain progress and warn of approval deadlines or errors.
How do you handle high volume recruiting?
Crelate's customizable workflow organizes the task and candidates in high touch, high volume recruiting. Don't let candidates fall through the cracks, or fall out of your pipeline from a disorganized process.
How do you handle texting?
Our integrations with known software such as RingCentral and Rectxt allow your team to communicate with clients and candidates within the Crelate platform. Teams can quickly reach out when tasks come up, and more importantly, all communication is logged within contact records.
How do you handle payroll?
Our Payroll Export tool allows you to configure your data and easily export to trusted Payroll providers such as ADP, Paychex, Intuit, or others.
Do you have native sourcing tools?
Our Chrome extension allows you to port information from any sourcing tool that you currently use. Unlike other tools, you can review data before updating your current records. Crelate's Contact Data Enrichment allows sales and recruiters to update current data from multiple sources with one click. We also have multiple native Job Board integrations.
How do you integrate with my current tech stack?
Crelate's robust integration partnerships offer our clients access to known leaders in the recruiting and staffing tech space. Seekout, Careerbuilder, Indeed, Logic Melon, RingCentral to name just a few. For a full list view https://www.crelate.com/integrations
Do you have a mobile app?
Yes, our mobile applications serve both the sales and recruiters on your team to allow them to communicate with candidates and clients while recording interactions in the system. Your on-the-job assignees can use the mobile app to enter time and expenses to be able to log time on the premises of the client.
Still Have Questions?
Schedule a demo with one of our expert sales associates.
Trusted by 100's of Recruiting Agencies
Join over 1,600 staffing and recruiting agencies that are making more job placements with Crelate.
"Crelate is one of the easiest ATS I've ever used. I especially like the multi-resume upload, auto record creation, LinkedIn profile parse, and the drag and drop functions. Most other systems require so much set up for custom workflows. Crelate takes less than an hour to set up."
Christine S. Client Services and Recruitment Manager

"I swear it felt like everyone I dealt with at Crelate could just read my read my mind at every turn, I never felt rushed, or frustrated, or like "just 1 of 1000 clients". You took a topic we'd been avoiding for years, conversion/migration of an enormous legacy database, and made it a breeze."
Brian C. Technology Manager

"I don't understand why talent partners use anything else! Agility and responsiveness of the team – they respond to issues immediately (it's incredible!) and they are also very receptive to new ideas. I'm so grateful for the number of times they've built new features from my ideas."
Cassie N. Vice President of Talent

"The team is fantastic at listening to what you need, if they don't already have a way of doing it, they will work on finding a solution. For third party recruiters, this is a dream product. I recommend Crelate to a lot of recruiters who are looking for a great ATS and not wanting to spend tens-of-thousands of dollars on a product that does not offer half of the features that Crelate will offer."
Meagan D. Director of Client Recruiting

"Great Applicant Tracking System! Works very well for our needs. I love the layout and look of this ATS. Before we decided to go with Crelate, we researched many other options and this one is very user friendly and is just easy on the eye."
Kelli K. IT Recruiter

"Crelate works the way recruiters work. [What I like best is the] work flow — managing the work flow — looking at where each search is and moving candidates. The ability to get up and going and using the solution takes no time at all."
Martin M. Software Sales Recruiter

"Crelate allows me to search my existing database and parse new data into the system in multiple simple and convenient ways. Visually it is very eye-pleasing and easy to locate main functions. Customer service and review of feedback for improvements is outstanding."
Christina H. Recruiter / Account Manager

"I enjoy using Crelate and utilizing all it offers because it keeps myself and my co workers up to date with each candidate that we speak to. All in all, what I like best about Crelate is how user friendly and how up to date and on top on tasks that Crelate keeps us on."
Caely C. Recruiter

"I love the ability to share all my info on candidates with my colleagues, that we can share notes and move candidates throughout the process. And I love the feature where you can send emails on behalf of your colleagues email address. That has been a great tool for me and our team."
Christianne G. Associate Recruiter

"There is no ONE best feature, but there are MANY. Multiple work flows, Linkedin parsing extension, Drag and drop resume parsing, Boolean searching, and robust reporting."
Amanda W. Marketing Manager

"I did a very extensive research trial when choosing my ATS and what stood out about Crelate was the price for value added. They were considerably more affordable compared to the big names in ATS platforms and had as much functionality, if not more!"
Teara V. Creative Recruiter

"Being new to the recruiting industry, and having never used any Applicant Tracking Software, my choice of software packages was an interesting one. After extensive research, I opted to go with Crelate given its value, excellent support and ease of use. This program has been crucial to my success thus far and I have already recommended it to several others in the industry."
Kristina H. Principal Recruiter

"The product is very user-friendly. It is a product that is deep, robust and scalable but thought of from the client side NOT the technology side which heavily benefits the end user. Customer service is also top-notch. Unlike other ATS's I've used, Crelate focuses on assuring they are solving problems not 'closing sales'."
Steve L. Director of Recruiting

"It speeds the recruiting process along tremendously – create a submittal form to use while you're screening a candidate and BAM – your submittal notes are ready to send, all from within the database. Things are where you want them to be, right where you would look to find, or fully customizable if you do want to move something."
Tracy P. Sr. Tech Recruiter

"I like that we have a web-based app to access all of the different profiles. I like that I can communicate with Candidates in different ways without having to leave the window I'm in. I also appreciate that I can communicate with other colleagues within the same applications."
Abigail Y. Talent Engagement Lead

Schedule a demo to learn how you can accelerate your recruiting process and place the best talent.