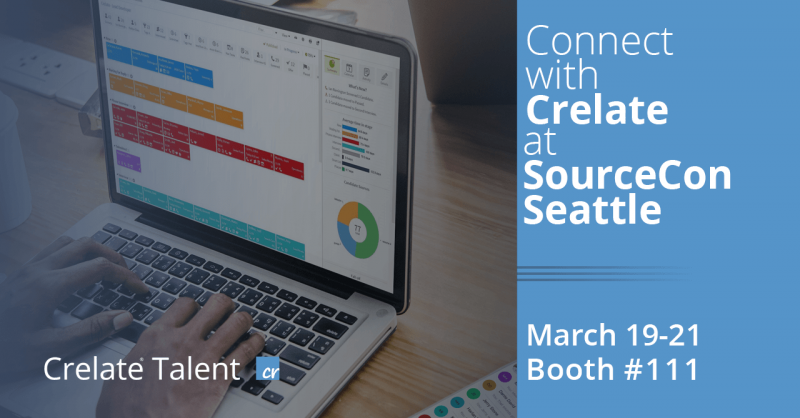 Attendees of SourceCon will learn how simple it is to collaboratively engage potential candidates using an all-in-one recruiting software solution.
Crelate, a leading provider of modern recruiting software, announced today that it will demonstrate its industry-leading talent acquisition solution as a Silver Sponsor during SourceCon, March 19 – 21, 2019 in Seattle, WA.
Several Crelate team members will attend alongside Crelate CEO, Aaron Elder, to demonstrate Crelate's sourcing tools during exposition hours in booth 111. The team also plans to attend labs, keynotes and social hours to understand what is and isn't working for recruiting and sourcing professionals.
"Every member of the Crelate team speaks with customers. When our development and support teams have real conversations with recruiters and learn from those on the front line of sourcing, it drives better design decisions," said Aaron Elder. "With SourceCon in our backyard this year, it's a perfect chance for our team to get that direct feedback."
Attendees of SourceCon Seattle can visit the Crelate booth to learn how using a unified Applicant Tracking System (ATS) and Customer Relationship Management (CRM) solution helps attract high-quality candidates with capabilities such as:
Engagement tracking to connect and track interactions with passive candidates
External libraries to source candidates from outside databases
Recruiting analytics and custom dashboards to improve team efficiency
Sourcing solution integrations to tap into an array of passive audiences
Web parsing tools to add candidates to a talent pipeline
Visitors of booth 111 will also have an opportunity to participate in a charitable cause by helping Crelate decide how to split a $500 donation between two local talent-focused organizations. In 2018, Crelate changed its approach to conference giveaways by supporting charitable missions instead of distributing plastic goods.
"Conference trinkets frequently end up in the trash so Crelate made a commitment to allocate future 'swag budget' to charities that improve our community through work empowerment," said Aaron Elder.
About SourceCon
SourceCon originally began as an idea to develop an educational conference uniquely dedicated to internet and telephone researchers, sourcers, sourcing leaders, and those interested in learning more about the art and science of recruitment sourcing. The SourceCon website was launched after the very first SourceCon conference in 2007 and has been a destination site for information, knowledge, and news for the sourcing community ever since. In the summer of 2009, SourceCon was purchased by ERE Media and the tradition continues. Today the conference and blog serve as one of the top resources for sourcers and recruiters who source.
About Crelate
Crelate is a recruiting software company that empowers recruiters to manage talent and demand pipelines in a single solution. With fast and powerful capabilities, Crelate optimizes the recruiting process from sourcing to placement. Since 2012, the Crelate team has focused on enabling customer success and prioritizing innovation based on user feedback. Customers have called Crelate the "Best ATS on the market" and a "Recruiting game-changer." Join over 900 leading recruitment teams that improve their hiring efforts with Crelate. Visit www.crelate.com for more information.
Filed under: Crelate Updates, Press Releases