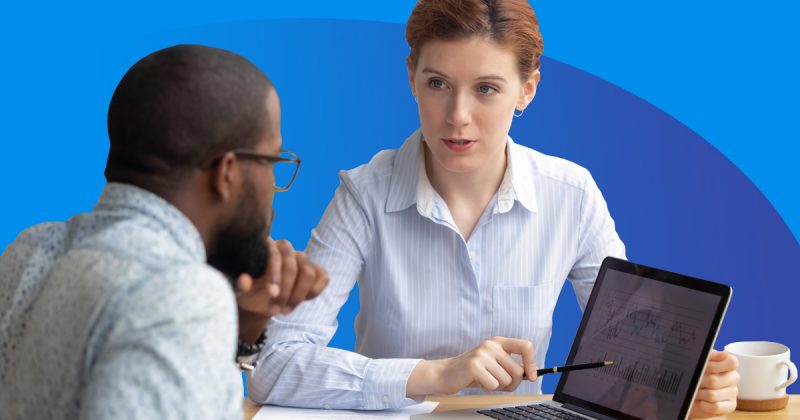 Table of Contents
Jump to a section:
1. How Do I Explain Recruitment Fees to New Clients?
How Recruiters Can Drive Positive ROI Through Effective Recruiting
How Recruiters Can Save Clients Time
How Recruiters Can Work More Effectively Than Internal Recruiting Teams
2. How Do I Customize The Discussion For A Specific Client's Pain Points?
3. How Do I Explain The Value of Retained Recruiting Engagements Over Contingency Placements?
4. How To Explain Other Basic Recruiting Fee Concepts To Clients
What Are Common Recruiting Agency Fee Structures?
What Is the Average Recruiting Fee?
Finding, evaluating, and placing the best candidate for a job is an art that professional recruiters hone through years of interaction with candidates and feedback from clients.
Most recruiting agencies, or independent recruiters, will post jobs, review hundreds of resumes from job applicants, proactively source huge numbers of additional passive candidates, prescreen, and schedule phone and in-person interviews. Then, they'll shepherd the best candidates through the hiring process until the right one accepts an offer. 
But some clients can take for granted the nuanced, time consuming, and extensive work that goes into matching the best candidate to the right job. Not to mention keeping both sides excited about that potential fit through the courtship, especially in the case of passive candidates who might be happy to stay put. In some cases, those clients might question the fee structure behind your services.
"[A private recruitment agency] will cost you cash in the short run, maybe even significant cash, but it may pay off in the long run by getting you good people — while allowing you to focus on your core strengths," Joseph G. Hadzima writes in Starting Up: Practical Advice For Entrepreneurs for MIT. "There are a number of types of 'pros' and the choice depends on your recruiting needs."
That's the positive spin on why recruitment fees are worth paying, or why you should work with a recruiting agency. There's also the downside risk: the cost of leaving critical roles unfilled, or filling them with the wrong people. What's the cost of putting strategic plans on hold while you wait to hire a CMO, then determining they're a bad fit for the job, and having to start the process all over again? It's likely a heck of a lot more than even the most expensive recruiting fee.
Explaining all of this to your clients and getting buy in is an unavoidable aspect of being a recruiter, but it's also an opportunity to start building a tighter relationship with that client.
What Is The Best Way To Explain How Recruiters Add Value?
While your value to each individual client will be different, there's a standard framework of value that works for nearly every engagement. Use this framework to structure the conversation, emphasizing the points you think are most compelling for the client.
How we make our clients money (a.k.a., what is the ROI of a good recruiter?)

How we save our clients time

How our team can work more effectively than internal recruiting teams
Let's walk through each one.
How Recruiters Can Drive Positive ROI Through Effective Recruiting
How Recruiters Can Drive Positive ROI Through Effective Recruiting
One of the biggest mistakes hiring managers make is thinking of an employee's value in terms of their salary. "We're planning to pay our senior salesperson $120,000, so $120,000 must be what they're worth to the business." It seems like common sense, but it doesn't make business sense.
The true value of having the right talent in place faster should be framed in terms of opportunity cost.
To illustrate, when your client fills a sales position quickly rather than leaving it unfilled for three months, that's three months' worth of extra sales pipeline and revenue in the door. Or not. It's also three months' worth of customers and prospects that can be upsold, retained, or retargeted, which has lasting impact.
Whether it's the super-obvious loss of pipeline from an unfilled sales position, an executive, a dev, or a line-level employee, the opportunity cost of losing that time and productivity can ripple through a client's company for months or even years.
Help your clients understand that for growth-oriented organizations, talent acquisition is the core of business success.
How Recruiters Can Save Clients Time
Hiring managers should also understand the argument that their time is extremely valuable.
An HR leader's time is finite. When high-priority hires get dropped in their lap, it often means putting important internal initiatives on hold. Put another way: When the CMO quits abruptly, a CEO isn't going to want to hear their HR manager's update on how well the internal training improvements are going.
A Society for Human Resource Management study pegs the average time-to-fill a position at 36 days. But 25 percent of jobs take 45 days or more to fill. If the role must be filled by the internal team, that's about a month of pushing out deadlines for other projects, providing frequent updates to senior management, and – more than likely – a much higher stress level than they probably want.
If your agency measures how long it takes to fill a role as a KPI (and you should), share that average timeline – especially if the client has been struggling for months to find a good hire. Now is also a good time to share any client referrals showcasing the good work you and your agency do.
How Recruiters Can Work More Effectively Than Internal Recruiting Teams
If your potential client is a hiring manager, they may be looking at you and thinking: "We hire people all the time. What can a recruiter do that I can't?"
Another important aspect of your recruiting cost justification framework is, helping potential clients understand what makes you better at finding superior candidates. And doing so at peak efficiency.
Throw open the curtains! Share your favorite recruiting war stories, tips, and tools. The goal here is to impress upon the prospect, that while they certainly could use their internal team to fill the position(s), they won't be able to do it as quickly or find the level of talent that a dedicated, professional recruiting team can.
If a hiring authority is hesitant about the cost of a recruiting agency, these key questions can help you emphasize the value that you bring.
How many potential candidates do you already have a relationship with?

How many hours/week is your internal team devoting to improving your talent acquisition process?

Are you confident that your team has the bandwidth to evaluate potential candidates at scale? Who would be tasked with, say, assessing a batch of 500 CVs for a role? 

Who on your team is an expert at paid recruitment outreach, including recruitment marketing platform management, optimizing JDs for maximum clickthrough, and sifting through the results?

What is your sourcing strategy to go beyond the most expensive options like LinkedIn, Indeed, and other premium job boards? 
Explaining your process won't make them less likely to hire you. Instead, it's an opportunity to share the special skills and abilities you have to find the candidate they need.
How Do I Customize The Discussion For A Specific Client's Pain Points?
To zero in on the specific needs of a potential client, go beyond this standard framework.
Start by asking the client questions that will help you understand the challenges they've had when filling roles in the past.
Is it a problem of having too many qualified applicants? You can tout the resume parsing and matching software you use that makes this process faster and more efficient, and lets the company respond to high-value candidates faster.
Or are they not getting enough applicants? Explain the value of your existing talent network, as well as your proficiency at identifying candidates through targeted outreach and your unique, creative sourcing strategies.
Is this a key hire that they can't afford to miss on? Reassure them that professional recruiters have the wisdom, assessment tools, and intuition to match the right candidate with the right opportunity.
Are they struggling to define the role in a way that will appeal to potential candidates? Show examples of similar, successful job posts in their industry.
You already have the skills to do the job well – you just have to find an opening to display them.
How Do I Explain The Value of Retained Recruiting Engagements Over Contingency Placements?
As your firm, or practice, grows and you're able to establish a track record of success, you may want to  will want to start to move into retainer engagements, rather than pure contingency work.
Typically, you'll want to pin this conversation on the value of your network, your track record of past results, and the demand for your services. You can't stay efficient, or provide the same level of quality, juggling 100 contingency-only reqs and just blasting a high volume of CVs at each one.
If you're trying to move in this direction but don't want to (or can't) jump directly to 100% retainer with clients, starting with options such as partial retainer and upfront engagement fees can be a good start that still creates a stronger relationship with that client.
How To Explain Other Basic Recruiting Fee Concepts To Clients
Outside of simply explaining your value to clients, you may also need to educate them on more basic aspects of how your engagements work, such as fee structure and actual fee rates.
We've included some information here that can help in explaining the differences of various fee structures to clients.
What Are Common Recruiting & Staffing Agency Fee Structures?
Recruiting agency fee structures are usually different depending on whether the placement is for a temporary or permanent job. Common fee structures include hourly fees, "temp-to-perm" fees, contingent fees, and retainer fees. The seniority and skill level of the role often determines the amount of the fee.
When filling temporary roles, the client may pay the agency an up-front fee, and then a pre-negotiated hourly rate. The agency's profit margin is the difference between the hourly worker's salary and this bill rate, less any operating costs. If the client company hires the worker for a permanent role, the client pays the agency an additional fee for the "temp-to-perm" placement, whether that was planned from the outset of the engagement or decided later on.
For permanent roles, the recruiting agency typically charges a placement fee either via a contingency or retainer structure. While some agencies will charge a flat retainer fee – either 100% hourly or monthly with an hours cap – the fee is not based on the salary of the role the agency is working to fill. 
When a recruitment agency works on a contingent fee, they only get paid once a candidate accepts a job. There's also typically a refund period so that if a candidate leaves the role too quickly, agency fees are returned to the client. In retained search, the client often pays the recruiting agency over a staggered period to retain their recruiting services. For example, the first payment would guarantee exclusivity. The second would be paid once the recruitment agency has delivered on some of the agreement, and finally, the third when the company hires the candidate(s).
Some agencies exclusively work on one type of fee structure, but if you and your company are willing to offer multiple kinds of structures to help win new business, explain all of them to your client. Then, walk through some of the pros and cons of each structure based on the roles the client is working to fill.
Remember, during the fee discussion, keep the conversation anchored to the value you bring to the client. You represent a more robust pool of candidates for the role, you help by outsourcing administration work associated with hiring and recruitment, and you ensure the client only sees the most qualified candidates by weeding out the unqualified ones.
Laying this out will help your potential clients better understand and appreciate why your agency charges recruitment fees.
Once you agree on a fee structure, it should go without saying, but please be sure to spell out the structure in the contract with concrete deadlines.

A Quick Aside About Handling "No-Fee" Recruiting Service Questions
When researching recruitment fee structures, a client may come across a zero-fee recruiter or sites that offer zero-fee recruitment. Often with these setups, the client pays a fee to have access to the recruiter's database of thousands of candidates, but they do not pay a fee when a candidate is placed or hired. Remember, the rolodex is only one part of the value you bring, and the rest should be about the value of your process.
It's unusual, but if you can't get past objections that stem from incredibly cheap alternatives you may have saved yourself from what would've been a problematic engagement before it starts.
What Is the Average Recruiting Fee?
The standard recruiting fee for agencies is between 15% and 20% of the first-year salary for a permanent job the recruiter is filling. Some agencies may charge as much as 25% for hard-to-fill roles. Fees can vary significantly across industries, market conditions, and specialization of the position.
To avoid leaving money on the negotiating table, agencies need to consider how much time it will take them to fill a role, the seniority of the position they're working to fill, and how urgently the client needs the role filled when deciding on their fee. The formula used to determine that fee can then be explained to the client to justify the payment, if that level of transparency is appropriate or natural for your firm.
For example, for recruitment agencies that charge a 20% fee, if the recruiter places a candidate who will earn $100,000 in salary their first year, the agency would receive a $20,000 payment for their work. If the worker is more entry-level and will be paid $50,000 for their first year of work, the recruitment agency would be paid $10,000.
For flat fees, agencies might charge $75 an hour for screening candidates and another $250 a week for posting jobs, reviewing resumes, and other administration work. Depending on the firm, some may offer rebate periods. If the firm fails to successfully fill the role in an agreed-upon time period, or the candidate ultimately leaves the role quickly, the firm can refund any upfront fees paid.
A Fees Discussion Can Cement Client Relationships
In a world of big data, social media, and instant access to online reviews, opaque fee structures are an endangered species. Some may see this as a challenge, but it's really an opportunity – especially for recruitment professionals. A more open and collaborative approach to discussing fees is a chance for recruiters to highlight their skills and better communicate the ROI of attracting top talent.
Filed under: Business Development, Recruiting Tips
Tagged with: business development, recruiting, recruiting agency management, recruiting crm, staffing, staffing agency management