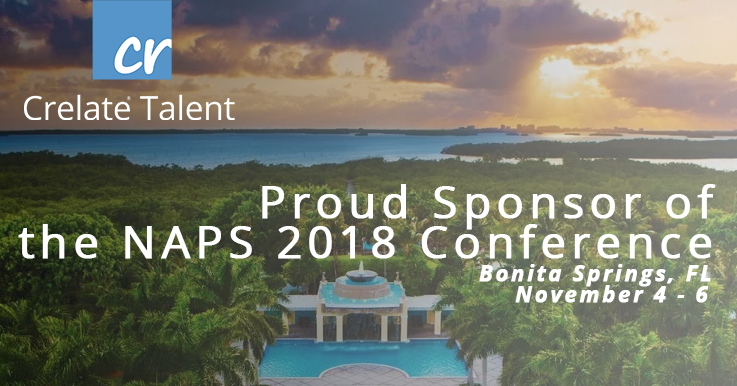 Attendees at the NAPS 2018 conference will learn how easy and powerful it is to align talent and demand pipelines in a unified recruiting solution and be able to help raise money for a good cause.
KIRKLAND, WASH., Nov. 01, 2018 /PR Newswire/ — Crelate, the gold-standard for cloud-based recruiting software, announced today that it will demonstrate its industry-leading talent acquisition technology as a Silver Sponsor during the NAPS (National Association of Personnel Services) conference, November 4 – 6, 2018 in Bonita Springs, FL.
Crelate CEO, Aaron Elder, will be present alongside members of the Crelate Customer Success team to give demonstrations of the recruiting software during exposition hours in booth 16. The demonstrations will explain how staffing and recruiting professionals can easily manage and automate processes to drive better business outcomes using integrated capabilities such as:
Editing and viewing Microsoft documents without leaving the recruiting workflow
External search integrations to source candidates from the web
Free and sponsored job board distribution
Integrated Recruiting CRM and Applicant Tracking functionality to align sales and recruiting teams
Recruiting analytics and custom dashboards
"This year, Crelate is doing conference swag a bit different. Instead of investing in the usual conference give-aways that often end up in a landfill. Crelate will be making donations to key charities that improve lives through the empowerment of jobs," said Crelate CEO, Aaron Elder. "Conference attendees are encouraged to visit the Crelate booth to participate in the charitable giving by voting for a talent-focused organization."
Participants can indicate their selection by placing a business card in one of three jars that represent a non-profit organization working to improve professional talent in the community. At the end of the conference, Crelate will make a first, second and third place donation to each charity.
The NAPS Annual conference is a 3-day event where attendees have the opportunity to learn strategies to improve their businesses and expand their professional networks.
About NAPS 
Since 1961, NAPS has been a leading industry educator in the United States. As the oldest association representing the search, recruiting and staffing industry, NAPS offers the longest and most comprehensive history of professional credentialing in the industry. NAPS continues to maintain the esteemed position as the industry educator through its certification program, continuing education initiatives, monthly Lunch & Learn webinars, eNewsletters and its annual conference. For more information on NAPS, visit www.naps360.org
About Crelate 
Crelate is a cloud-based recruiting software company that empowers recruiters to better manage talent and opportunity pipelines in a single solution. With fast and powerful capabilities, Crelate optimizes recruiting processes from sourcing to hiring. Since 2012, the Crelate team has focused on customer success and prioritizing innovation based on user feedback. Customers have called Crelate the "Best ATS on the market" and a "recruiting game-changer." Join over 850 leading recruitment teams that improve their hiring efforts with Crelate. Visit www.crelate.com for more information.
Filed under: Press Releases