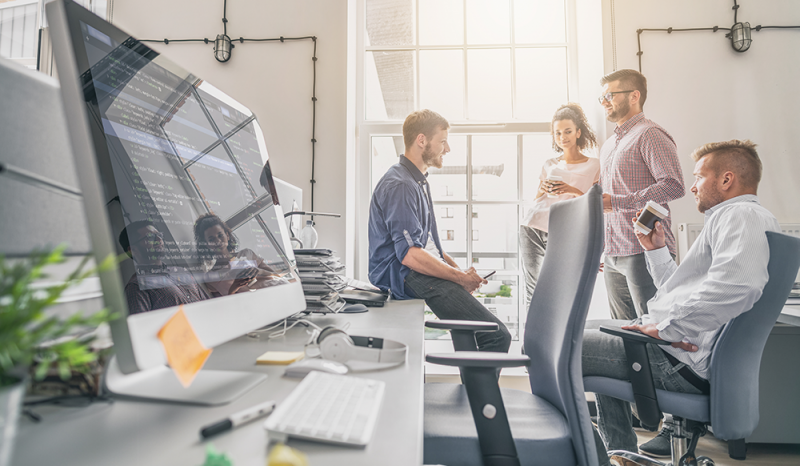 For smaller recruiting firms, it can sometimes feel like a war of David vs. Goliath when it comes to competing with larger-sized firms for talent. While different candidates and clients may have preferences over the size of the firm they work with, you can win their business by following some best practices that play to your strengths. After all, you might not be able to offer the flashy incentives of a larger firm or amass as many clients, but that doesn't mean you don't have unique benefits to offer. In fact, there are considerable advantages to working at a smaller recruiting firm-you just have to know how to leverage them. Use the following tips to gain a competitive edge in the market as a small recruiting firm.
1. Get Personal
As a business, recruiting is about as personal as it gets. On both sides of the fence-both with candidates and clients-you're dealing with someone's livelihood. And luckily, when you're a part of a small recruiting firm, you're often able to offer a more personalized experience. From spending more time face-to-face with clients to nurturing them with follow up calls and periodic check-ins, take advantage of the fact that you can offer a more personal experience to your candidates. You can also send thank you notes and emails to ask how things are going once you've placed them at their new job. While larger firms can be spread too thin, small firms are at an advantage in that they can give more personalized attention and time to their candidates.
2. Become Industry/Niche Experts
Use the smaller size of your recruiting firm to your advantage by honing in on specific industries or even job titles within an industry. Focus can be your superpower. Are there specific markets or niches you notice many of your clients are a part of? It would pay to start becoming an "industry expert" on those categories. Perhaps you have a lot of clients in the manufacturing industry. Studying the industry and marketing yourself towards that niche can help bolster your reputation and attract more clients in that industry to your business. Sometimes it pays to "do less with more focus," and it can also pay off to become a highly specialized recruiting expert in one or two industries.
3. Expedite The Hiring Process
Unemployment in the U.S. is currently low, which is great-but it also means it's a competitive market for talent. This means that particularly in small recruiting environments, you need to act quickly. Candidates are potentially talking with other recruiters too, as well as finding jobs on their own, so it's important to expedite the hiring process as much as possible. Keep communicating with candidates as they move through the pipeline, and update them on when they can expect to hear about the next potential step. Keeping a candidate engaged and excited about an opportunity can make a huge difference in getting them placed. One thing that can also help expedite the hiring process is using the right software, which brings us to…
4. Use the Right Applicant Tracking System
One benefit of working for a smaller firm is that they're typically more agile-they have to be. Recruiters at smaller agencies are typically faster to adopt new technology, whether it's a new CRM or ATS. Implementing the right applicant tracking system can save you countless hours, so you can spend more time interacting with candidates and clients and less time manually tracking the candidate process. It also expedites the hiring process dramatically; smaller recruiting firms who implement the right ATS can make more placements in less time and work more efficiently.
Working for a smaller recruiting firm can actually give you an advantage in the market-if you know how to use the positive aspects of a smaller environment to your benefit. Adding a personal touch, becoming an industry expert, speeding up the hiring process, and ultimately using the right software can all give you a competitive edge- even up against the big dogs.
5. Be Weird
Yep, you heard us. Smaller firms can think outside the box more easily than larger corporations can, so use that to your advantage! Don't be afraid to show the personality of the business you are recruiting for. Offer unique benefits (ice cream Fridays, anyone? Bring your dog to work day?). The point is that being a smaller recruiting agency can have its benefits, and one of them is the freedom and creativity you can have to make your company culture unique. Doing things that show off that uniqueness will not only delight your employees, but also gain you a reputation in the market as being original, fun, and bold: all major bonuses in today's society.
Filed under: Business Development, Crelate Updates, Recruiting Tips