Crelate for
Legal Search
Modern tools to help you build and work your network
Built For Professional Recruiters
Today's legal talent market is very competitive with busy law firms & corporations needing talented lawyers.
Crelate was built for professional recruiters and is focused on providing the tools necessary to build relationships, align candidates with opportunities and help you build your legal search business.
Professional and specialized recruiters are the key to the finding the right talent, be it for a Partner, Associate level or In-House Counsel position.
Most Placeable Candidate (MPC) Workflows
Market your most value candidates and create specific workflows that are candidate-centric in nature. Candidate-centric workflows allow you to define a unique workflow that is centered around that great Partner, Associate or In-house counsel candidate you are trying place or want to use to help generate more business.
The new candidate-centric workflow will show up on your homepage dashboard, along with your your job search workflows – everything is one place. Use the candidate-centric process to target companies and key hiring managers at companies with the potential to hire.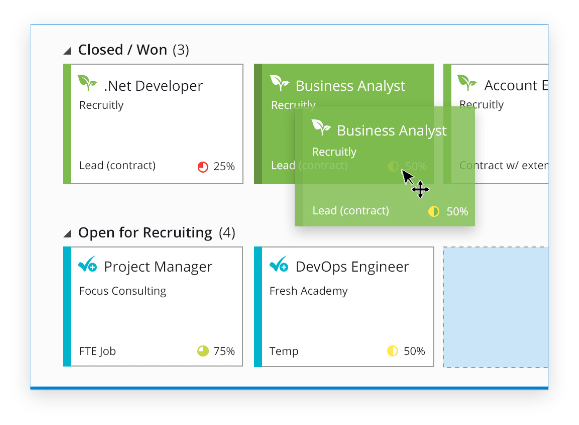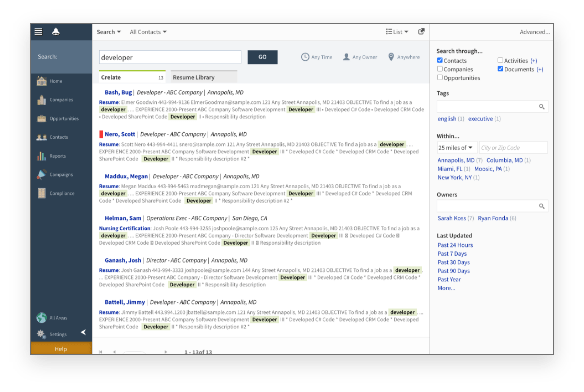 Search and cull your database, quickly and easily
Crelate makes it easy to narrow down your search to just the right people. Search all notes, activities, documents and resumes in less than a second. Construct, save and reuse advanced queries with full boolean search abilities. Get your results in record time (we measure our search performance in thousandths of a second).
Full Text Search
Instantly search documents, notes, and resumes
Filter your results by tags and geography
Build boolean queries
Take immediate action on results
Relational Search
Easily build simple and complex queries
Find records by properties on related records
Find based on activity you have done
Find based on employer, school, graduation year and more

Find candidates with the keywords "employment law" and discrimination within 50 miles of Seattle, WA and graduated in 2008
Jackson R. O'Mally
Graduated: 2008 – Seattle University School of Law, J.D.
Of Counsel – LCB & Associates, Seattle – WA
Mr. O'Mally's practice has focused on small business HR and employment law. Specializing in discrimination and termination related issues. Mr. O'Mally is the Vice President of the Washington State Bar Fellow. Prior to joining LCB & Associates he was an associate with Southern Legal Services in Baltimore, MD. Mr. O'Mally has proven himself as excellent litigator and trusted advisor to his small and medium sized business clients.
Crelate was built for networkers
Professional recruiters are constantly building a network of deep relationships. The best placements come from recommendations and referrals from your network.
Crelate Talent is designed from the ground up to make managing your network fast and easy.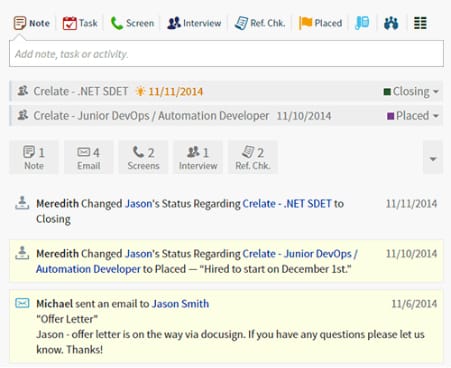 Talent Relationship Management
Crelate makes it simple to track all your interactions with contacts. It takes only a few clicks to track a conversation you had with someone. Quickly enter just the information you need, so you can get back to building relationships.
Customizable activity types let you track what's important for your business
Keep in contact. Schedule future activities and follow-up reminders.
Pin important notes to the top of the contact, so everyone on your team can see what's important.
Mention another record in your notes and the two are automatically linked.
Work how and where you want
We are built for the cloud from day one and believe it is our job when, where and how you do. Getting data in and out of Crelate is easy and available from anywhere at anytime. Access candidate info on the road from your Apple iPad or iPhone, instantly view candidate information from Microsoft Outlook or access Crelate anywhere from your Chrome, FireFox, Internet Explorer or Safari web browser!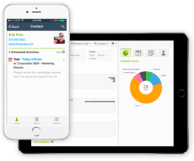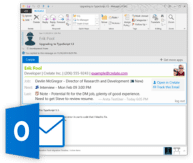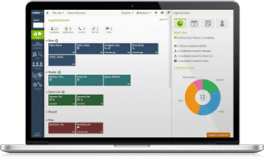 Keep Your Clients Informed
Professional search firms often need to submit candidates for review and report on search progress to their customers. Crelate makes this simple with client Submittal templates that can optionally merge resumes, cover letters and more into a single PDF for review.
We also have advanced analytics and can even help you build out custom reports in Microsoft Word that can look and say exactly what you need them to for your customers.
Detailed Candidate Submittals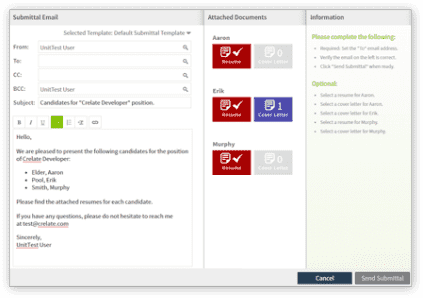 Custom Search Progress Reports