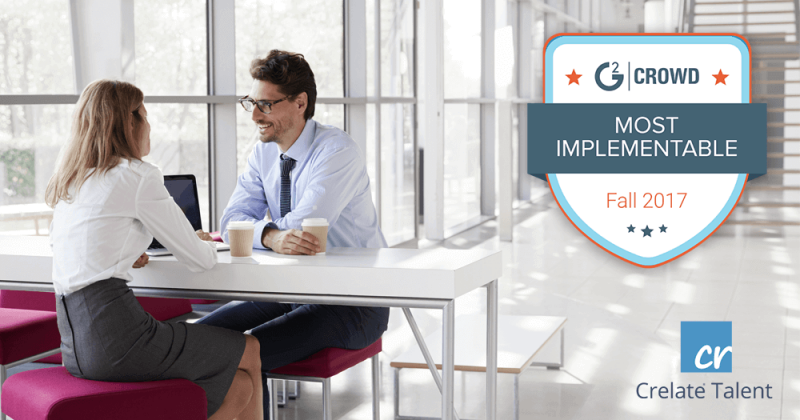 Late last month, G2 Crowd, a company dedicated to reviewing and rating business solutions, named Crelate the "Most Implementable" recruiting software!
G2 Crowd rated applicant tracking systems based on several factors such as: ease of setup, implementation time, implementation method, user adoption rate, and the average number of users purchased. G2 Crowd also surveyed satisfaction among different client demographics, which they segmented into small businesses (companies with 50 or fewer employees), mid-market businesses (companies with 51-1000 employees), and enterprises (companies with over 1000 employees).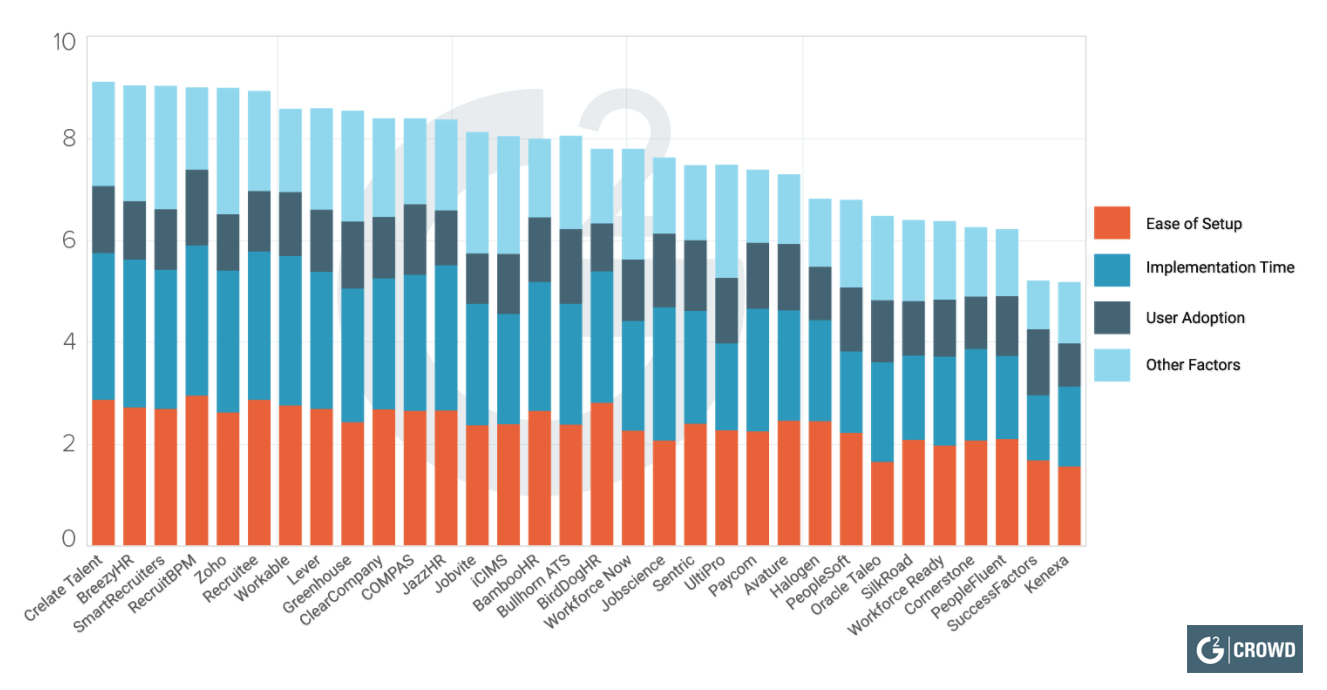 Crelate ranked in the top five for all categories, and second in ease of setup. However, the area where Crelate took the top spot, was in satisfaction among small businesses.
This is great news for us here at Crelate. Our primary customers are growing small and mid-market businesses, so we're incredibly pleased that our software is the perfect fit for our clients as they work to expand their firms, and find top talent for their teams and customers. We believe that our ease of implementation is what makes our product ideal for our small and mid-market business clients. The beginning stages of growing a business can be some of the toughest, and it's critical that the process of finding and onboarding quality team members is as streamlined as possible.
Crelate was founded on the belief that every business, no matter what size, deserves the power of enterprise software. We've worked hard to create a recruiting solution that offers enterprise-grade functionality that is also fast to setup and simple to use by everyone.
G2 Crowd is a peer-to-peer review platform that empowers businesses to make better buying decisions by providing consumer reports on B2B business solutions from over 250,000 authenticated users. To develop the index, G2 Crowd rates products and vendors based on reviews gathered from our user community, as well as data aggregated from online sources and social networks. We apply a unique, patent-pending algorithm to this data to calculate the product's Implementation score. The Fall 2017 ATS Implementation Index report is based off of scores calculated using the G2 Crowd implementation algorithm v1.0 from data collected through October 16, 2017. The Implementation score is affected by the following (in order of importance):
Customer satisfaction with the set-up process for each product based on reviews by G2 Crowd users
Amount of time (in months) required for each product to go live based on reviews by G2 Crowd users
User adoption percentage based on reviews and by G2 Crowd users
Implementation method used by customers according to answers by G2 Crowd users
The number of reviews received on G2 Crowd; buyers trust a product with more reviews, and a greater number of reviews indicates a more representative and accurate reflection of the customer experience.
Thank you to our customers for sharing their success and feedback via online reviews! If you haven't yet seen a demo of Crelate Talent, you can schedule one now.  We promise it's easy to get started!
Filed under: Crelate Updates