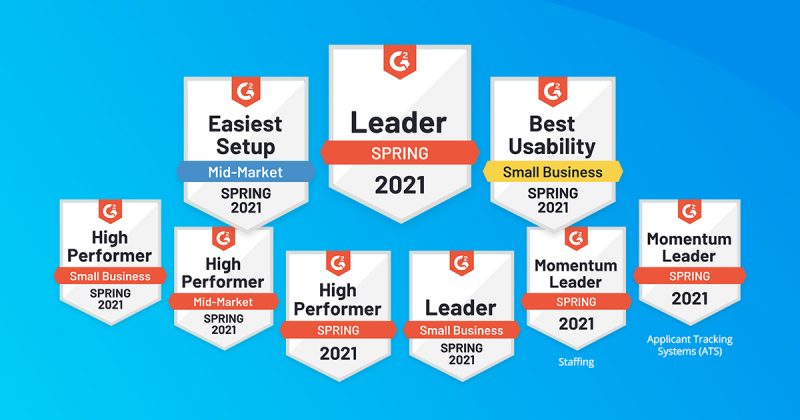 We love our customers. And it's nice to know you love us back.
In a testament to our popularity with our customers, Crelate took home nine – count 'em: NINE – G2 awards in Spring of 2021. Those awards include:
Easiest Setup among Mid-Market Software Services
Best Usability among Small Business Software Services
Momentum Leader among Staffing Software Services
Momentum Leader among Applicant Tracking Systems (ATS)
High Performer among Small Businesses
High Performer among Mid-Market Businesses
High Performer for Spring of 2021
Leader among Small Businesses
But we're most excited to be named a Leader among overall Software Services for the Spring of 2021.
G2 is the "world's largest tech marketplace," where businesses can discover, review, and manage the technology they need to reach their potential. The company scores products and vendors based on reviews gathered from our user community, as well as data aggregated from online sources and social networks.
To be named a "Leader," G2 considers two scores: Market Presence and Customer Satisfaction.
(Learn more about G2's scoring methodologies.)
In short, we received these awards because our customers consistently rank our software and services among the best available for the recruiting and staffing industries.
Our G2 Awards show that our customers love us. And the feeling is mutual.
Thank you to all our customers who took the time to submit a review on G2. It helps us get the word out to countless staffing and recruiting professionals who could benefit from our combination Recruiting CRM and Applicant Tracking System. We sincerely appreciate it, and we're proud to help your business succeed.
To learn more about combination Crelate's Recruiting CRM and Applicant Tracking System, sign up for a demo now.
Filed under: Applicant Tracking, Crelate Updates, Relationship Management Software