This month, we're temporarily expanding our development team with the addition of two interns for the spring of 2018! Working with interns gives Crelate a great opportunity to support the growth of a few new members of the Seattle tech community. By helping them develop their technical skills in a real work environment, we're proud to help support their efforts in learning software development.  This is the second cohort of interns Crelate has sponsored, continuing our commitment to building our local workforce.
Our interns come to us as part of the Epicodus tech school. Epicodus is a vocational training program that gives students foundational education in coding, and practical real-world experience in the tech field. The internship is a unique part of the Epicodus curriculum because it gives students an opportunity to step outside the academic environment, and experience how software development works in a productive software company like Crelate. In addition to functional coding skills in languages like C#, PHP, Ruby, and others, Epicodus students leave the program with skills that go beyond writing code. Our goal for working with Epicodus is to provide our interns with a challenging and rewarding experience that will help them grow into great contributors to the tech industry.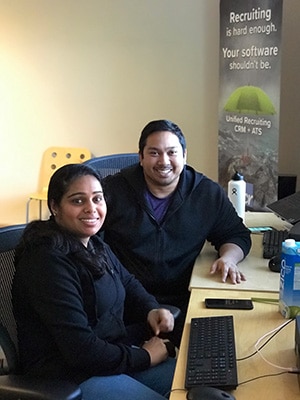 Isaac N., one of our two interns for the summer, expressed satisfaction with his placement at Crelate. "After finishing my coursework at Epicodus Bootcamp I was lucky enough to earn an internship spot at Crelate, a new recruiting technology company on the Seattle eastside just a few blocks from the Google campus in Kirkland," Isaac explained. "My coding partner (Sravanthi) and I are currently undergoing a project using Xamarin and SignalR. These are both new technologies that we are unfamiliar with, but this gives us great insight into what the life of a developer might be like in the real world, working with new technologies in an ever-evolving landscape where different tools (languages) are used or created on a yearly basis. Though the task given to us is definitely very interesting and difficult, the CEO Aaron Elder is always finding ways for us to stay positive. Overall it has been an amazing experience so far, one in which I know that we are very lucky to be a part of and that I know we have so much to learn."
Sravanthi V. had her own positive comments to share. "I am an IT Business Analyst turned Web Developer, passionate about creating useful user-friendly applications. I recently completed a coding boot camp program and landed at Crelate for my first Internship, I am delighted working with a magnificent team helping me in building an exciting Mobile SMS app. Having a great time working at Crelate learning new technologies and growing as a developer. Thanks to the team for their enduring support and will continue to do my best. Happy to be at Crelate."
Crelate relishes the opportunity to go one step further in our mission to match the right talent to the right companies by providing positions for people to develop professional skills that will power their careers. We look forward to seeing what Sravanthi and Isaac will learn while working with our Crelate development team.
Epicodus is a vocational training program for tech careers that offers full-time and part-time courses which feature foundational programming education, language-specific study, and internships that give students a well-rounded and work-ready skill set. Epicodus has campuses in Seattle, Portland, and offers online training.
Filed under: Crelate Updates