Customer Support
We're with you.
Crelate is a customer-centric organization. Everyone in our company speaks with customers. Period. We believe that software is only as good as the service that comes with it. That's why we take so much pride in pairing amazing customer support, training and onboarding with our software.
Contact Crelate Support
By calling 443-569-8262 – Ext. 2
8:30AM EST to 7:30PM EST
(Monday through Friday)
For fastest service and support after normal business hours, please submit support tickets through the Crelate Application.
Customer Success
Amazing support doesn't stop with tickets and Knowledge Base articles. It starts with awesome onboarding, implementation, and data migration services. It continues with ongoing support and training. We're in this for the long haul.
Crelate works the way recruiters work. They come out with new updates all of the time that makes the product better. Tech support is easy to reach and they make you feel special — like you're the most important customer (Even though I am a small shop).
Martin Miller, Director of Recruiting
RedfoxTM, Inc
What do I like best? The ease of use and the support! Both amazing! I have been through MANY MANY ATS systems. This one is by far the best one because they are willing to listen and have constant updates improving the system.
Robin Owens-Wright, Founder
Executive Levels International
Crelate Customer Feedback
Crelate offers award-winning customer support to every user, regardless of business size, type, or revenue.
You need a team behind you that lets you focus on what you do best — creating relationships, making placements, and running your business. We're here to make sure that nothing gets in the way of that.
Knowledge Base
Anyone can access our Customer Support Portal 24-hours a day. Here you can access knowledge base articles, training videos, how to guides and watch past training webinars.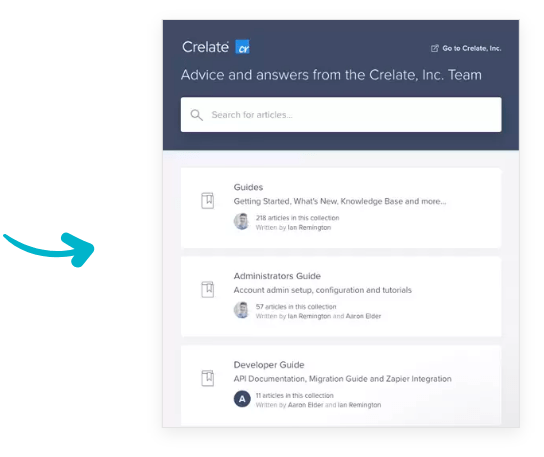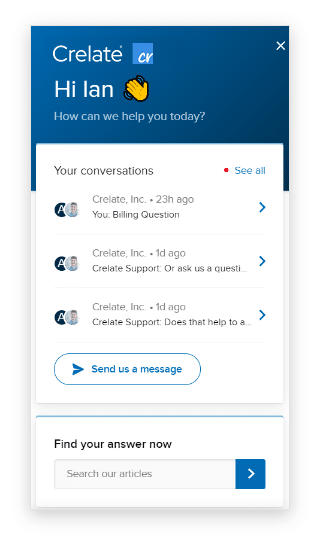 How to contact Crelate customer support
Crelate's help widget is available throughout our web application and allows easy access to our support staff and comprehensive Help Center. Access content, attend live trainings, and talk with our support team — all within the Crelate app.
Crelate Support By The Numbers Support Satisfaction Score Crelate Server Uptime Help Center Articles