Crelate for
Staffing Firms
See what's driving efficiency and profitability in your staffing processes, and automate monotonous tasks like recording billable hours and routing background checks.
Stay on top of bulk placements with automated workflow tools and real-time process notifications and alerts.
Business insights that matter.
Quick access to the information you need to make smarter and more-informed decisions.
Record successful placements, and add notes to opportunities to continually improve your business.
Generate easy-to-understand graphs and charts to show expected value, year-over-year comparisons, average time to assignment, and more.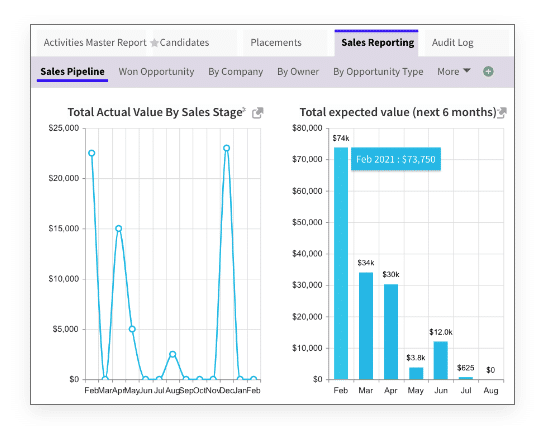 Automate your hiring process.
From the time a candidate comes across your desk, right up to their first day on assignment, Crelate tracks your notes and scorecards, client feedback, and all required credentials and certifications.
Set up interview loops, make notes and score candidates, all within a single, shareable tool.
Notes and scorecards are automatically added to contact records, so you'll always have the latest information on a candidate.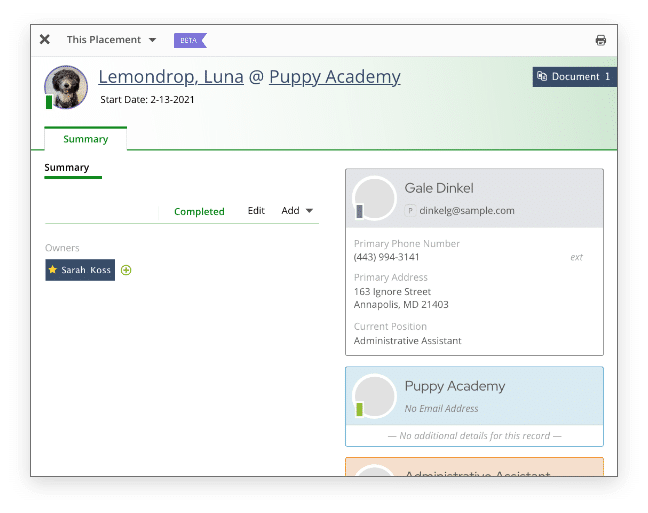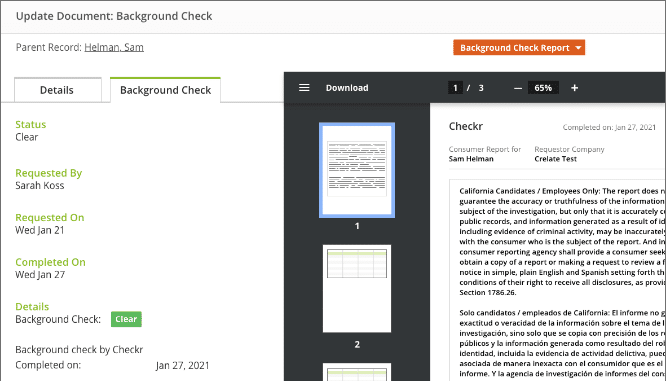 Seamlessly integrated background checks.
Managing the back-and-forth of disjointed background checks can bring a search to a grinding halt and cripple your recruiting team's efficiency.
Our integration with industry leader Checkr automates and tracks candidate background checks directly within Crelate, saving your team time and energy, and streamlining your staffing workflow.
Key background check results are instantly copied to your contact records and — if more detailed information is required — you can easily click though to Checkr for a comprehensive report.
Timekeeping made easy.
Accurate timekeeping is the cornerstone of your staffing business. Don't leave it to chance or memory that your workforce is going to get it right. Crelate's new Timekeeping features provide you an easy, integrated, and mobile-first process for tracking, submitting, and managing time.
Handle approvals directly from your Crelate dashboard and – crucially for your staff – right from the Crelate mobile app.
Collect the appropriate documents, automatically email your onboarding or HR team, and get that candidate started.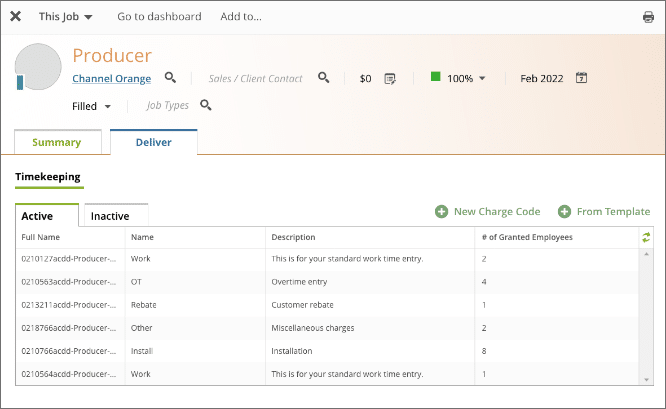 Take the pain out of client communication.
Managed by you, easily accessed by your clients, and powered by the recruiting CRM, the Client Portal keeps consultants and hiring managers in sync.
The Client Portal allows recruiters and staffing agencies to communicate with clients and record all client interactions regarding candidates.
All while saving time so you can be more productive doing what you do best: recruiting the best talent.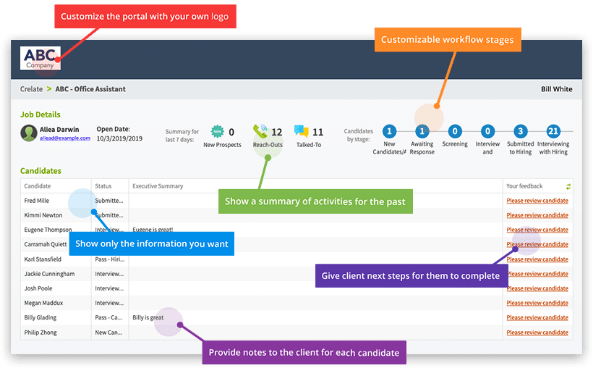 Staffing firms need a better solution than one-size-fits-all.
Our team works with you to find your perfect solution. We'll migrate your data and set up a workflow and environment that's custom to your needs.