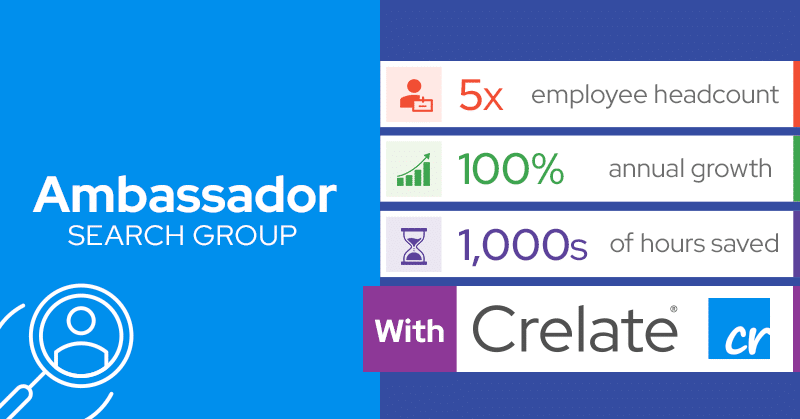 Ambassador Search Group is accelerating job placements by using Crelate recruiting software to better manage the workload of new client development and grow relationships between clients and candidates.
The Company
Ambassador Search Group is a Coeur D'Alene, Idaho based recruitment firm which manages hiring efforts for high-end construction companies and telemedicine device makers nationwide. The firm specializes in the placement of management level individuals who make a critical impact on the success of a client's business. In the past year, Ambassador Search Group has experienced over 100% growth through projects across the United States, and a focus on expansion across the west coast.
The Challenge
With the business of recruiting requiring many personalized touchpoints and recruiters lacking the bandwidth to record every interaction manually, Ambassador Search Group needed an automated recruiting solution to achieve scalable, sustainable growth. The firm's owner, TJ Kastning, didn't want his teams sorting through excel spreadsheets and digging through email inboxes to access information or wasting time on a slow applicant tracking system. They needed a fast and comprehensive recruiting solution that brought all elements of the recruiting process into a single location.
Having used four different application tracking system (ATS) software vendors in his previous roles as a Senior Recruiter, TJ knew exactly what he was looking for to address the demands of business; Crelate was the answer.
"There are many database options in the market. What's different about Crelate is the articulate concision of the design, click flows are efficient, extremely robust searching abilities, the pipeline tracking system is customizable, many processes can be automated, the Crelate team is very kind and responsive to constructive critical feedback and feature ideas, and the Crelate leadership has a vision that's future-focused." Says TJ Kastning of Ambassador Search Group. "Crelate's ATS is an impressive product because it was developed by an impressive company. They care. Furthermore, if you know how hard it is to hit deadlines in software development, you will understand how impressive it is that when Crelate publishes a goal for a patch or new feature, it happens. The development team is working with technology from this year, not the last decade."
TJ continues, "When I'm not working, I don't want to carry work into my personal life. My family and friends are a priority to me. I want to be present in relationships without thinking about debriefing a candidate after their interview. Crelate allows me to step away from work and be sure that nothing important is slipping through the cracks because it's tracking the status of every client and candidate relationship, and sending reminders when I need them. There is nothing more important than that for my team and I."
The Solution
By consolidating and automating recruitment processes with Crelate's modern recruiting software, Ambassador Search Group saw a measurable increase in growth – employing five more recruiters to manage the surge in new business.
"With Crelate, I'm confident that more growth is achievable without cutting into our personal time." Says Kastning. "We're saving time that would normally be spent administering recruiting efforts and allowing more time for our team to focus on the people, who are the core of our mission."
TJ chose Crelate for four primary reasons: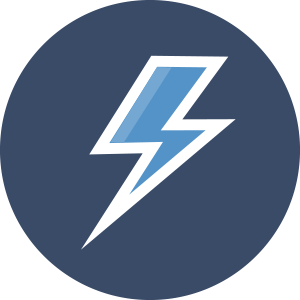 Reason #1: Speed


"Crelate is fast. It's designed to wait on user commands instead of users waiting on results."

Search results surface in fractions of a second, which means the team can get pertinent recruiting material in an instant.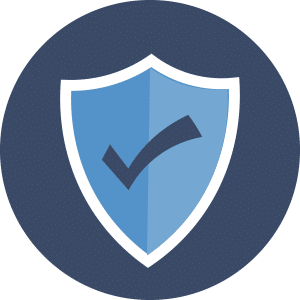 Reason #2: Reliability


"I often saw data slip through the cracks when using other recruiting platforms, causing teams to lose connection with people."
The engagement tracking features available with Crelate make it easy to nurture relationships without leaving anyone in your network behind.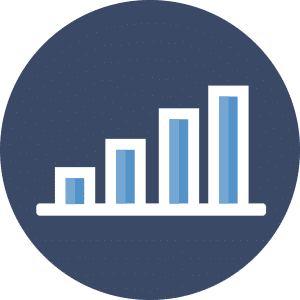 Reason #3: Reporting


"I can quickly view and measure team performance with Crelate's reporting features."
The advanced reporting and custom dashboards offer enterprise-quality reports and make them available to businesses of all sizes. With Crelate, it's easy to be confident in recruiting decisions backed by data from your own ATS database.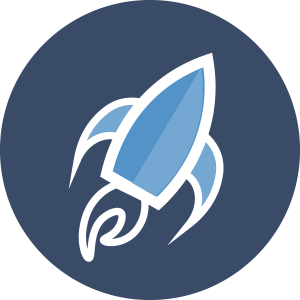 Reason #4: Innovation


"Crelate is always listening to its customers. I love to see how my ideas come to fruition in the product."
Crelate's consultative approach to work with customers and customer-centric approach to development ensures Crelate grows with its recruiting customers. With it's Roadmap page, that shares what's coming, a User Feedback forum where users can suggest new functionality.
The Results
Using Crelate's recruiting solution, Ambassador Search Group grew internal employee headcount in the organization by 5x, and the company is experiencing over 100% year over year growth in placements for other companies and anticipates the growth to continue in 2019.
It's customers like TJ Kastning and the Ambassador Search Group that make Crelate a leading cloud-based recruiting software provider. TJ, a seasoned recruiter, interacts with the Crelate team regularly to provide feedback and fine-tune capabilities to best meet the needs of a prosperous recruiting business. Join over 900 other recruiting teams that accelerate their hiring and talent acquisition with Crelate.
Filed under: Crelate Updates