Executive Search Software
Modern tools to help you build and grow your network
Crelate was built for networkers
Executive recruiters are constantly building a network of deep relationships. The best placements come from recommendations and referrals from your network. Crelate Talent is designed from the ground up to make managing your network fast and easy.
Candidate and Contact tracking
Entering and working with contacts is painless. Crelate lets you track what's important, then gets out of your way.
Tags make it simple to categorize your contacts. Whatever you want to track, just tag it.
Documents can be categorized and linked to Contacts, Jobs and Companies. Use this for resumes, cover letters and more.
De-duplicate and merge contacts as needed. Easily keep your data clean and organized.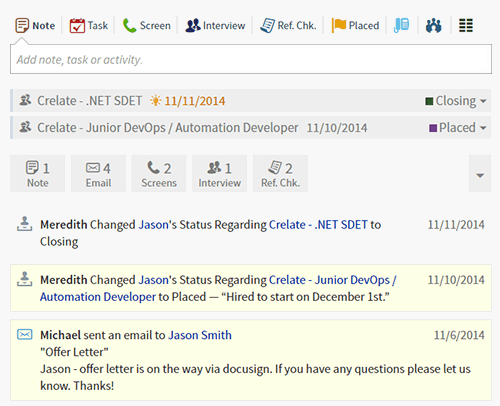 Talent Relationship Management
Crelate makes it simple to track all your interactions with contacts as an executive recruiter. It takes only a few clicks to track a conversation you had with someone. Quickly enter just the information you need, so you can get back to building relationships.
Customizable activity types let you track what's important for your business.
Keep in contact. Schedule future activities and follow-up reminders.
Pin important notes to the top of the contact, so everyone on your team can see what's important.
Mention another record in your notes and the two are automatically linked.
Find people in your network, quickly and easily
Crelate makes it easy to narrow down your search to just the right people. Search all notes, activities, documents and resumes in less than a second.
Construct, save and reuse advanced queries with full boolean search abilities. Get your results in record time (we measure our search performance in thousands of a second).
Full Text Search

Instantly search documents, notes, and resumes
Filter your results by tags and geography
Build boolean queries

Relational Search

Easily build simple and complex queries
Find records by properties on related records
Find based on activity you have done

Work how you want
We were built for the cloud from day one and believe it is our job to help with when, where and how you do your work. Also, getting data in and out of Crelate is easy and available from anywhere at anytime. Access candidate info on the road from your Apple iPad or iPhone. Further, instantly view candidate information from Microsoft Outlook or access Crelate anywhere from your Chrome, FireFox, Internet Explorer or Safari web browser!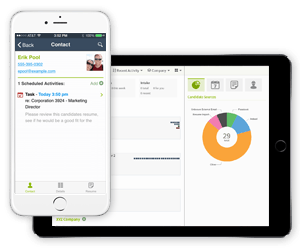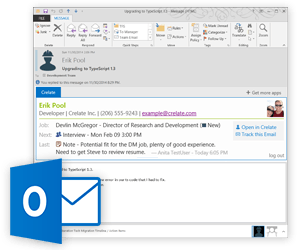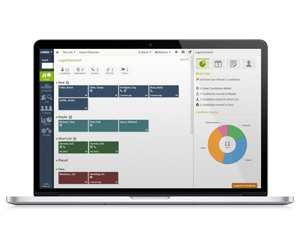 Keep Your Clients Informed
Executive search firms often need to submit candidates for review and report on search progress to their customers. Crelate makes this simple with client Submittal templates that can optionally merge resumes, cover letters and more into a single PDF for review. We also have advanced analytics and can even help you build out custom reports in Microsoft Word that can look and say exactly what you need them to for your customers.
Detailed Candidate Submittals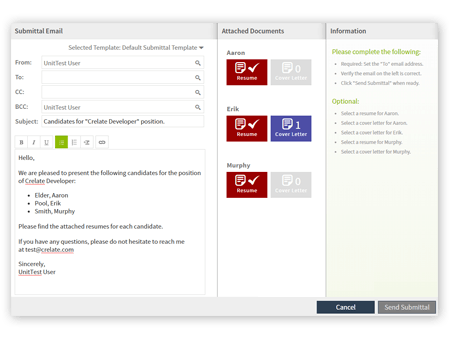 Custom Search Progress Reports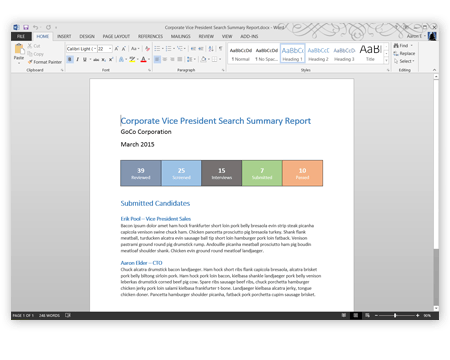 Plus all the features professional recruiting agencies and boutique staffing firms need.