Crelate's success began by building software for recruiting firms and staffing agencies. We understand that agencies are balancing talent pipelines with open job opportunities. That's why Crelate is the best tool for agency recruiters; with modern applicant tracking features to manage talent and the recruiting CRM functionality to develop more business opportunities.                                        
Source
Get your jobs out there and in front of potential hires.
First, publish your jobs to your company's web site using our Candidate Portal. Select your own colors, logo, layout and even custom styles.
Next, get your jobs published with included and automated syndication to free job boards. Or give your jobs a boost and sponsor them at discounted rates or make use of your CareerBuilder or Dice subscriptions with built-in integration.
Candidates can apply directly to your job via tools like Indeed Apply, emailing their resume to a job specific inbox or by filling out an application on your Candidate Portal. You can even customize what questions they have to fill out.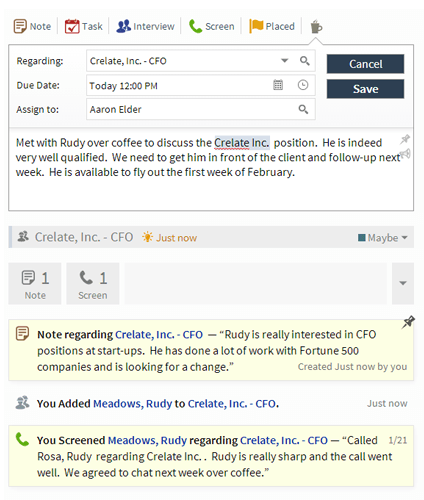 Track activity across the team
Crelate makes it simple to track all your interactions with contacts. It takes only a few clicks to track a conversation you had with someone. Quickly enter just the information you need, so you can get back to building relationships.
Customizable activity types let you track what's important for your business
Keep in contact. Schedule future activities and follow-up reminders.
Pin important notes to the top of the contact, so everyone on your team can see what's important.
Mention another record in your notes and the two are automatically linked.
Work your talent pipeline as a team
Customize your search workflow and the activities you track to work the way you do.
Visualize your applicants with colorful tiles you can simply drag and drop through your hiring workflow. It works as easy as sticky-notes on a whiteboard!
View the board the way you want. Small or large tiles, or as a list and with different grouping and sorting! See the latest status instantly using the activity stream. You can easily see what is going on at a glance. Customize the board based on how you work your candidate pipeline.
You can even use your candidate pipeline to automatically send emails, manage the gather documents and track other ad hoc processes.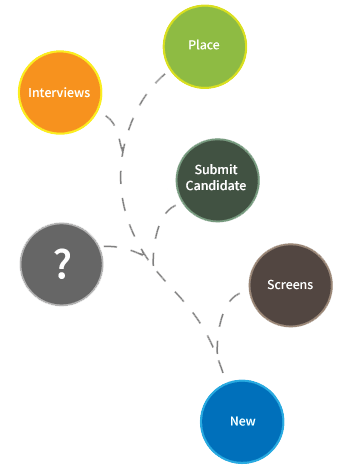 Submit candidates and keep clients informed
Professional recruiting agencies often need to submit candidates for review and report on search progress to their customers. Crelate makes this simple with client Submittal templates that can optionally merge resumes, cover letters and more into a single PDF for review. Our custom services team can even help you build out custom reports in Microsoft Word that can look and say exactly what you need them to for your customers.
Detailed Candidate Submittals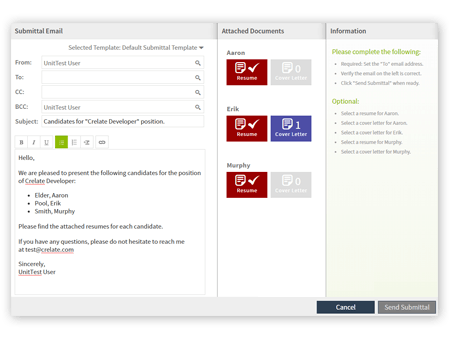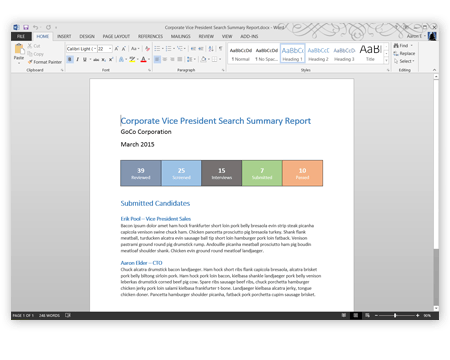 Analyze and monitor your team's activity
Go beyond simple report, power analytics let you see how your team is performing, what they are doing and where candidates are coming from over time.
Crelate Talent offers a wide range of reporting capabilities that allow users to filter, measure and understand key recruiting metrics. Where are my candidates coming from? Where are they going? What customers and searches are taking generating the most activity? What are my users doing and for whom? Etc. The level and sophistication of reports available vary based on tier, with the Professional tier and higher getting all out-of-the-box reports. Additionally, custom report options will be made available for an monthly additional fee or our development team can build custom reports for you as part of our custom service offerings.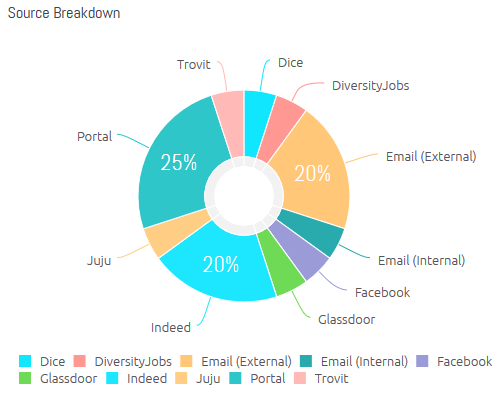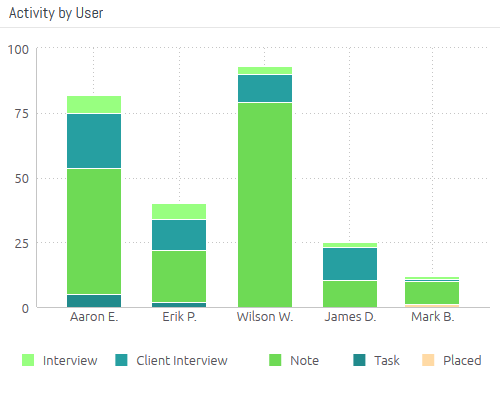 Plus all the other features professional recruiting agencies and boutique staffing firms need.
Want to learn more?