All applicant tracking and talent relationship management features…
Job Dashboard
Visualize your applicants with colorful tiles you can simply drag and drop through your hiring workflow. It works as easy as sticky-notes on a whiteboard!
View the board as large or small tiles, or as a list.
Group and sort your jobs by name, status or company.
Customize the board based on how you work your candidate pipeline.
Job Tiles give you relevant, at-a-glance data about your jobs and offer a quick way to view all associated activity, calendar appointments and referral sources.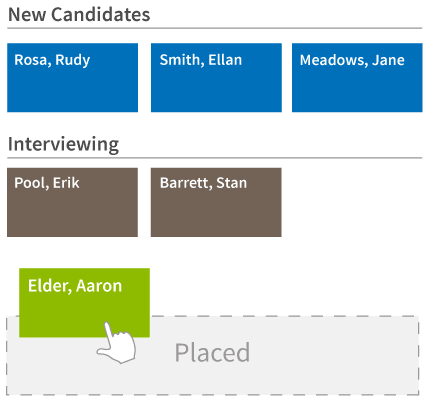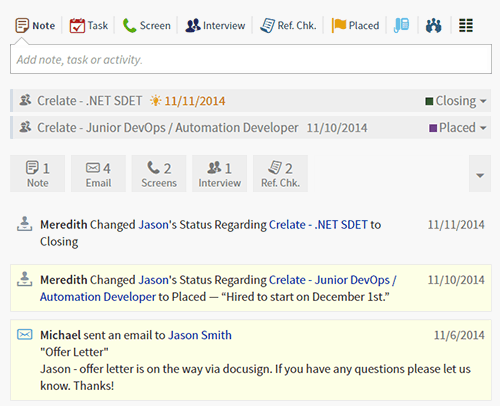 Activity Stream
Crelate makes it simple to track all your interactions with contacts. It takes only a few clicks to track a conversation you had with someone.
Quickly view job, contact and company activity.
Customize existing activity types, or add your own.
Schedule future activities and follow-up reminders.
Pin important notes to the top of the contact to improve visibility.
Mention another record in your notes to link the two.
Need to change a Phone Screen to an Interview? No problem!
Company Portal
Showcase your open jobs, pin featured "hot" jobs and track applicants. The Portal is not only an online presence for your business, but also an extremely powerful recruitment tool. It is an essential tool in promoting your job on all the popular job board portals.
Display your open jobs as tiles, boxes or a list.
Mobile-friendly using the latest design standards.
Design custom application forms for your posted jobs.
Customize the look of your portal with our tools or your custom CSS
Google Analytics ready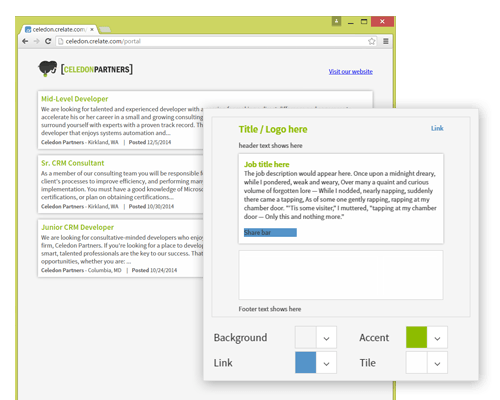 Email Integration
Crelate loves email! Without the need for addins or extra applications you can add contacts, parse resumes and vCards, and track your conversations all within the system.
Track email conversations by BCCing or CCing Crelate.
Import entire contacts by sending their resume to the system.
Send email right from the activity stream.
Create customized email templates and reuse them easily.
Send many templated (or not) emails via bulk email.
In the near future we plan on delivering an Outlook App to expedite contact networking even more! Oh, did we mention we love email?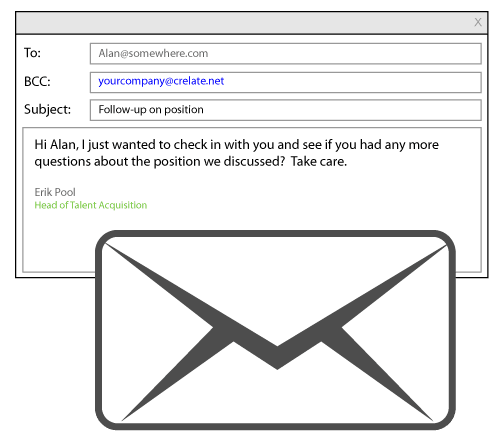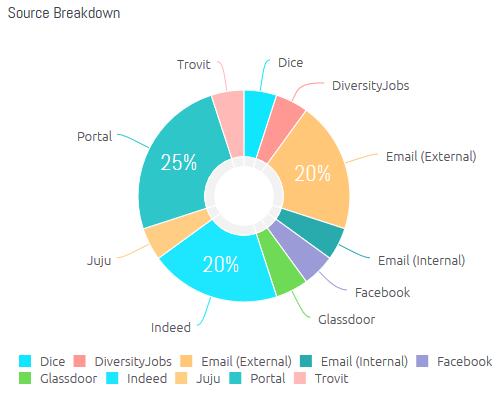 Analytics and reporting
Crelate Talent offers a wide range of reporting capabilities that allow users to filter, measure and understand key recruiting metrics. Where are my candidates coming from? Where are they going? What customers and searches are taking generating the most activity? What are my users doing and for whom? A partial list of reports includes:
User activity over time, by client and job
Detailed activity breakdown by job
User and job activity breakdown
Top Users and jobs by Activity
Candidates by source over time
Candidates by workflow stage
Candidate Pipeline Report by Job
Mobile Ready
Check on your contacts and candidates even when away from your desk. Crelate Talent provides iPhone and iPad apps for all standard and higher users.
View candidates details including resumes
Call your contacts straight from the iPhone app and log the call
Track notes about candidates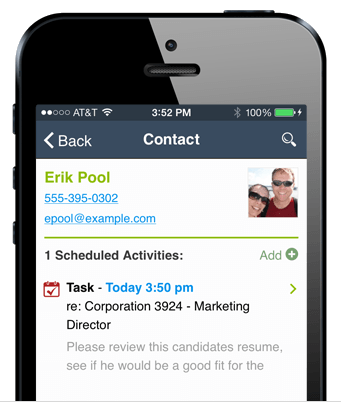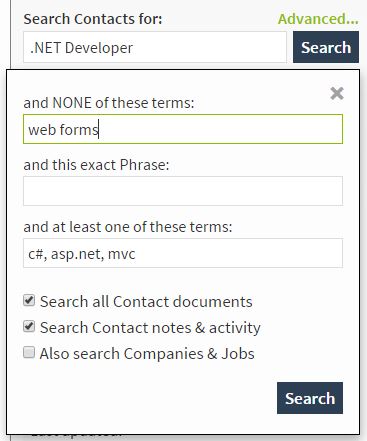 Search
Crelate comes with blazing fast full-text and relational search capabilities. Build simple or complex Boolean queries, search by tag, proximity across 10's of thousands of records in fractions of a second.
Backed by Enterprise-class search tools
Search across all records and documents at once
Save search criteria for future use, results update in real time
Easily take action on results, add them to jobs, static lists, emails and more